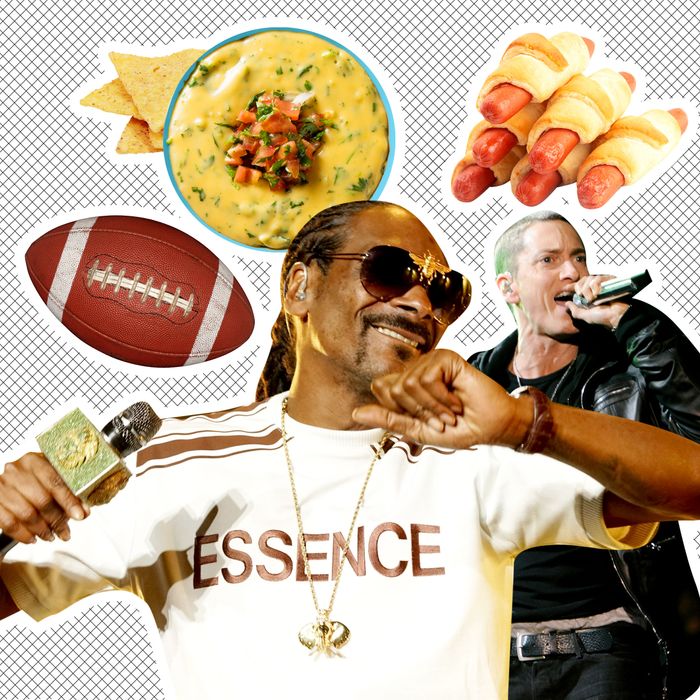 Are you ready for some dips?
Photo-Illustration: by The Cut; Photos: Getty Images
Hello, sportsfans, are you ready for some football? The football event of the season, even; the big game; the one game to rule them all, one game to find them? Are you ready for the Super Bowl?? Were you even aware it was happening soon???
Maybe you were unaware, which is fair: Nobody ever knows when the Super Bowl is going to happen. Or maybe you just don't care very much about the Super Bowl, which is also fair — but what if someone invites you over to partake of a stunning selection of dips? Pigs in a blanket — would that move the needle for you? What about a halftime show firmly devoted to butts — do I have your attention now? Okay, great, let me tell you everything I have just learned about Super Bowl 2022 by painstakingly typing each of the below questions into Google so you don't have to. Here we go!
Who is playing the halftime show?
According to CNN — which calls the "trailer for this year's Pepsi Super Bowl LVI Halftime Show … a cinematic treat," though Vulture disagrees — Snoop Dogg, Dr. Dre, Eminem, Mary J. Blige, and Kendrick Lamar. Here is that trailer; judge for yourself:
Didn't Eminem just do the Super Bowl?
No, you're thinking of the Oscars, at which he made a surprise appearance in 2020. Time flies! Mom's spaghetti!
Is Tom Brady going to be there?
Maybe to watch or something? But not to play :)
Who is playing the actual sports?
It's the Los Angeles Rams versus the Cincinnati Bengals, baby.
Who will win?
Nobody knows. That's what makes this whole thing "fun."
What will they win?
A Vince Lombardi Trophy, ooh la la.
When are they playing the Super Bowl?
February 13, from ~6:30 p.m. to ???
Where are they playing it?
The SoFi Stadium in Los Angeles.
Why are they playing it?
I think mainly because of tradition, though maybe also there are scores to settle and old beefs to inflame and bragging rights on the line (as well as a frightening amount of ad revenue).
Which Super Bowl are they playing?
LVI, which is to say: the 56th Super Bowl.
How do I watch it?
You have so many options. It will air on NBC, if you're into cable, or you can stream it on Peacock; the NBC Sports app; Hulu + Live TV; or FuboTV (?), if you are a viewer of more modern tastes.
How do I watch Friday Night Lights?
Friday Night Lights is not the Super Bowl, though both center around football, so you would be forgiven for confusing these two television events, even if one (Friday Night Lights) is conspicuously superior, not least because it stars Kyle Chandler and Connie Britton, in love. Consider it a compelling and sporty alternative.
All five seasons of Friday Night Lights are currently streaming on Netflix, if you would rather watch the Dillon Panthers and your East Dillon Lions do battle at the Toilet Bowl.
Are there any ethical complexities I should be aware of before I watch the Super Bowl?
Well, yeah: In recent years, there has been some blowback over player safety in this extremely high-contact sport. Specifically, some fans have grown concerned about the neurological effects of constant concussions, particularly after a postmortem study identified CTE — chronic traumatic encephalopathy, a degenerative cognitive disease apparently caused by repeated head trauma — in the brains of more than 100 former NFL players. A separate 2017 study of 202 deceased football players' brains identified CTE in 90 percent of the sample group overall and in 99 percent of NFL players' brains. The link between CTE and football isn't new, but in the past few years it has emerged that the NFL may have sort of swept what it knew under the rug. And although it agreed to a massive concussion settlement in 2013, some former players allege that the league "explicitly and deliberately" discriminated against Black players who filed dementia-related claims. According to these players, the NFL scored their neurocognitive tests along a different curve than they did white players' in a racist bid to avoid payouts. The NFL denies doing that, but … maybe you can see why some football fans feel conflicted about supporting an organization that appears to exploit players' physical and mental health for profit.
Is COVID protocol going to change anything about the Super Bowl this year?
As you are aware, the coronavirus pandemic is ongoing, and the extremely contagious Omicron variant has been driving surges in the national case count for months. Officials are reportedly hoping that the open-air nature of SoFi stadium make it less transmission-risky than certain other venues, and under California's mask mandate, attendees will be required to cover their noses and mouths unless they are eating or drinking. They will also need to show either proof of vaccination or a recent negative COVID test to enter. And! They have a backup stadium, the AT&T Stadium, on deck in case of emergency, for whatever that is worth.
What is the best Super Bowl snack?
Queso dip.
I hope this has been instructive.