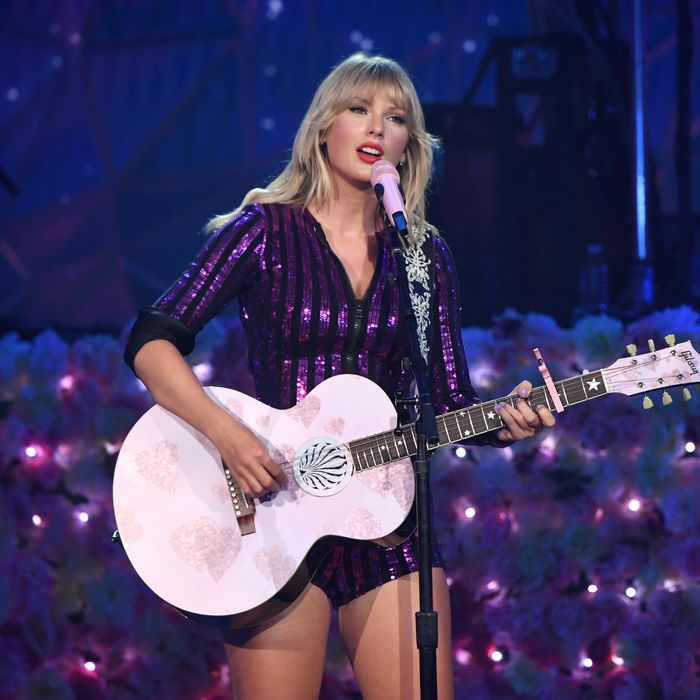 Photo: Kevin Mazur/Getty Images for Amazon
There are certain things one simply should not do in life: Go barefoot on an airplane, refuse to leave a tip, and insult Taylor Swift's songwriting skills. Unfortunately for Blur front man Damon Albarn, he's about to learn that last one the hard way.
Albarn made this fatal mistake in a new interview with the Los Angeles Times while promoting a new solo record. After complaining that too many musicians today rely on "the sound and the attitude," Albarn gave his two cents on Swift after the interviewer noted that she was "an excellent songwriter." Albarn responded, "She doesn't write her own songs."
This, of course, is the quote that got tweeted out into the universe and landed right on Swift's personal feed. "I was such a big fan of yours until I saw this," Swift responded on Twitter, tagging Albarn directly. "I write ALL of my own songs. Your hot take is completely false and SO damaging. You don't have to like my songs but it's really fucked up to try and discredited my writing. WOW." She followed up her response with a succinct post script: "PS I wrote this tweet all by myself in case you were wondering."
Swifties quickly mobilized to defend her, including her frequent collaborator Jack Antonoff. And it didn't take long for Albern to respond with a mea culpa. In his own tweet, the musician claimed his words had been "reduced to clickbait." He continued, "I apologize unreservedly and unconditionally. The last thing I would want to do is discredit your songwriting. I hope you understand."
Of course, as many Swifties have noted in their responses to Albarn, the rest of the interview is still pretty damning, and not even the Times paywall is enough to keep the entire Swift section from coming out. When the interviewer pushed back on Albarn's assertion that Swift doesn't write her own songs, insisting that she writes or co-writes all of them, he dismissed Swift even more aggressively. "That doesn't count. I know what co-writing is. Co-writing is very different to writing," he said. "I'm not hating on anybody, I'm just saying there's a big difference between a songwriter and a songwriter who co-writes." He never makes clear what that difference is, but he does make time to give a shout out to another young singer, saying, "A really interesting songwriter is Billie Eilish and her brother."
So, to be clear, he doesn't like singer-songwriters who co-write songs, but he likes Eilish, who co-writes songs with … her brother. If I may be so bold as to offer this man some advice: Next time, just say you don't like Taylor Swift music and leave it at that.