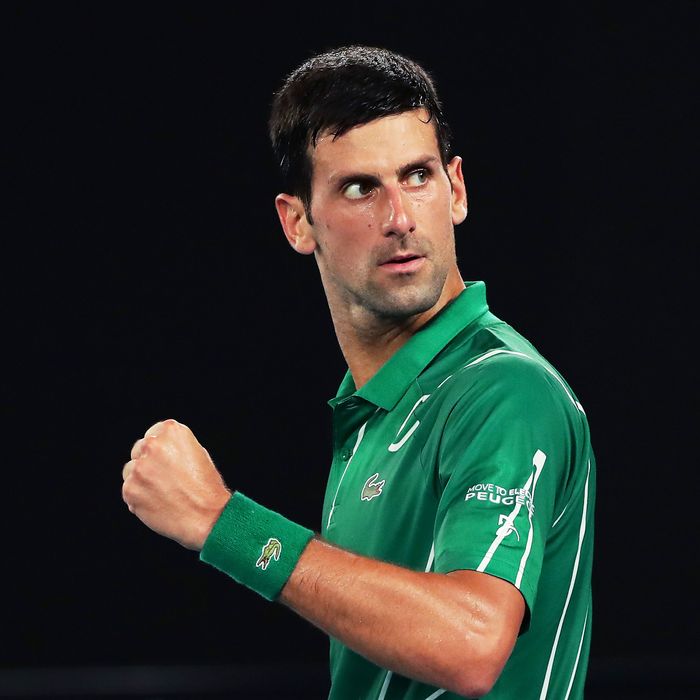 Photo: Matt King/Getty Images
Australia: home of weird animals, half of Nicole Kidman's accent, and now, a horde of very angry tennis fans. The collective Australian ire is currently being aimed at tennis star Novak Djokovic, who's spent the past two weeks trying to wheedle his way around the country's vaccine mandate to play in the Australian Open without getting vaccinated against COVID-19. Djokovic, who's long made his stance on vaccines very clear, was initially barred from entering Australia after arriving with a visa that claimed he had a medical exemption to the country's requirement that everyone who enters get vaccinated. His visa was reinstated on Monday after a judge ruled that he'd been treated unfairly by immigration officials at the airport, and then canceled again on Friday by country's immigration minister. Djokovic appealed the decision, but was denied on Sunday, January 16, and promptly left the country.
Australians, of course, are pretty pissed at this guy. Australians like these two newscasters, Mike Amor and Rebecca Maddern, who were recorded off-air ripping into Djokovic. "Whatever way you look at it," Maddern begins, "Novak Djokovic is a lying sneaky asshole." Amor went on to say that "he fell over his own fucking lies," referring to a new investigation that claims Djokovic lied about traveling in the two weeks leading up to his arrival in Australia.
Djokovic arrived in Melbourne on January 5, having already been cleared by Tennis Australia and local Melbourne authorities to play in the Open based on his medical exemption. Upon landing, he was held at the airport for ten hours, with immigration officials saying his visa didn't allow for a medical exemption to Australia's requirement that anyone who enters the country be fully vaccinated. They revoked his visa and told him to leave Australia, but instead he stayed to plead his case, decamping to a hotel that often houses detained refugees seeking asylum to argue that he should be allowed in without being vaccinated.
Things got even more infuriating during Djokovic's trial, where his lawyers argued that his medical exemption was … recently having COVID-19. Per their account, he received positive test results on December 16 — right around the time that photos and videos show him attending multiple events and even doing an interview and photo shoot.
Regardless, a judge ruled on Monday to reinstate Djokovic's visa on the basis that he'd been treated unfairly by airport officials by not being allowed to call his lawyer before he was interviewed. As if this development weren't upsetting enough, news then broke that he was under investigation for lying on his immigration form, where he wrote that he hadn't traveled within 14 days before landing in Australia, when in fact he'd been in Spain the previous day. Meanwhile, Spanish officials are rumored to be conducting their own investigation into Djokovic for breaking their COVID-19 travel protocols.
Needless to say, these angry newscasters are not alone. Australia, which has been able to keep COVID-19 relatively in check the past two years thanks to strict lockdowns and border control, now has one of the highest vaccination rates in the world. Australia's prime minister has made it clear he supported canceling Djokovic's visa. And it isn't just Australians that are upset: Howard Stern took some time on his SiriusXM show to call Djokovic a "fucknut" and "the Joker" and said he should be thrown "right the fuck out of tennis." Unfortunately, he has more than a few supporters, too: Fans got so rowdy celebrating the day he was released from detention that local authorities had to use pepper spray to reign them in.
Djokovic responded to the outrage on Instagram, where he posted a lengthy diatribe addressing "continuing misinformation" about his case. According to his post, he was testing negative for COVID-19 until December 17, and had attended events in the days prior believing he wasn't infected. He also said that he went to the photo shoot the day after testing positive because it was a "longstanding commitment," and he socially distanced and wore a mask when not on-camera. He called that decision an "error of judgment." Hmmm, I can think of some other places he might want to rethink his judgment …
Thankfully, Djokovic didn't get away with this clownery: On Friday, Australia's minister of immigration re-canceled his visa, citing public-health concerns. While his lawyers scrambled to stop his deportation, Djokovic has been ordered to return to immigration detention, and his appeal was officially denied Sunday. "I am extremely disappointed with the Court ruling to dismiss my application for judicial review of the Minister's decision to cancel my visa, which means I cannot stay in Australia and participate in the Australian Open," Djokovic said in a statement, per The Daily Beast.
Personally, I very much understand the urge to unleash as many curse words as I can muster at Djokovic's stubborn insistence on not getting vaccinated. It's one thing to endanger our collective well-being by refusing to get a safe, science-backed shot. It's another to go to court — twice now — for your ability to do so. Is avoiding immunization really worth this much trouble?
This story has been updated.