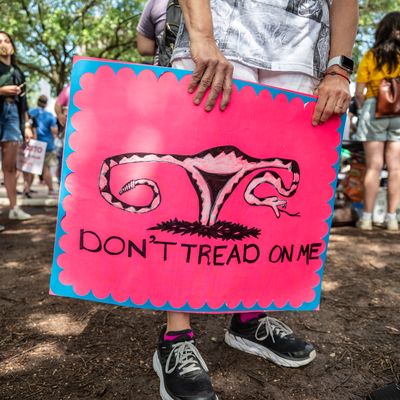 Photo: Sergio Flores/Getty Images
In May, Texas governor Greg Abbott signed into law an abortion ban that feels inconceivably extreme, even by his state's standards. Senate Bill 8 banned abortion past the point of fetal "cardiac activity" — in practical terms, around six weeks — even in cases where pregnancies result from incest or rape. Though cruel, this type of ban is not uncommon, particularly not in a year that saw state legislatures pass a record 108 abortion restrictions. But S.B. 8 takes the unprecedented step of empowering private citizens to police their neighbors, placing at least a $10,000 "bounty on people who provide or aid abortions, inviting random strangers to sue them," according to a federal lawsuit challenging the policy. So on top of being unconstitutional, S.B. 8 incentivizes vigilantes to sue strangers on suspicion of abetting abortion.
Lawmakers deliberately engineered S.B. 8 to withstand legal challenges, and indeed, federal courts declined to award abortion providers an injunction before the law took effect September 1. Although abortion providers filed an emergency application with the U.S. Supreme Court asking the bench to block the law, it declined to do so. But with other conservative states mulling similar legislation, the Justice Department stepped up to do what the Supreme Court would not: On September 9, the DOJ filed a lawsuit against Texas, arguing that the law bars federal employees involved in the administration of abortion services from doing their jobs and violates abortion patients' constitutional rights. Days later, the department filed an emergency motion to block S.B. 8's enforcement. "When other States have enacted laws abridging reproductive rights to the extent that S.B. 8 does," the motion observed, "courts have enjoined enforcement of the laws before they could take effect." On October 6, nearly a month later, a federal judge granted the temporary injunction — and Texas quickly filed its notice of appeal. The case landed in front of the Supreme Court on November 1, oral arguments stretching almost three hours. On December 10, the court issued its decision: The law stands, but providers can challenge it in federal court. But a month later, it appears the Court may have given its partial approval in name only, once again ruling against providers and in favor of S.B. 8.
Here's everything you need to know about this latest brand of anti-abortion extremism and what happens next.
What does S.B. 8 do?
Speaking purely in terms of the law's effect, S.B. 8 does the same thing any six-week ban aims to do: outlaw abortion well before many people even realize they're pregnant. In Texas specifically, S.B. 8 would make at least 85 percent of abortions performed in the state illegal.
The six-week mark is pegged to the fallacy — beloved by anti-abortion groups — that a human heart begins to beat about six weeks into pregnancy. But the existence of a heartbeat implies the existence of a heart, something embryos don't have. Abortion antagonists have never been in it for accuracy, and in evoking the specter of a heartbeat, they seek to play on emotions. Still, six-week bans are typically hard to route around the Supreme Court, which currently — under terms set by Roe v. Wade — ensures the procedure remains legal until viability at around 23 weeks.
How is S.B. 8 different than bans in other states?
S.B. 8 specifically takes enforcement of the law out of the state's hands, deputizing any private citizen who does not work for the government to do that job instead. Under the new law, random people would be incentivized to sue in civil court — to the tune of at least $10,000 in damages per termination — not only abortion providers but anyone who "knowingly engages in conduct that aids or abets the performance or inducement of an abortion." The latter category seemingly includes insurance companies as well as abortion funds that help people pay for the procedure and its attendant hidden costs. "Obviously we have a target on our back being abortion funds," Cristina Parker, communications director of Texas's Lilith Fund, told Jezebel. "We've got support on deck for if and when we get sued, but there's not much to prevent folks from doing it."
In short, Texas's unprecedented tactic mobilizes untold private bounty hunters (complainants do not even need to live in Texas necessarily or be at all connected to the people they accuse), offering them a financial reward in exchange for policing clinics, physicians, aid groups, and other people who might, for example, agree to a favor as small as driving their friend to an appointment or accepting the Uber fare. The law promotes a stunning degree of interpersonal surveillance, and unfortunately, that winds up being its strength. In dividing up the enforcement task between so many as-yet-unnamed players, lawmakers preserved the policy against injunction. As Jezebel notes, legal groups and/or providers typically sue state officials when faced with an unconstitutional abortion ban, blocking the law from taking effect on the grounds that it violates precedent established by Roe v. Wade. But in this case, there is no clear defendant to name, just the credible threat of expedient action from anti-abortion zealots who were ready to act immediately. Providers did still try to stop S.B. 8 from taking effect before September 1, but they were not successful.
Citizens' arrests on suspicion of abortion? How is that legal?
That is a question the courts will now decide. In April, 370 Texas lawyers argued in an open letter that S.B. 8 represents an "unprecedented abuse of civil litigation" and would "have a destabilizing impact on the state's legal infrastructure" if it became law. In July, over 20 abortion providers in the state filed a lawsuit — naming defendants in the judiciary, on state medical and nursing boards, in health and human services, and the state attorney general, Ken Paxton — in the U.S. District Court for the Western District of Texas, hoping to block the policy from taking effect. But on August 27, the (very conservative) Fifth Circuit Court of Appeals abruptly canceled a hearing on the measure. A day later, it denied an emergency motion to either send the case back to the district court or issue a stay.
As a last resort, attorneys for the providers filed an emergency application to the U.S. Supreme Court — specifically, to Justice Samuel Alito — emphasizing that the law unconstitutionally outlaws pre-viability abortion and would "immediately and catastrophically reduce … access in Texas," forcing many clinics to close. But SCOTUS refused to block S.B. 8, and the measure went into effect on September 1.
What has the law meant for abortion access so far?
Legislation like this reliably sows confusion and distress among patients, who see headlines about abortion on the brink of extinction in their state and assume their access to legal care has already been cut off. But in this case specifically, so many lawsuits leveraged against already underfunded providers could prove financially ruinous. And then there are the abortion funds, which offer patients money to cover not only the procedure but (often) things like gas, travel, child care, and lodging — all crucial components of access in Texas, a massive state already plagued by myriad restrictions including but by no means limited to waiting periods. In implicating such a broad range of targets, lawmakers ensured S.B. 8 would make abortion prohibitively difficult to access from all angles. Almost immediately, the measure created overflow for beleaguered clinics in neighboring states as distraught patients scramble to reschedule appointments.
What's more, there's precedent for this maneuver in Texas: Establishing Lubbock as a "sanctuary city for the unborn" in May, a local ordinance not only banned abortion but also gave the fetus's "mother, father, grandparents, siblings and half-siblings" power to sue anyone who helps a patient terminate. So far, Lubbock's religious right has succeeded in shutting down abortion services at a Planned Parenthood there.
On top of all that, there's the fact that Texas Right to Life, the anti-abortion group behind S.B. 8, has been actively preparing for the law's enactment.
"This whole mechanism only works if there is a credible threat of lawsuits being brought against an industry if they decide to ignore the law," said John Seago, the legislative director for Texas Right to Life, told CNN. "So we have been working to make sure that all those pieces are in place, that if we do have reports, that we do see evidence that they're violating the law, then we can actually enforce the law ourselves."
The group has a tip line in place to collect the information it needs, though in practice, that hasn't proved as effective as abortion opponents had hoped. TikTok users quickly deluged prolifewhistleblower.com with fake complaints in a successful bid to tank its work. Also no website-registration provider seems to want to host it. Go figure.
What happens now?
Setting aside S.B. 8 for a minute, the Supreme Court already plans to rule on a Mississippi law that would ban abortion at 15 weeks, well before the 23 to 24 benchmark laid out in Roe. In the event the Court overturns or narrows Roe, Texas is among the states with a "trigger law" already on the books, which would immediately outlaw abortion across the state as soon as the bench hands down its decision. SCOTUS, which currently has a 6-3 conservative majority, is expected to issue its ruling sometime next summer. Hearing oral arguments in the Mississippi case this month, the Republican justices — particularly Trump appointees Amy Coney Barrett and Brett Kavanaugh — appeared sympathetic to the state, whose attorneys leaned heavily on misinformation.
On September 9, the Department of Justice waded into the fight in Texas. In a news conference, Attorney General Merrick Garland announced a civil suit against the state of Texas, explaining that its "statutory scheme" purposefully aims "to prevent women" — and anyone else seeking to terminate a pregnancy — "from exercising their constitutional rights by thwarting judicial review for as long as possible" and shuttering clinics.
Garland noted that S.B. 8 affects federal employees and partners involved in the provision of health care, potentially barring them from fully carrying out their professional duties. But beyond the obvious and intentional implications of the law, there's the broad precedent it sets. "This kind of scheme, to nullify the constitution of the United States, is one that all Americans, whatever their politics or party, should fear," Garland said. "If it prevails, it may become a model for action in other areas, by other states, with respect to other constitutional rights and judicial precedents. Nor need one think long or hard to realize the damage that would be done to our society if states were to implement laws that empower any private individual to infringe on another's constitutionally protected rights in this way."
The DOJ filed its lawsuit in Austin and seeks to have the law declared invalid and have a permanent injunction block its enforcement. That same week, Garland promised to "provide support from federal law enforcement when an abortion clinic or reproductive-health center is under attack" in Texas in keeping with federal law. And on September 14, the DOJ followed up with an emergency request for a temporary restraining order or preliminary injunction, asking the same federal court to intervene while its case is decided. The motion reiterates many of the points made in the lawsuit, noting that the courts have repeatedly ruled to uphold Roe, affirming a constitutional standard that Texas found a creative way to flout. The DOJ asked a judge to step in and restore protected access to abortion while its case proceeds.
On October 6, U.S. District Judge Robert Pitman granted that request, ruling that "this Court will not sanction one more day of this offensive deprivation of such an important right." But as NPR notes, Pitman's decision does not eliminate the threat of lawsuits as judicial ping-pong continues in this case: The Texas attorney general immediately filed a notice of appeal, allowing the (again, very conservative) Fifth Circuit to quickly reinstate the ban — first in a temporary stay, then in a two-to-one order issued October 15. The Supreme Court heard oral arguments in the case on November 1, after declining on October 22 to suspend the law in the interim. That decision sparked criticism from Associate Justice Sonia Sotomayor, who wrote in her dissent: "For the second time, the court is presented with an application to enjoin a statute enacted in open disregard of the constitutional rights of women seeking abortion care in Texas. For the second time, the court declines to act immediately to protect these women from grave and irreparable harm."
When the court heard the oral arguments, however, prospective patients felt less like the focal point than the potential implications of green-lighting vigilante policing of constitutional rights. (What that might mean for gun rights, for example.) On December 10, the justices allowed the law to remain in place but allowed providers to sue in federal court. Per the Associated Press, this meant that the case would likely return to Pitman, then to the Fifth Circuit, and then maybe back to the Supreme Court. Or that was the plan.
But after granting providers the right to challenge the case in lower courts, the Court issued another ruling January 20. According to providers, the Fifth Circuit declined to send the case back to Pitman and instead booted it to the Texas Supreme Court, routing around a probable injunction. Providers asked SCOTUS to intervene, a request the Court has now rejected. In their dissents, the Court's three liberal justices blasted their colleagues' reasoning.
"The court of appeals," wrote Justice Stephen Breyer in his dissent, "ignored our judgment."
"One month after directing that the petitioners' suit could proceed in part, the court countenances yet another violation of its own commands," Sotomayor wrote in hers. "Instead of stopping a Fifth Circuit panel from indulging Texas' newest delay tactics, the court allows the state yet again to extend the deprivation of the federal constitutional rights of its citizens through procedural manipulation."
"Today's decision shows that any hope that" December's ruling "might protect the Constitution's guarantees in this case was illusory," she continued. "As it turns out, Texas did not even have to amend its law to sidestep the minimal relief this court left available. Instead, Texas wagered that this court did not mean what little it said in" last month's decision "or, at least, that this court would not stand behind those words, meager as they were. That bet has paid off."
This article has been updated.