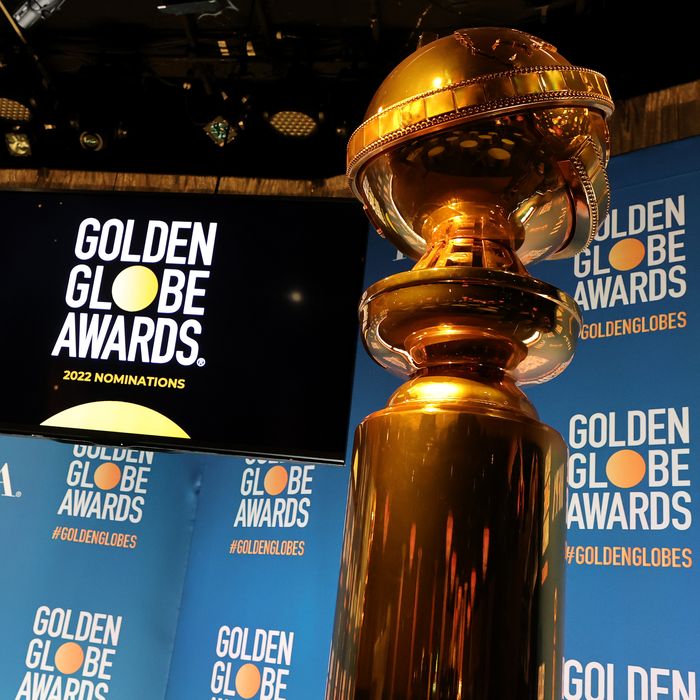 Photo: Kevin Winter/Getty Images
While Omicron has indefinitely postponed the Grammys, the Hollywood Foreign Press Association is apparently moving ahead with the Golden Globes awards ceremony this weekend. Organizers say the ceremony — set to take place this Sunday, January 9 — will be a "small event." And it looks as if it'll be strange: Owing to COVID safety protocols, there won't be an audience. There also won't be a red carpet or any celebrity presenters; a source told Variety that none were willing to take part.
On top of all that, there won't be a television broadcast or even a livestream, Deadline reports. NBC canceled the awards show back in May, a decision that followed years of criticism, boycotts, and protests against the HFPA, the nonprofit behind the awards. Over the years, the shadiness of the HFPA — including confusion over how it picks its members, allegations of taking bribes in exchange for votes, and the resounding whiteness of its nominees — has been an open secret among entertainment professionals. But earlier last year, an investigation by the Los Angeles Times brought those secrets to the surface, providing a damning account of ethical lapses and financial impropriety among HFPA members as well as the glaring lack of diversity among them.
Snoop Dogg and HFPA president Helen Hoehne announced the nominees last December. As expected, Kristen Stewart and Lady Gaga were nominated for Best Actress in a Motion Picture, Drama; Stewart for her pearl-eating performance in Spencer, and Gaga for her unforgettable accent in House of Gucci. Here's everything to know about the controversy and what to expect from this year's Globes.
What is the Hollywood Foreign Press Association exactly?
Essentially, it's a small band of international entertainment reporters, currently composed of 103 members. Yet the eligibility requirements are notoriously unclear: While some members are working journalists, others have more iffy credentials.
In August 2020, Kjersti Flaa, a Norwegian entertainment reporter whose partner was then a HFPA member, filed an antitrust lawsuit against the organization after being denied membership for the third time. In her suit, Flaa accused the HFPA of operating like an "illegal cartel." She claimed the organization acted as a monopoly and routinely rejected qualified members because the majority of the existing members "are unwilling to share or dilute the enormous economic benefits they receive."
The HFPA released a statement dismissing Flaa's allegations, accusing her of trying to "shake down" the organization and seeking a payout. Although a judge threw out the majority of Flaa's suit, a number of anonymous past and present HFPA members corroborated her portrait of the group's dynamics.
The HFPA has long been suspected of accepting bribes.
Rumors of bribery have swirled around the HFPA for years. In 2012, then-host of the awards ceremony Ricky Gervais alleged the Globes were "easily bought," although "nothing's been proved." According to the New York Times, studios, production companies, publicists, strategists, and celebrities routinely butter up HFPA members, giving them everything from handwritten cards to expensive Champagne, cashmere blankets, and five-star-hotel accommodations.
In 2021, Emily in Paris received two Globe nominations despite its lack of critical acclaim, while Michaela Coel's I May Destroy You received zero. In the Los Angeles Times exposé, it was revealed that 30 members of the HFPA had been accommodated for two nights at a $1,400-a-room Parisian hotel in 2019 to visit the Emily in Paris set — which struck many as more than just a coincidence.
The organization is also infamous for its lack of diversity.
The Los Angeles Times investigation discovered that the HFPA had no Black journalists and hadn't had any Black members since 2002, when former HFPA president Meher Tatna joined. Before that, the last known Back HFPA member was Lowell Staine, a journalist from Belize who died in 1998. At the time the exposé was released, the HFPA hadn't had a Black applicant since Samantha Ofole-Prince in 2013, who was rejected in what an anonymous HFPA member called a "Jim Crow–style" attempt to disqualify her.
The backlash to the report was swift, and members tried and failed to save face. Jenny Cooney, a current Australian member, said that the lack of Black members "was not really anything we focused on" and that she and other members didn't understand that "we had to go and find a Black person."
The HFPA promised to reform and institute "transformational change."
In an Instagram post from March 2021, the HFPA released a statement promising to reform and to institute "transformational change" in response to the backlash. To address its lack of diversity, the HFPA announced it would add 13 Black members to the organization, an arbitrary, last-ditch effort that was met with further outrage and accusations of tokenization. A group of publicists issued an open letter boycotting HFPA events and withholding access to its clients until HFPA made meaningful reform. Studios like Netflix and Amazon echoed these sentiments, as did a number of celebrities, such as Scarlett Johansson and Tom Cruise, who returned his three Globe statuettes in protest.
For the HFPA, the shit continued to hit the fan: In April 2021, the Los Angeles Times reported that former HFPA president Phil Berk had sent an email to members and staff calling Black Lives Matter a "racist hate movement." (Berk was fired over the email, and allegations of his long-standing racism came to the surface.) In May 2021, members voted in favor of a proposed list of reforms that would include imposing term limits for members and adding 20 new ones with an emphasis on recruiting Black journalists. They've also implemented a universal gift ban to avoid future bribery.
The ceremony is planned for January 9, though it won't be televised.
In May, NBC announced it would not be broadcasting the 2022 Golden Globes ceremony, citing the HFPA's promise to reform and noting, "We feel strongly that the HFPA needs time to do it right." Provided the HFPA executes its plan to reform, NBC said it was "hopeful" it would begin airing the show again in January 2023.
Compared with years past, this year's nominations are actually notably diverse. Issa Rae was nominated for Best Performance by an Actress in a Television Series, Musical or Comedy; MJ Rodriguez and Uzo Aduba were both nominated for Best Actress in Television Series, Drama. Two women, Maggie Gyllenhaal and Janie Campion, were nominated in the Best Director category, and Mahershala Ali, Will Smith, and Denzel Washington were all nominated for Best Actor in Motion Picture, Drama. (The Golden Globes nominees list was more diverse than the Critics' Choice Awards nominees, a first). While noting these improvements, critics poked fun at the arbitrariness of having Snoop Dogg announce the nominations, joking that he might have been the only Black artist to return the HFPA's phone call.
Despite calls from some to cancel this year's awards (and virtually no one wanting to participate), the HFPA is defending its decision to proceed with the event. In a letter from the group obtained by Variety, the nonprofit maintains that this year's awards will be diversity-conscious and will "honor a variety of diverse, community-based programs that empower inclusive filmmakers and journalists to pursue their storytelling passions." The letter also states that the HFPA has historically offered financial support to "important underserved organizations for decades" and promises to continue to do so.
The ceremony is scheduled for January 9 at 9 p.m. ET. An HFPA spokesperson told Deadline this year's awards would be a "private event," with guests including select HFPA members and some of the organization's grant recipients. In lieu of a livestream, the organization will post winners in real time to the Golden Globes website and to its social-media channels. So it sounds like we won't be seeing awards-show footage of this year's "transformational change," but stay tuned, I guess?
This post has been updated.