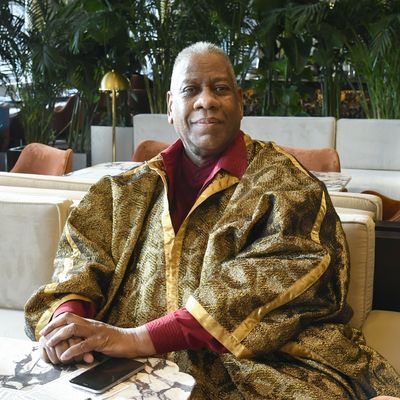 Photo: PIXELFORMULA/SIPA/Shutterstock
On Tuesday, renowned fashion icon André Leon Talley died in New York at 73. Talley was an inimitable force in the fashion industry, a beacon of glamour, luxury, and flamboyance. He began his career in fashion working for Diana Vreeland at the Metropolitan Museum of Art's Costume Institute before becoming a receptionist at Interview magazine under Andy Warhol. He moved to Paris to edit Women's Wear Daily and then began his legendary career at Vogue, joining in 1983 as the fashion news director and moving up to creative director in 1987. He remained at Vogue in some capacity for the next three decades, forging an infamously tumultuous friendship with Anna Wintour and shaping the publication's voice in fashion until he left in 2013.
A trailblazing Black tastemaker in a notoriously white and elitist industry, Talley was a close friend and mentor to dozens of legendary designers, including Oscar de la Renta, John Galliano, and Alexander McQueen, as well as supermodels like Naomi Campbell. Photos show him with all walks of cultural icons: Diana Ross, Grace Jones, Fran Lebowitz, Jean-Michel Basquiat, Keith Haring. In 2008, he styled the Obamas during their first year in the White House. Often cutting a dramatic figure in voluminous robes and capes, his unmistakable personal style and flair made him a beloved fixture in the fashion world.
In 2018, Talley was the subject of a documentary, "The Gospel According to Andre," which followed him from a childhood in the segregated South to the top of Vogue's masthead. In 2020, he published The Chiffon Trenches, a best-selling memoir that looked back on how he managed to survive the insidious racism of the fashion industry.
Here's how designers, writers, and celebrities paid tribute to Talley.