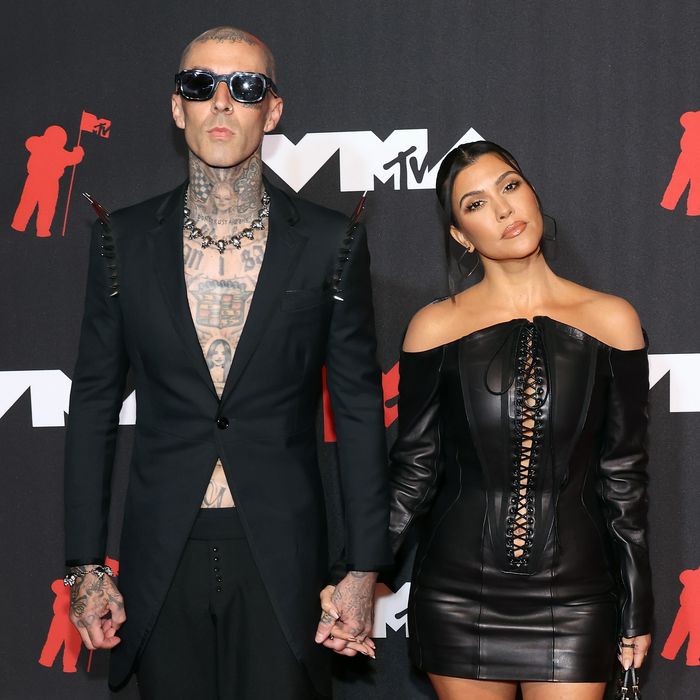 Photo: Taylor Hill/FilmMagic
Remember when Travis Barker posted a baby bottle on his Instagram Stories back in December? Well, it turns out that might have only been the first in a series of social-media clues meant to send fans down the rabbit hole of Kourtney Kardashian pregnancy rumors. Barely a week after his post (which we're still waiting on an explanation for, by the way), there's a new Kourtney pregnancy theory going around, and it's not not on the conspiracy-theory level.
The theory, courtesy of Barstool Sports' Jordyn Woodruff, started with an avocado. More specifically, a bedazzled avocado purse Kourtney posted on social media after Deuxmoi published a tip saying an A-list nonactor couple was expecting. As Woodruff said in her TikTok explaining the theory, Kourtney then posted an old throwback bikini photo from 2005, which is a trick Kardashians have used in the past to hide pregnancies (though it should be noted that they've normally been more secretive about it). Then, per Woodruff, Kourtney started posting photos of her avocado purse on her Instagram Stories followed by a close-up photo of her hands holding her Skims x Fendi clad belly. "At 16 weeks your baby is the size of an avocado," Woodruff concluded, "So I know this is kind of a crazy stretch, but is Kourtney Kardashian trying to tell us that she's pregnant?"
But the cherry on top? The official Instagram account for Kourtney's lifestyle brand, Poosh, reportedly liked Woodruff's post. Hmmm, definitely something to consider, but it could just be Poosh's way of staying on top of the gossip. So let's dive a little deeper.
Is Kourtney telling us she's pregnant via an avocado purse?
Every Kardashian fan knows that the family — Kim Kardashian West especially — is obsessed with Judith Leiber designs. The crystal-covered purses frequently appear in their closet tours and on their social media, and Kourtney's new avocado purse definitely appears to be one of them. You can even buy it at Harrods if you have an extra $7,320 lying around. Assuming the avocado bag is a Judith Leiber purse, it could just be one of the many in the extended family's extensive collection. In a Kris Jenner closet tour from 2018, Jenner says her family is constantly exchanging Judith Leiber bags as gifts for the holidays, so the avocado purse could have just been a Christmas present.
It does seem like a lot to get a $7,000 purse for this specific moment in a pregnancy just so Kardashian could tease it on the internet. Does that mean she's going to get a new fruit bag every few weeks? Has she already moved on to a banana purse? Honestly, getting a new purse to match the development of a fetus over nine months seems exhausting, but if anyone would be that extra, it would be Travis and Kourtney.