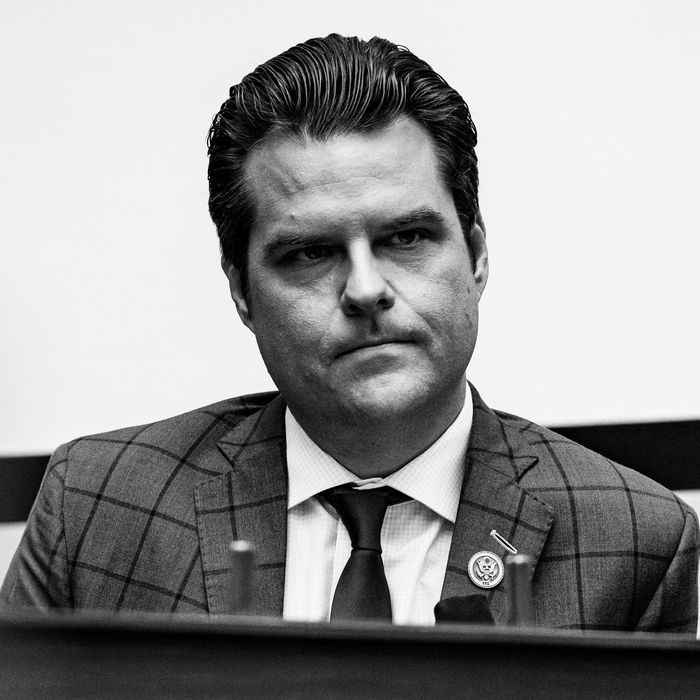 Florida representative Matt Gaetz.
Photo: Samuel Corum/Getty Images
Things aren't looking good for Matt Gaetz, the Florida representative who is currently facing a federal investigation into a number of allegations of a sexual nature, including whether he had a sexual relationship with a 17-year-old girl a few years ago. Since the New York Times reported in late March that the Department of Justice was looking into the alleged "encounters" between Gaetz and the teenager, and whether he paid for her to travel out of state with him — which, legally, would constitute sex trafficking — the Matt Gaetz news cycle has taken a series of gross and lewd twists. In May of 2021, the Florida Republican's "wingman," Joel Greenberg, pleaded guilty in his own federal sex-trafficking case, as part of a deal that demands his cooperation in other DOJ investigations. Soon after, Gaetz's ex-girlfriend agreed to speak with investigators. Now, more than six months later, Gaetz's ex has reportedly testified in front of a grand jury, bringing the case into 2022.
Let's unpack the rapidly escalating scandal.
First came the report that Gaetz may have had a sexual relationship with a teenager.
Gaetz's recent trouble began at the end of March, when the New York Times reported that the Department of Justice was investigating the attention-seeking representative — known for ardently defending Donald Trump and for his constant presence on conservative news shows — over whether he had illicit "encounters" with a 17-year-old girl about two years ago. According to three people briefed on the matter, the Times reported that federal investigators are looking into whether Gaetz paid for the teenager to travel over state lines, which would be a violation of federal sex-trafficking laws.
While Gaetz confirmed the DOJ probe to the Times, he claimed to be largely unaware of its nature. "I only know that it has to do with women," he said. He later changed his story. After the report was published, he insisted in a series of interviews and tweets that the allegations in the Times were categorically false and that the investigation into him is part of an effort to extort him and his family for $25 million. Citing no evidence, he claimed that his father, Don Gaetz, had been "wearing a wire at the FBI's direction" and tweeted that "the planted leak to the FBI tonight was intended to thwart that investigation." (Per the Washington Post, these claims are now being investigated by the FBI.)
More details about the investigation have since emerged.
On April 1, the Times reported that the federal investigation is focusing most closely on whether Gaetz and former Seminole County tax collector Joel Greenberg, one of Gaetz's political allies — who was indicted last year on an array of charges, including sex-trafficking a minor — provided cash to women they found online and had sex with. (Gaetz has denied ever paying a woman for sex.) The new report also noted that the sex-trafficking charge against Greenberg involved the same 17-year-old girl with whom Gaetz allegedly had sex.
Of particular interest to investigators is a trip to the Bahamas that Gaetz allegedly took in late 2018 or early 2019 with hand surgeon and marijuana entrepreneur Jason Pirozzolo, who paid for all travel expenses and female escorts. According to three sources, a number of young women were on the trip — including the minor involved in the DOJ probe, Politico reports. Now investigators are trying to determine whether she was a legal minor at the time. (According to one woman who went on the trip, all the women were at least 18.) The report also reveals that federal agents seized Gaetz's phone late last year as part of a search warrant.
Gaetz's "wingman" has pleaded guilty in his own federal case.
As expected, on May 17, Greenberg pleaded guilty to the slate of charges against him. As part of his plea deal, the New York Times reports, Greenberg must help in other Justice Department investigations.
This spells trouble for Gaetz, who could see Greenberg deployed as a witness against him in his own federal case. In fact, in mid-April, two people briefed on the DOJ probe told the Times that Greenberg has been cooperating in the DOJ's investigation of Gaetz since last year. After the Feds presented the mountain of evidence against Greenberg, the former tax collector reportedly told investigators that he and Gaetz had paid women for sex. A spokesperson for Gaetz yet again denied the allegations.
Following Greenberg's court appearance, his lawyer, Fritz Scheller, was asked whether his client would cooperate against Gaetz. "He is bound by it, the plea agreement," Scheller replied. "He will honor it."
Gaetz's ex-girlfriend reportedly agreed to cooperate with investigators and testified in front of a grand jury.
Days after Greenberg's plea, Gaetz's ex-girlfriend — "a former Capitol Hill staffer" who has been "linked to Gaetz as far back as the summer of 2017," per CNN — reportedly agreed to talk to federal investigators, a development CNN previously predicted "could be among the final steps in the probe of Gaetz." The ex in question interned on Capitol Hill, but not for Gaetz; she reportedly went on the Bahamas trip and may be able to provide information both on allegations of drug use and questionable transactions by the congressman.
After months of reported cooperation with prosecutors, the ex-girlfriend, who has not been named, reportedly testified in front of a grand jury in January 2022. According to NBC News, she is believed to have a possible immunity deal, in which she would avoid charges for obstruction of justice in exchange for her testimony. She reportedly told the grand jury about other women Gaetz was involved with at the time of their relationship. She was also allegedly on a call with Gaetz and another woman, which is being investigated for obstruction of justice.
Gaetz sent some suspicious Venmo payments to Greenberg.
According to a new report in the Daily Beast, Gaetz sent Greenberg two suspicious payments, totaling $900, via Venmo late one evening in May 2018. The memo of the first payment was "Test"; the second read "hit up ___," including the nickname of an 18-year-old woman. Per the Daily Beast, the morning after Gaetz sent the payments, Greenberg transferred sums amounting to $900 to three young women. The memos for the payments were "Tuition," "School," and "School."
A new letter from Greenberg claims he and Gaetz paid for sex with a minor.
In a letter obtained by the Daily Beast, Greenberg claims that he and Gaetz paid for with a 17-year-old. "On more than one occasion, [the minor] was involved in sexual activities with several of the other girls, the congressman from Florida's 1st Congressional District, and myself," Greenberg wrote. "From time to time, gas money or gifts, rent or partial tuition payments were made to several of these girls, including the individual who was not yet 18. I did see the acts occur firsthand and Venmo transactions, Cash App, or other payments were made to these girls on behalf of the congressman."
In an earlier draft of Greenberg's letter, also obtained by the Daily Beast, he claims he and Gaetz thought the minor was 19 at the time and later learned she was underage. "Immediately I called the congressman and warned him to stay clear of this person and informed him she was underage," Greenberg wrote. "He was equally shocked and disturbed by this revelation."
Greenberg apparently wrote the letter to Roger Stone, seeking a pardon from Trump. In yet another bizarre twist, the Daily Beast also obtained messages between Greenberg and Stone in which Greenberg offers to pay Stone $250,000 in Bitcoin. (Stone denies receiving the letter and any money, according to CNN.)
Gaetz reportedly showed nudes of women he slept with to other lawmakers.
According to CNN, Gaetz had a habit of showing off nude photos and videos of women he slept with to other lawmakers even while they were on the House floor, sources told the outlet, including two people who say they were shown the material. "It was a point of pride," one said.
While Gaetz has yet to respond to the accusation, it wouldn't be out of character, considering new reports that have since emerged. Earlier this month, retired Florida state representative Tom Goodson told the Orlando Sentinel that Gaetz fought fiercely against a 2015 law that protected against revenge porn because he believed that once a nude image is sent, it becomes the property of the recipient.
"He thought the picture was his to do with what he wanted," Goodson said. "He thought that any picture was his to use as he wanted to, as an expression of his rights."
Others have alleged that he "scored" his female colleagues based on how badly he wanted to have sex with them.
Back in December 2017, at the height of the Me Too movement, the Miami Herald reported on the existence of a group of young male lawmakers in Florida who crafted a lewd sexual scoring system, awarding "points" to female legislators and lobbyists based on how badly they wanted to sleep with them. According to ABC News, Gaetz was allegedly involved. Last week, one source told the outlet that some of the targets of the "game" were women that the men had heard were "virgins."
In the same report, another source said that Gaetz was often seen attempting to pick up young women at a bar popular among lawmakers and students from Florida State University. Gaetz's office did not respond to ABC News's request for comment.
Gaetz reportedly sought a preemptive pardon from Trump.
According to new reporting from the New York Times, in the final weeks of Trump's presidential term, Gaetz quietly sought a blanket preemptive pardon for himself and some of his allies in Congress. At the time, Gaetz was demanding that Trump allies be granted pardons to protect against "bloodlust" — but, as the Times notes, Gaetz's private blanket-pardon request came as the DOJ was interviewing the representative's associates about the ongoing sex-trafficking probe. (It remains unclear whether Gaetz or the White House knew about the investigation.)
On April 7, Trump issued his long-awaited response to the scandal engulfing one of his most vocal supporters. The statement read, in full: "Congressman Matt Gaetz has never asked me for a pardon. It must also be remembered that he has totally denied the accusations against him."
This post has been updated with additional information.