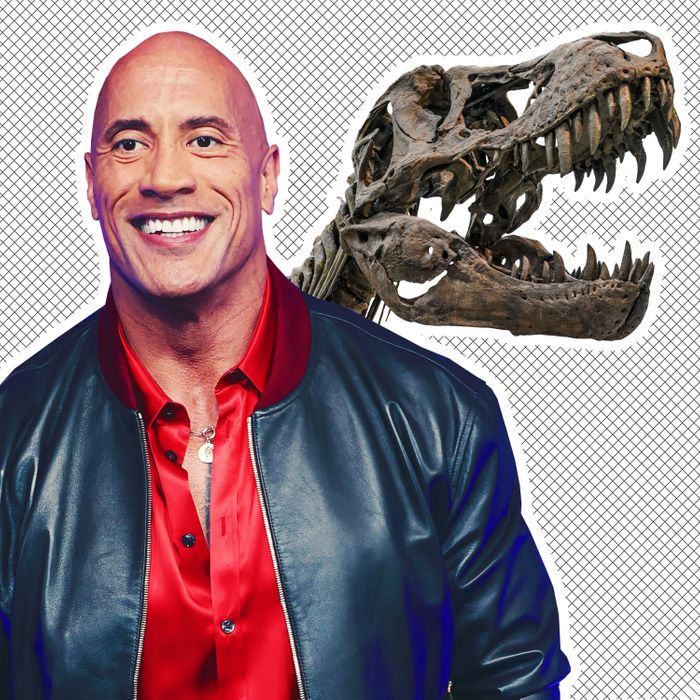 Photo-Illustration: The Cut; Photos: Getty Images
Finding the right place to Zoom in your home is tricky — there's always something embarrassing in the background, like your messy pile of totes or your giant T. rex skull. At least, such is the case for Dwayne "the Rock" Johnson, who joined a recent episode of the Manning brothers' ESPN show sitting in front of a little set of shelves housing his tequila and a football. To complete this tableau of masculinity, a hulking dinosaur skull was inexplicably emerging from behind the wall.
Much like Meryl Streep's empty bookshelves, this skull poses many unanswerable questions, such as: Why does the Rock love oversize items so much? Is the rest of the dinosaur sitting behind that wall? Most importantly, is the Rock a member of Hollywood's infamous posse of dinosaur-skull enthusiasts?
The real mystery, though, is whether the skull is a real one or merely a pricey replica. His explanation of the skull's presence goes as follows: "I got a T. rex skull, yeah. That's Stan. Stan is the most complete T. rex skull ever found by a young paleontologist, and his name was Stan, so this T. rex skull was named after him. Pretty cool and badass, isn't it?"
Cool and badass, indeed. But is it real? A full dinosaur skeleton named Stan was auctioned off to an anonymous buyer in 2020 for a record-breaking $31.8 million after being dug up by an amateur paleontologist of the same name. However, one of the companies involved in the excavation happens to sell replicas of Stan's skeleton pieces, meaning you (and maybe the Rock) can put a large dinosaur skull in your home for the substantially lower price of $11,500.
Whether or not he is a real dinosaur, Stan is a welcome addition to the annals of unhinged Zoom backgrounds. May his big bones continue to bring joy to the Rock and whoever is lucky enough to Zoom with him.