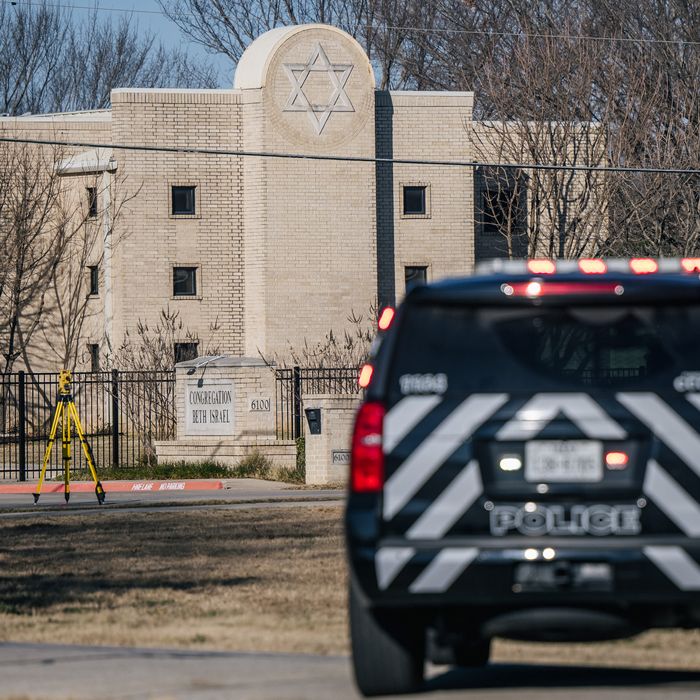 Photo: Brandon Bell/Getty Images
On Saturday, January 15, four people were taken hostage at Congregation Beth Israel, a synagogue in Colleyville, Texas. According to multiple reports, a gunman entered the synagogue as it was livestreaming a Sabbath morning service on Facebook and Zoom at around 11 a.m. local time. As one Texas resident told the AP, the gunman could be heard on the livestream threatening the hostages and claiming he had a bomb before the video cut out.
The suspect held the hostages for over 10 hours total, reportedly engaging in negotiations. At around 5 p.m. local time he released one of the hostages, but kept the other three until law enforcement breached the synagogue later that night. Details are scarce, but FBI Special Agent in Charge Matthew DeSarno confirmed that the hostage taker was killed in a "shooting incident," and it will be investigated. All hostages reportedly emerged safe and without injury.
The suspect in the Texas Synagogue hostage crisis is dead.
Late Saturday night after the hostages were rescued, FBI Special Agent in Charge Matthew DeSarno confirmed that the hostage taker was killed in a "shooting incident" that will be investigated, but refused to give any more details. In the meantime, not much is known about the suspect, who has been identified as Malik Faisal Akram, a British citizen. After Akram was identified, his brother Gulbar reportedly issued a statement apologizing to the victims and claiming that Akram had "mental health issues," per the BBC. "We would also like to add that any attack on any human being be it a Jew, Christian or Muslim etc is wrong and should always be condemned," he concluded.
The hostage taker reportedly demanded the release of Aafia Siddiqui.
According to NBC News, the suspect demanded the release of Aafia Siddiqui, a Pakistani woman currently serving an 86-year sentence in Texas for the attempted murder of U.S. soldiers in Afghanistan in 2008. She has reportedly been at the center of multiple demands for release from Al Qaeda and ISIS. Marwa Elbially, an attorney representing Saddiqui, responded to the hostage situation in Texas as it was ongoing on Saturday with a direct message to the suspect. "Whoever the assailant is, we want him to know that his actions are condemned by Dr. Aafia and her family," Elbially said, per CNN.
The motive for targeting a synagogue remains unclear.
Speaking after the rescue mission, DeSarno told reporters that the FBI did not believe that this attack was part of "any ongoing threat" and that they believe the suspect was working alone. DeSarno also seemed to suggest that the suspect was not motivated by anti-Semitism. "We do believe from our engaging with this subject that he was singularly focused on one issue, and it was not specifically related to the Jewish community," he told reporters. "But we'll continue to work to find a motive."
However, in his official statement Saturday night, President Biden said that, though the investigation is ongoing, he condemned anti-Semitism. "Let me be clear to anyone who intends to spread hate — we will stand against anti-Semitism and against the rise of extremism in this country," he said in part.
The Anti-Defamation League issued a warning to Jewish communities in the wake of the attack.
During the attack, major cities including Dallas, Washington D.C, Los Angeles, and New York City increased police patrols around synagogues and other Jewish community locations as a precautionary measure. And while it is believed that the Colleyville hostage situation was an isolated incident, community leaders continue to encourage caution. Jonathan A. Greenblatt, director of the Anti-Defamation League, issued a statement, urging "continued vigilance in securing synagogues and all Jewish institutions." He added, "The risks remain high in light of the historic level of antisemitism across the country and proliferation of anti-Jewish hate online."