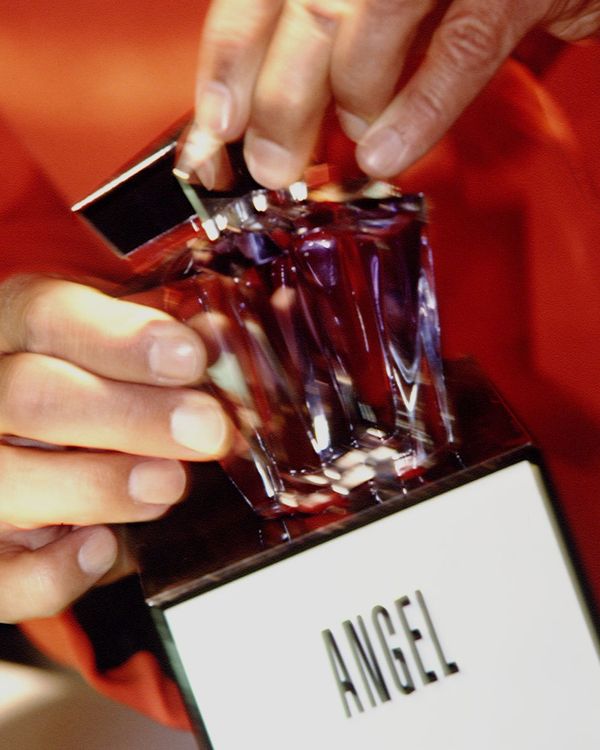 Photo: Eric Robert/Sygma via Getty Images
In the '90s, everyone sort of smelled like nothing, or they smelled like Angel. If you smelled like "nothing," you wore CK One. But if you thought the idea of smelling like "nothing" was boring and didn't really "believe" in grunge, you proudly wore Angel.
When designer Thierry Mugler passed away on Sunday at the age of 73, fans mourned the man who created one of the most legendary and loud — critics say obnoxious, fans say bold — scents of our time. "I think perfume is a study of the choice to take up space, in our physical life and in our memories and emotions," says Tynan Sinks, Angel fan and co-host of the fragrance podcast Smell Ya Later. "Angel makes no apologies for how much space it takes up, and I love that." Other fans of the fragrance included women known for being fearless in politics and entertainment, such as Barbara Walters, Hillary Clinton, Diana Ross, and Jerry Hall.
It is also an incredibly "extra" fragrance, with close to 27 notes — most scents have under ten — 95 percent of which could be found at a kid's birthday party. "I want something mouthwatering and tasty which reminds me of childhood," Mugler allegedly said, wanting to recapture his memory of visiting French fairgrounds. "The scent of a fairground, candy floss, little cakes, chocolates, and caramels." Perfumers Olivia Cresp and Yves de Chirin listened by throwing nearly every sugary ingredient into the formula: cotton candy, coconut, cassis, melon, jasmine, bergamot, pineapple, mandarin orange, honey, red berries, blackberry, plum, apricot, peach, jasmine, orchid, caraway, nutmeg, rose, lily of the valley, patchouli, chocolate, caramel, vanilla, tonka bean, amber, musk, and sandalwood.
"It is so decadent that you either love it or can't stand it, but either way, it's memorable," says Sable Yong, perfume writer and co-host of Smell Ya Later. From a technical perspective, former New York Times perfume critic Chandler Burr declared that it was the first perfume to synthesize or re-create the smell of cotton candy — known as ethyl maltol — in a lab. Vera Strubi, president of Thierry Mugler Perfumes, said, "Angel surprises and intrigues people at the same time. It is so different that some find it shocking, but others become addicted to it." Even Kim Kardashian remembers the scent as being so popular that it was ubiquitous. She told Refinery29, "My dad used to buy it for me all the time — I was so obsessed with it."
For those in perfumery, Angel was a marvel because it defied the '90s trend of smelling "clean" set by CK One. That perfume was the "scent of a generation," but Angel, released in 1992, was for those who weren't into waifs or waifish dressing, sustaining its popularity through to the 2000s. It was so beloved that it entered the Fragrance Foundation Hall of Fame (the Oscars of perfumery) in 2007. It was heralded as ushering in a new class of modern "gourmand scents," scents that smell like something you could eat. Without Angel, released in 1992, you would have never smelled like warm vanilla from Bath & Body Works as a teen or wildly spritzed yourself with a fruit-heavy Victoria's Secret body spray before a party where you might get kissed for the first time. Fenty perfume and alleged Rihanna favorite Kilian's Love Don't Be Shy, two more recent gourmand perfumes, may never have existed. Rihanna might never have been described as smelling like "heaven."
Like many great perfumes, Angel is polarizing. Because it is so strong, some people love it and others hate it. "It is also incredibly divisive," Burr wrote. "But great art often is." Its fan would agree.