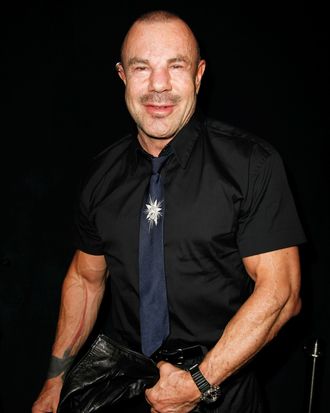 Photo: Florian G Seefried/Getty Images
On Sunday night, it was announced that French fashion designer Thierry Mugler died at the age of 73. A cause of death has not been confirmed.
"We are devastated to announce the passing of Mr. Manfred Thierry Mugler," an Instagram post on Mugler's personal account read. "May his soul Rest In Peace." The designer's eponymous fashion house also confirmed his passing on Instagram, describing him as a "visionary whose imagination as a couturier, perfumer and image-maker empowered people around the world to be bolder and dream bigger every day."
Mugler was a pioneer in haute couture, known for boundary-pushing designs that were equal parts dramatic and sexy. His designs' signature silhouette featured broad shoulders and a cinched waist, like Kim Kardashian West's "wet" look for the 2019 Met Gala. In 2021, Mugler's retrospective exhibition, titled "Thierry Mugler, Couturissime," was presented at the Musée des Arts Décoratifs in Paris. Originally having opened in 2019 at the Montreal Museum of Fine Arts, the exhibition showcased "the fascinating universe" Mugler created with his work in the fashion industry, the entertainment industry, and beyond.
Throughout his 50-year career, Mugler worked with celebrities including Madonna, Linda Evangelista, Zendaya, and Cardi B. His life and legacy have been commemorated on social media by celebrities like Brigitte Nielsen, Bella Hadid, and Diana Ross. "I will miss you Thierry Mugler," Ross wrote on Twitter alongside an old picture of the two of them. "This was a wonderful time in our lives."
Mugler was a man of many talents, specifically those involving art that the human body can create. In addition to his work in fashion, Mugler was an acrobat, a dancer, and a bodybuilder. In a 2019 conversation with Interview magazine, Mugler shared the advice he said he often gave to young people, both in the fashion industry and beyond: "Be clear what you want to say. Make sure that people get it."