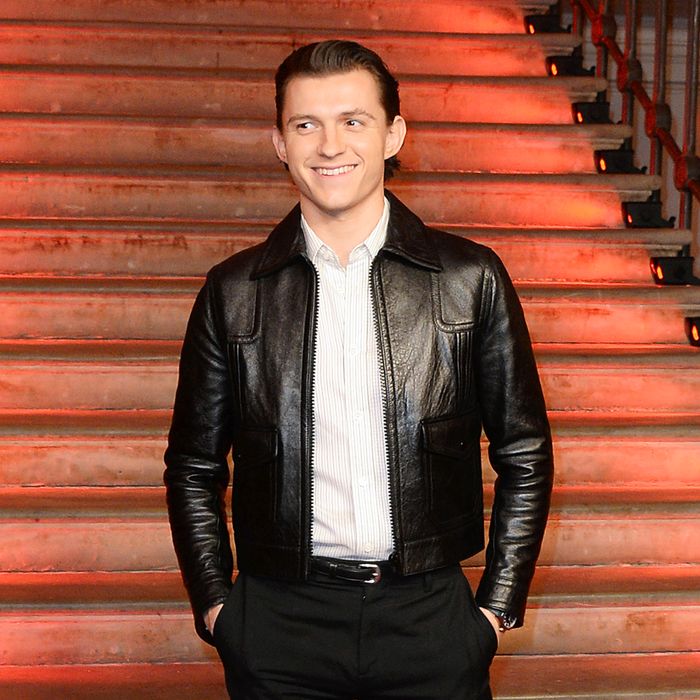 Photo: David M. Benett/Dave Benett/WireImage
With great power comes great responsibility, and with great fame comes… the opportunity to host the Oscars? Tom Holland is reportedly in the running to be the 2022 Oscar host — assuming, of course, that the Oscars do actually happen and aren't a closed event like the Golden Globes.
On Tuesday, January 11, it was announced that the 2022 Oscars will have a host for the first time since 2018. The fancy awards show has gone hostless for the past few years, after a controversy over planned 2019 host Kevin Hart's old homophobic tweets and jokes rendered that show without an emcee. Hopefully whoever books the gig this year will be controversy-free.
So, will the Academy finally hire someone who isn't a middle aged white man to host? Or should Jimmy Fallon be waiting by the phone? According to The Hollywood Reporter, the Academy has actually already reached out to their first choice: Tom Holland. It's going to be a Spidey Oscars, baby! Or, it could be.
Holland apparently expressed interest in the gig in an interview with THR in December, though his comments on hosting in 2022 weren't super encouraging — at first. "Maybe in the future, but in all honesty, I'm just too busy right now," he said initially, adding, "I love that kind of thing. I love being put under pressure and doing things that I feel uncomfortable doing." In true Holland fashion, the actor reportedly called back a minute later to change his answer. "You're asking me about the Oscars — you're the first person to bring that up — and I'm sitting here going, 'Of course I would host the fucking Oscars!'" He even said, "If they asked me to, I would." Gotta love that Tom Holland chaotic enthusiasm.
So, assuming the new reporting that the Academy reached out to Holland is correct, and that he can take some time out of his busy schedule to rehearse, it actually seems like a Spidey Oscars could actually work. As long as he brings that Lip Sync Battle energy to the stage, I won't be complaining. Bonus points if he gets likely nominee Andrew Garfield to perform a Spider-Man-themed musical number.