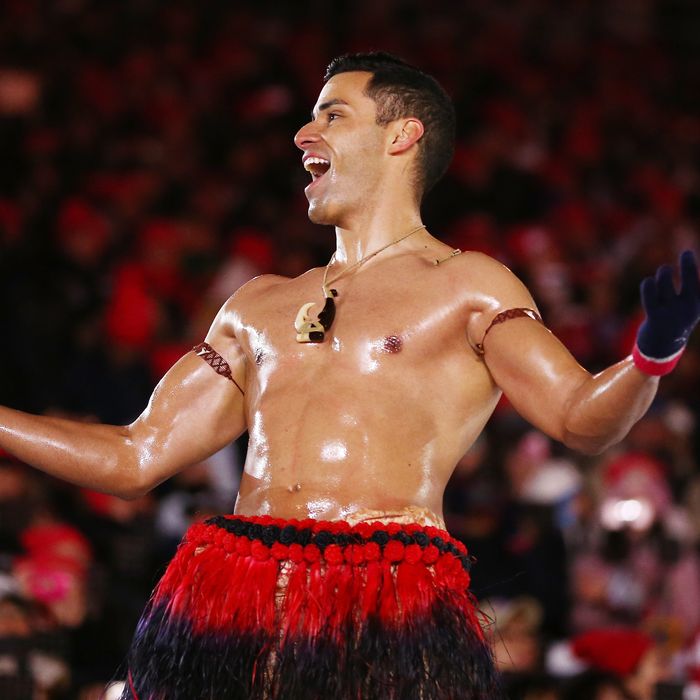 Look at his little gloves.
Photo: Dan Istitene/Getty Images
It is my distinct displeasure to report that this year's Olympics will NOT include an appearance by a familiar and beloved set of oiled abs, nor the pair of shiny pecs that have become synonymous with Opening Ceremony. Pita Taufatofua, best remembered as a beautifully lubed flagbearer for the Polynesian kingdom of Tonga, is bowing out of the 2022 Winter Games in order to focus on disaster response after a volcanic eruption and tsunami devastated his home country this month. This is a very good reason for missing a particularly missable Olympics, so we do not blame him.
"Right now my focus is on making sure that we can help with the Tonga rebuild and then my energies will move back to the Olympics," Taufatofua told Olympics.com. "Once I started to see the footage of all of the waves coming in, I sat there and I thought, This is going to be catastrophic for our island. We're going to need help."
The first part of a double-barreled disaster struck on January 15, when the offshore Hunga Tonga–Hunga Ha'apai volcano erupted with staggering force, throwing ash 100,000 feet into the air and blanketing the local landscape. The blast was loud enough to register on nuclear-detonation detectors even in Antarctica, and it triggered a tsunami that knocked out communication lines throughout Tonga's 170 islands. Ongoing supply-chain issues on top of a global pandemic have further complicated relief efforts, per the New York Times, though international aid is now incoming and some internet access has been restored.
Still, much more relief will be needed to get people back in their homes and the islands cleaned up. Many Tongans, Taufatofua told Vice, have "only ever drunk from rainwater tanks, and a lot of them are covered in ash."
"Ash has gone off the roofs, into the tank, so you've got 10,000-liter tanks with this much ash in it," he explained. "Sulfur and water. Not a good mix."
The rare Summer-Winter athlete, Taufatofua first competed at the 2016 Olympics in Rio de Janeiro (sport: Tae Kwon Do). His entrance into the Games wearing the ta'ovala he smuggled in, showcasing many gleaming abs, really made a splash, and so we were delighted to see him come blazing into the 2018 Winter Olympics in Pyeongchang. He taught himself cross-country skiing just for the occasion! A man of many talents! And also so much more than a sporty, sporty hunk: The 38-year-old athlete is also a UNICEF ambassador and a climate activist, and right now, he is crowdfunding for tsunami relief and sending food to people on the outer islands.
"We're feeding thousands and thousands of people warm fresh bread," he told Vice. "And that means a lot to the people on the outer islands, because that's their main meal in the morning, bread and tea — not everybody can afford the food."
So, you see, Mr. Olympics is busy and unfortunately will not be able to attend the Beijing Games. Understandable no matter the circumstances — the event is already extra-fraught due to coronavirus and human-rights concerns — but Taufatofua appreciates your support at this time. "I just wanted to say thank you. Thank you for that outreach," told Olympics.com. "Thank you for sharing with your governments about our little country and thank you for checking in on the Tongan people."