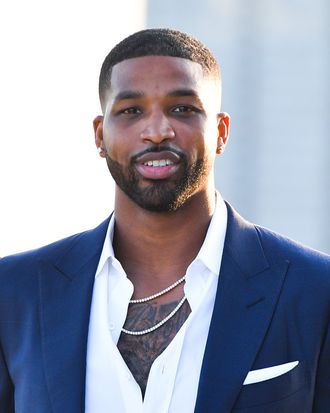 Tristan Thompson is reportedly now a father of three.
Photo: Getty Images
There is yet another new chapter in the never-ending saga that is Tristan Thompson's romantic escapades. After initially denying claims that he was the father of fitness model Maralee Nichols's newborn baby, Thompson has now confirmed that the child is indeed his.
"Today, paternity test results reveal that I fathered a child with Maralee Nichols. I take full responsibility for my actions. Now that paternity has been established I look forward to amicably raising our son," he wrote in a January 3 Instagram Story. "I sincerely apologize to everyone I've hurt or disappointed throughout this ordeal both publicly and privately."
He specifically apologized to Khloé Kardashian, whom he was dating when his and Nichols's son was conceived: "Khloé, you don't deserve this. You don't deserve the heartache and humiliation I have caused you. You don't deserve the way I have treated you over the years. My actions certainly have not lined up with the way I view you. I have the utmost respect and love for you. Regardless of what you may think. Again, I am so incredibly sorry."
Reports that Thompson had fathered another child broke in December 2021, when the Daily Mail obtained a paternity lawsuit filed by Nichols. At the time, Thompson denied the child was his and repeatedly demanded a paternity test.
According to those court documents obtained by the tabloid, Thompson admitted to having sex at least twice with Nichols after his 30th-birthday party in March. This would have been around the same time he and Kardashian seemed to confirm their reunion on Instagram. However, it appears he and Nichols had some kind of intimate relationship before that, though it's unclear to what degree. According to court documents, Thompson admitted that he and Nichols had been "hooking up" for months, arranging their meetups via Snapchat. His username, as revealed by court documents, is 'blkjesus00'.
While Thompson initially claimed that his birthday was the only time he had sex with Nichols, she said, per her lawyers, that the affair began at least five months prior to his party. It's not clear the extent to which the alleged affair overlapped with Thompson and Kardashian's rekindled relationship, which reportedly started back up in July 2020. (The two broke up again in June 2021.)
On December 17, Nichols spoke out publicly for the first time, issuing a statement to E! News. "Over the past couple of weeks, many inaccurate and false stories have been circulated about me," she wrote. "I have not at any point released — nor have I directed anyone else to release — any information regarding Tristan Thompson or any litigation involving him. I have never spoken to any media outlet, nor have I leaked any information to anyone at any time," she wrote, adding that she was providing this statement because she felt she must "defend my character." Nichols noted that she did "everything possible" to avoid drawing attention to herself during the pregnancy. "Instead of focusing on any negativity, I am choosing to embrace being a mother and doing the best I can for my son," she continued. "I do not want any further media attention, nor do I want a romantic relationship with Tristan. My goal is to raise our son in a safe, healthy, loving, and private environment."
This is Thompson's third child. He currently has a 3-year-old daughter, True, with Kardashian, and a 4-year-old son, Prince, with model Jordan Craig. Despite the closeness in ages, Thompson has maintained that he started dating Kardashian after he and Craig broke up.
This post has been updated. A previous version of this post mistakenly identified Nichols as Thompson's personal trainer. She was not his personal trainer.