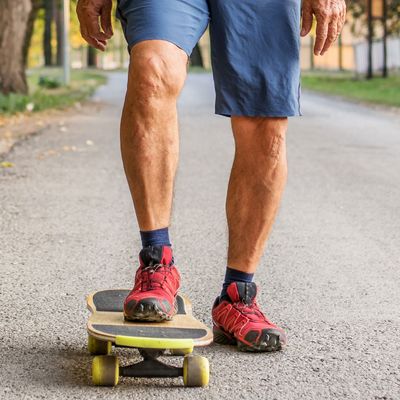 Photo: RealPeopleGroup/Getty Images
We already know skateboarding is unspeakably hot no matter your age. But now one very determined sociologist is on a mission to prove skating over the age of 40 is also … good for your brain? University of Exeter researcher Paul O'Connor (unsurprisingly a skateboarder himself) recently published a case study confirming that shredding pipe can help 40- to 60-year-olds with depression, stress, and loneliness, among other things.
Gathering interviews with 30 middle-aged skaters in Hong Kong and the U.K., O'Connor outlined a handful of benefits these Gen-Xers get from skating including "access to a community," "an identity separate from other parts of their lives," and a way to bond with their kids. Some interview subjects said skateboarding held "spiritual meaning" for them with one man literally calling it his religion. (Whether or not this man was Jonah Hill is unconfirmed.)
O'Connor recounted two instances when, upon asking his subjects what skating meant to them, he "was confronted with grown men fighting back tears, literally lost for words in grasping to communicate the importance and gravitas of their pastime." Skate is life, baby. Also, :')
Whether this is Tony Hawk's doing or just the inevitable result of skater boys aging gracefully into emotional maturity, it's a heartwarming development. It's also a pretty horny piece of news. What happens when you combine our collective lust for skaters with … an emotionally in-touch daddy? No wonder they made it an Olympic sport. Skate on, dads.