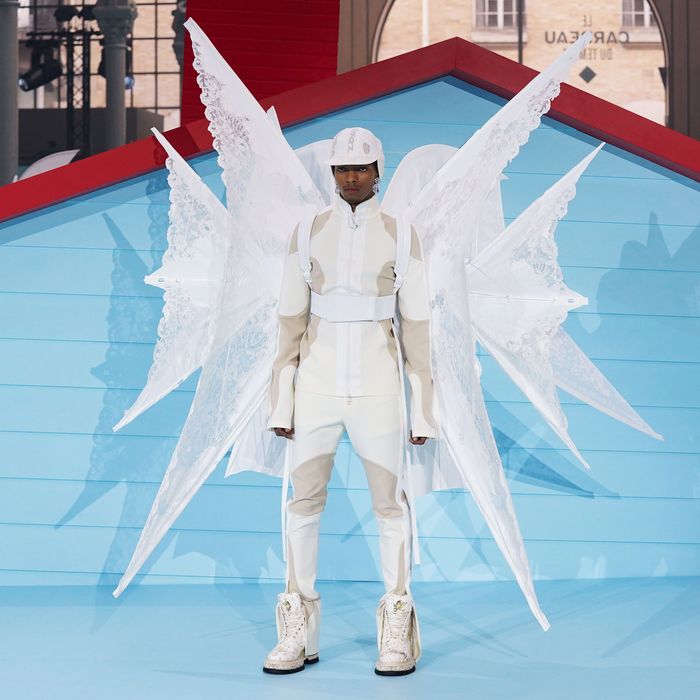 Photo: Francois Durand/Getty Images
On Thursday morning, Louis Vuitton presented its fall/winter 2022 menswear collection — the last by Virgil Abloh, who died almost two months ago at the age of 41 after a private battle with a rare form of heart cancer.
"When it's all over and our time is no longer, we leave it behind for others to seek their own dreams," says poet Kai-Isaiah Jamal in the short film preluding the runway show, dubbed "The ∞th Field." While last December's "Virgil Was Here" at Miami Art Basel was a tribute to the recently deceased designer and a reshowing of his spring/summer 2022 show from last June, "The ∞th Field" was his eighth and final runway show.
"One of Virgil Abloh's most used terms, imagination is what fuels this dream," the show notes said.
The scene in Paris was a powder-blue dreamscape with vignettes of a sunken house, a bedroom, a staircase, and a long banquet table that seated an orchestra. As it played, a group of hoodie-wearing acrobats jumped off and bounced back on the staircase like a Cirque du Soleil production, before the models emerged — most walking as usual, some dancing and contorting around the space.
Showing off some revolutionary designs or commercially lucrative goods wasn't the point this time. Instead, the show was a nod to Abloh's contributions to Louis Vuitton: silk and velvet tailoring in vibrant hues, washed-out monogram denim, floral-printed matching sets, riffs on varsity jackets and jerseys, his original sneaker designs, and a whole lot of reworked bags, including the classic trunk and backpacks, that doubled as art objects. Louis Vuitton angels graced the runway in all-white ensembles, lace wings, and veils. As the orchestra performed Tyler, the Creator and Kali Uchis's "See You Again," the late designer's team closed the show with a group bow to a standing ovation.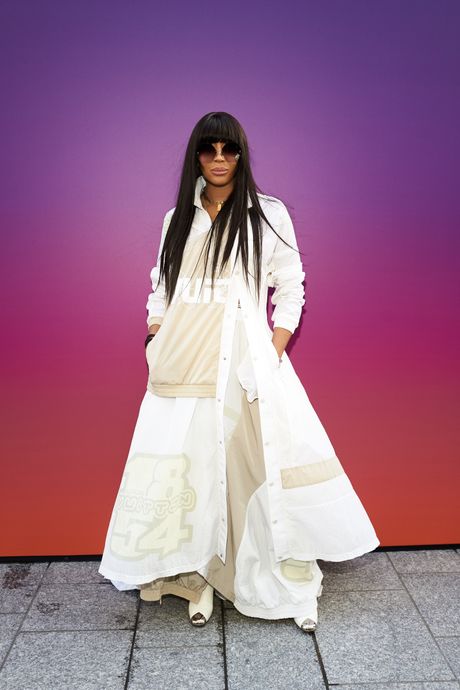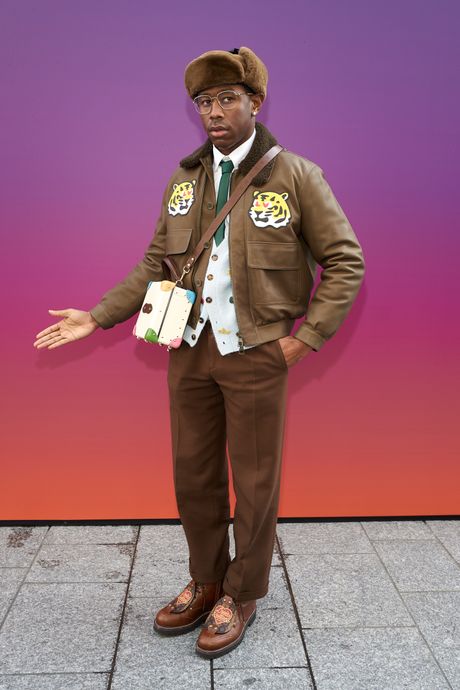 It was a week of lasts: Louis Vuitton also announced Abloh's final collaboration with Nike, which debuted last June in the spring/summer 2022 collection, on a pair of Air Force 1 sneakers, "fusing the trainer's classic codes with the insignia and materials of Louis Vuitton in homage to the hip-hop culture that shaped him."
Two hundred pairs of the shoes, encased in a monogram-embossed orange leather trunk, will be auctioned at Sotheby's from January 26 to February 8 with bids starting at $2,000. All of the proceeds intend to foster equity and inclusion within the fashion industry by benefiting the Virgil Abloh "Post-Modern" scholarship fund, which provides scholarships "to academically promising students of Black, African American, or African descent." Abloh may have passed, but his dreams are sure to live on.