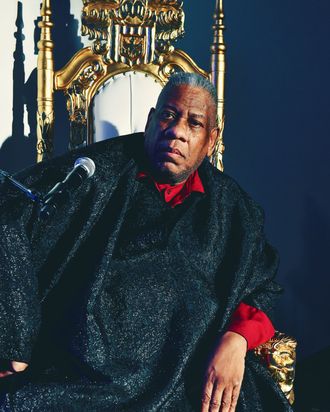 Photo: Craig Barritt/Getty Images for Johnson & Johnson
Late Tuesday night, it was confirmed that fashion-industry icon André Leon Talley died at the age of 73. Talley was an undeniable creative force, working as a fashion journalist and television personality with an encyclopedic knowledge of fashion history. Most notably, he served as Vogue's creative director from 1987 to 1995 and was the magazine's editor-at-large from 1998 until 2013. As of 9 a.m. Wednesday morning, Vogue had not yet acknowledged Talley's passing. Though he and onetime close friend Anna Wintour had a falling out in recent years, many criticized the magazine's immediate silence on his death — as they continued posting their regularly scheduled content — as insensitive and "tasteless."
"When we talk about how your job will never love you no matter how much you give them," writer Roxane Gay tweeted, "@vogue saying nothing about Andre Leon Talley's passing and just tweeting as normal is a case study. Foul business." Variety television critic Daniel D'Addario noted the stark contrast with Vogue's coverage of other breaking news. "No mention of André Leon Talley on the Vogue homepage, where the first story I saw promoted on their homepage was a two-day-old interview with Megan Fox and Machine Gun Kelly. To quote someone from when magazines were great, 'There is a famine of beauty …'" D'Addario tweeted, referencing the infamous ALT quote from The September Issue.
British Vogue posted an obituary early Wednesday morning. At 10 a.m., U.S. Vogue acknowledged Talley's passing in an article celebrating his life. Here is what Wintour said:
"The loss of Andre is felt by so many of us today: the designers he enthusiastically cheered on every season, and who loved him for it; the generations he inspired to work in the industry, seeing a figure who broke boundaries while never forgetting where he started from; those who knew fashion, and Vogue, simply because of him; and, not forgetting, the multitude of colleagues over the years who were consistently buoyed by every new discovery of Andre's, which he would discuss loudly, and volubly — no one could make people more excited about the most seemingly insignificant fashion details than him. Even his stream of colorful faxes and emails were a highly anticipated event, something we all looked forward to. Yet it's the loss of Andre as my colleague and friend that I think of now; it's immeasurable. He was magnificent and erudite and wickedly funny — mercurial, too. Like many decades-long relationships, there were complicated moments, but all I want to remember today, all I care about, is the brilliant and compassionate man who was a generous and loving friend to me and to my family for many, many years, and who we will all miss so much."
This post has been updated to include Vogue's statement.