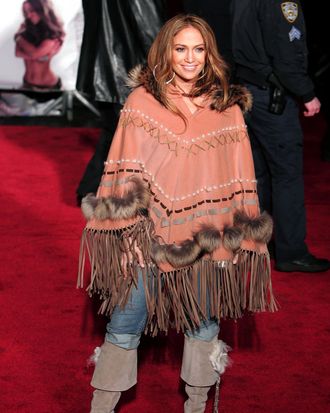 Photo: Charles Sykes/Shutterstock
The last time we seriously wrote about ponchos was in 2015, and even that I'd argue was too recent. But on Sunday, Jennifer Lopez was spotted out and about in a chunky knit poncho and flare jeans. In Los Angeles. We, and the internet, have some feelings about it.
Ponchos have cultural importance in Mexican culture. But ponchos as a fashion statement? Even in 2004, which was probably the peak of poncho fashion, Slate wrote about the impracticality of the trend. They described it as going "with everything" and as "one size fits all." We know from Brandy Melville that one size does not fit all, and honestly, should not. And can we go back to the impracticality of it? Knitwear should be warm, and how can something that doesn't have sleeves be a top? Vanity Fair writer Emily Kirkpatrick believes "we have outgrown the need for a sweater poncho as a society." I fullheartedly agree.
I am guilty of wearing one, but probably at the age of 10, like a few of my colleagues who agreed that they too wore them before we all knew better. Fashion assistant for the Cut Vivian Chuang remembers that her mom went through a poncho phase. "She kept putting me in this thick knit poncho and the apex was when she paired it with the turquoise velvet turtleneck. I went to school like that a few times that year. Nightmare relived over and over again." The Cut blogger Danielle Cohen even sewed her own poncho. She loved it until she realized ponchos are generally bad.
For someone who gave us this green Versace dress moment, I am lost. So why, J.Lo? Aren't low-rise jeans enough?