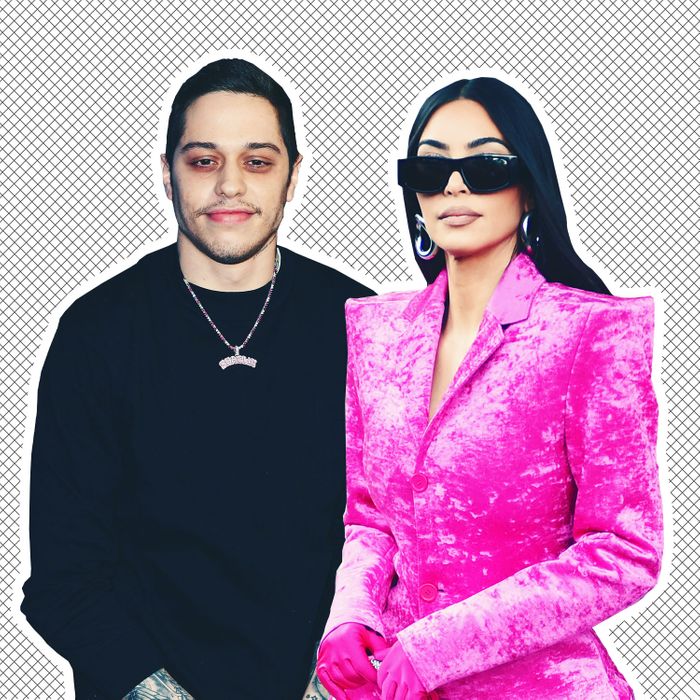 Photo-Illustration: The Cut; Photos: Getty Images, Shutterstock
It's been a long time since I've been on a tropical vacation (expensive, hard to schedule, potential for flying next to people with thongs on their faces). So naturally, Pete Davidson and Kim Kardashian's romantic trip to the Bahamas fills me with jealous rage. But it's also turning out to be a real educational experience, most recently by way of their outfits. This week, Pete and Kim were pictured walking down a dock in the Bahamas wearing a confusing amalgam of warm- and cool-weather clothing. I know I'm rusty, but is this really what people, even famous ones, wear on vacation these days?
Let's break it down piece by piece. In the photos from Wednesday, Pete has on a few items of acceptable resortwear: shorts, sandals, sunglasses. But at the same time, he's also wearing a hoodie and a letterman jacket — looking strangely bundled up for temperatures in the upper 70s — topped off with Beavis and Butt-Head socks (a Davidson signature). Also, upon closer inspection, his sandals appear to be suede. What???
And then we have Kim, wearing a deep-V going-out top that says, "I'm on spring break with Pete Davidson." All well and good. However, she's also clutching a fuzzy purse and wearing a pair of black jeans so voluminous I believe even Diane Keaton would object — two things that simply make no sense in sweltering heat. "Page Six" pointed out that her pants are "well-ventilated," meaning there are a few rips that might give her knees some opportunities to gasp for air. But even so, I refuse to believe that it can be simultaneously warm enough to expose one's entire torso and cool enough to wear thick black denim.
In fact, I think the only explanation for these outfits is that they've willed temperature not to exist at all. It's pretty bold and dare I say unnecessary, considering the two are currently in a place with notoriously nice temperatures. Still, their efforts are inspiring to me as I hunker down in front of my tiny space heater in 30-degree New York. Perhaps a Skims tank top will help?