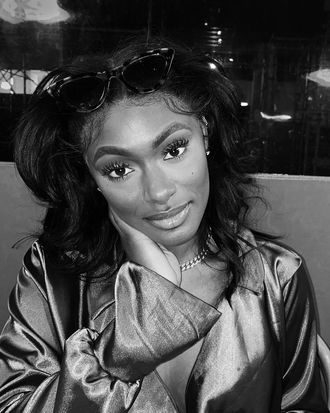 On December 12, 2021, a 23-year-old Black woman named Lauren Smith-Fields was found dead in her apartment in Bridgeport, Connecticut, after a Bumble date. In the month and a half since her death, her family has insisted that her case was not taken seriously and police bungled the investigation. This week, her death was ruled an accidental overdose, but her family still has questions, and they've announced that they plan to sue the city of Bridgeport for being "racially insensitive" and failing to properly investigate her death.
Smith-Fields's case is far from the first time a Black woman's death has failed to receive the resources, attention, and public concern generally reserved for white victims. Smith-Fields's family's lawyer, Darnell Crosland, has cited the case of Gabby Petito, a white 22-year-old influencer who disappeared and was eventually confirmed to have died during a trip she took with her boyfriend in September. The families of missing Black and Indigenous women have argued that Petito's case — and those of white women like her — receive far more media attention than is given to women like Smith-Fields.
While her family awaits the results of an independent autopsy, Bridgeport has also opened a criminal investigation into Smith-Fields's death concerning the involvement of fentanyl. Here's what we know so far.
Smith-Fields had a Bumble date the night she died.
Smith-Fields was found unresponsive in the early morning of December 12, after a 37-year-old white man named Matthew LaFountain called 911. LaFountain had been on a date with Smith-Fields the previous night and claims that when he woke up that morning, she was lying on her right side not breathing, with blood dripping from her nose.
In LaFountain's account, he recalls arriving at Smith-Fields's apartment around 9:30 p.m the night before; he said the two had matched on Bumble three days prior. He claims she asked him for $40 to do her nails and told him to meet at her house with a bottle of tequila. Per LaFountain, they drank tequila before playing games, having food, and watching a movie. At one point, he says, she went to the bathroom to throw up, and at another point he says she went outside to get something from her brother and then went to the bathroom for 10 to 15 minutes. The police report says that LaFountain found it "odd, but didn't feel it was his place to say anything as he didn't know her that well." He claims that she fell asleep during the movie and he carried her into the bedroom and slept next to her, and that he woke up at 3 a.m. to go to the bathroom and heard her snoring. Then, at 6:30 a.m., he woke up to find her not breathing. She was pronounced dead at 6:59 a.m., and a medic said she had not been alive for "at least an hour."
LaFountain, who the incident report says was "frantic" and "visibly shaken," was not taken into custody. As of January 26, he has not been named as a person of interest, nor was he detained at the station for questioning. Smith-Fields's brother was later told they didn't bring him in because he seemed like a "nice guy."
Police didn't contact her family, nor did they immediately examine the crime scene.
No one in Smith-Fields's family was notified of her death; per Rolling Stone, police spoke to her landlord when they arrived at the scene, but were unable to track down contact information for her family. Her mother, Shantall Fields, says she went to her daughter's apartment a day and a half later when she hadn't answered texts and calls and found a note on the door that said, "If you are looking for Lauren, please contact this number." Upon calling the number, Fields was notified of her daughter's death and told that the detective assigned to the case would be there in half an hour. After waiting over an hour, she says she called the number again and was told to stop calling before being hung up on.
The police didn't do a crime-scene investigation until later that week, when the case was reassigned to a different detective. According to Smith-Fields's brother Lakeem Jetter, he and his family noticed cups of liquor, flipped plates, and lube in the apartment, and a blood stain in the middle of her bed, none of which were initially examined as evidence. Two and a half weeks after the search, on December 29, her family was cleaning out Smith-Fields's apartment when they found a used condom in the trash and an unidentified pill, none of which appear to have been taken into evidence. Meanwhile, according to the family's lawyer, no evidence has been submitted to the forensic-science lab.
Her family is planning to sue the city for failing to properly investigate her death.
On January 21, Smith-Fields's family lawyer, Darnell Crosland, issued a notice of claim announcing that they intended to sue the Bridgeport police department for its handling of her case. They believe the police department was "racially insensitive," did not take Smith-Fields's death seriously, and failed to properly investigate her case.
The notice details a number of concerning missteps in the investigation, including the fact that obvious evidence was not gathered by police and that officers have been reluctant to formally interview LaFountain or name him as a person of interest. Crosland also alleged that Kevin Cronin, the detective first assigned to the case, "has some connection" with LaFountain and is currently under investigation by the city's internal-affairs department. In interviews, Crosland also stressed that deaths and disappearances of white women are taken much more seriously than those of black women. "When a white woman goes missing," he told Rolling Stone, "the world drops everything. We are done with this valuation."
Smith-Fields's family held a march on January 23, which would have been her 24th birthday, calling for justice and answers about her death from the police department.
The Connecticut medical examiner ruled her death an accident.
On January 24, Smith-Fields's autopsy results came in from the chief state medical examiner, concluding that she died of "acute intoxication due to the combined effects of fentanyl, promethazine, hydroxyzine, and alcohol." Her death was ruled an accident, but because fentanyl was present, the Bridgeport police department opened a criminal investigation in the narcotics department with the help of the DEA. Bridgeport's mayor, Joe Ganim, announced that internal affairs will also be investigating the police department's interactions with her family. He also ordered that two police officers be placed on administrative leave.
However, Crosland told WTNH that the toxicology report makes Smith-Fields's death look even "more like a murder," and says that the family is still waiting for the results of an independent autopsy. "I've never seen a medical examiner conclude a mix of drugs was an accident without knowing who provided the drugs, or how it was ingested," he said.