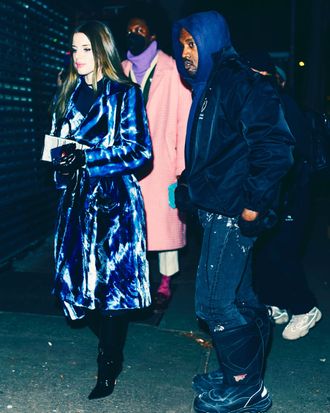 Another day, another potential chaotic coupling courtesy of Kim Kardashian and Kanye West's ongoing divorce. Ye has now been spotted at least twice with actress and model Julia Fox.
Just how serious are they, you ask? Well, one source went so far as to tell Page Six that the two are "kindred spirits" and their relationship is "cool to watch." In terms of actual photographic evidence, West and Fox were first spotted having dinner together on New Year's Day at Carbone in Miami, where they seemed to be on a double date with Drink Champs host N.O.R.E., a close friend of West's, and his wife. Page Six claims they also got sushi with Future the following night. Then the pair reunited in New York on Tuesday to see Slave Play and go to Carbone — wait, what? Carbone again?
Yes. While it's not clear where they're at relationship-wise, these two appear to have at least one thing in common — their mutual love of the upscale Italian restaurant chain Carbone. I guess the vodka sauce really is as good as they say.
Actually, Italian food is turning out to be a crucial factor in helping both Kardashian and West move on from their relationship — you may recall that she recently went all the way to Staten Island to have meatballs with Pete Davidson. You can have Kim and Pete's impromptu January trip to the Bahamas; I want what Ye and Julia have (spicy rigatoni multiple nights a week). Now that's amore.