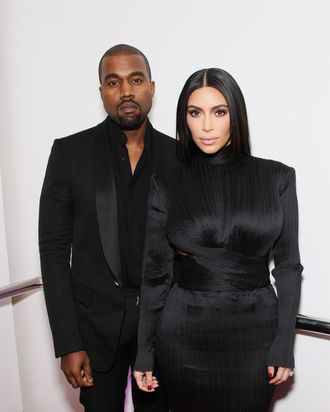 Photo: Bennett Raglin/BET/Getty Images for BET
Kim and Ye's increasingly public divorce took yet another left turn this week after Ye unleashed a string of accusations during an interview with Hollywood Unlocked. It all began a week ago, when the first part of the interview saw him claiming that he was prevented from coming into Kim's home to see their children because Pete Davidson was there. (Kardashian's rep denied that Davidson was present but acknowledged that security kept Ye from coming in because he showed up unannounced.) And now, in a segment released on Tuesday, he seems to be suggesting that he recently prevented a second sex tape of Kim's from being released.
Per Ye's story, he once hopped on a plane to meet Ray J at an airport to get a laptop from him, which he then delivered back to Kim. (Ray J, you'll recall, was the man in Kim's infamous sex tape, which came out in 2007.) While Ye doesn't specify when exactly this happened or what is on this laptop, he claims that Kim cried when she saw that he'd gotten it, because "it represents how much she's been used. It represents how much people didn't love her and they just saw her as a commodity."
Ye brought up the laptop retrieval after laying into Kim for kissing Pete Davidson as part of an SNL skit, alleging that he took the red-eye to get it that same night. "How you gonna bring me to SNL and kiss the dude you dating right in front of me," he said, "after I went and got the laptop from Ray J myself that night?" (For what it's worth, the SNL sketch took place before any reports of Kim and Pete dating.)
Kim's reps have denied that there's a second sex tape, writing in a statement that Ye did retrieve a computer and hard drive that held the original video and more footage from around the same time. They say "there was nothing sexual unseen, only footage on the plane on the way to Mexico and footage at a club and restaurant on the same trip."
Meanwhile, when asked for comment, Ray J said through his manager that he "wishes Kim and Kanye the best in all their endeavors and will not be discussing or addressing the past." Amen.