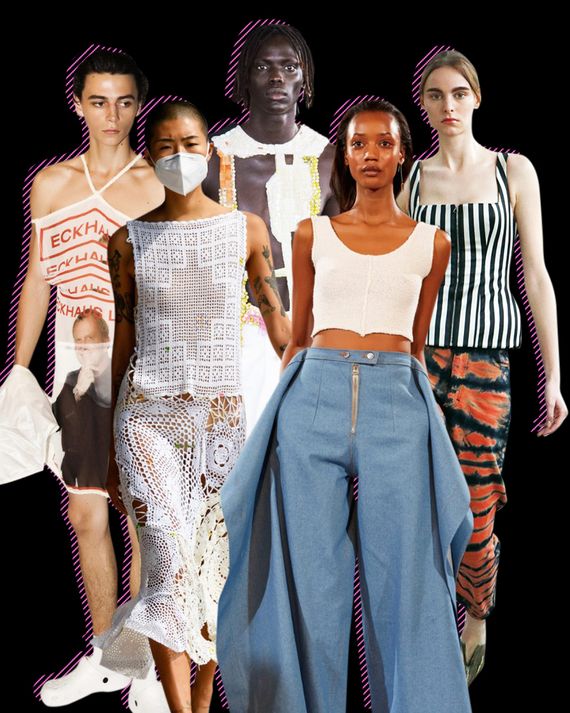 Photo-Illustration: by The Cut; Photos: Courtesy of Eckhaus Latta
Eckhaus Latta — the creation of Mike Eckhaus and Zoe Latta, both graduates of the Rhodes Island School of Design — had a big ten-year-anniversary show on Saturday night at the derelict Essex Market, and I'm pleased to say it was as odd and as ornery as ever. In the context of the American fashion industry — fractured, needy, celebrity-obsessed — Eckhaus Latta stands out for its clear, continually evolving identity. Editors still call Eckhaus "indie" and "artie," which simply proves how hard it is to put your finger on what makes the label so engaging.
The label arrived the same year as Lena Dunham's series "Girls," in 2012, and both offered a different and welcome view of young women, one that was messy, strange, a bit obsessive, and with a body image that felt real. Its clothes are for everybody, but shouldn't that be the goal? It certainly works for Latta, who is based in Los Angeles (which puts her in close proximity to the denim wash houses and suppliers) and Eckhaus, who's in New York.
The new collection, modeled by some familiar faces — including Hari Nef, Paloma Elsesser, and Susan Cianciolo — showed how much the designers have developed key forms like novelty denim and knits that often involve hand details like darning and patchwork. The pieces for fall are that much more particular: a pair jeans essentially reduced to seams and bleached panels of thread, a plain and beautiful gray pullover with two darned panels with flashes of matte gold and fuchsia, a bib-style knit top made of scraps and worn with darned jeans.
Eckhaus and Latta have long projected a comfortable sexuality, with elements of nakedness. But, again, this collection advances ideas and shapes that not only are part of the brand's tradition but are as strong as any in Europe. The clear sequined dress that opened the show (on David Moses, a founder of the label Vaquera) and the two examples of muted silver chain mail — for a pieced-together mini-dress and a T-shirt — were outstanding. Direct and modern.
Before the show, in recognition of their design milestone, I thought it would be fun to sit down with Eckhaus and Latta and revisit five looks — just five! — from the first 20 collections. How did those designs inspire or inform the direction of their scrappy label?
"Michael Kors" halter tunic in silk organza, spring 2013
Latta: Our design for this piece was this idea of someone epitomizing American fashion, almost like it was an identity. And for us that was so funny. Not that we were making fun of Kors as a figure head on Project Runway. But his brand was just everywhere.
And he was this TV personality who defined how inspiration happened. You know — 'You're an uptown girl, you're a downtown girl!' Like, the customer was very much a part of why you make clothes. That struck us as really funny, given the clothes that we were making.
Eckhaus: There was also an error in how the image printed out. It looks like he's on the cover of Time magazine, the person of the year. It looks like a stack of magazines. I think humor has always been part of our work.
Denim pants, spring 2015
Latta: This was the first time we made denim. It's one of our favorite collections. There was a kids choir. There was choreography. I loved this show. We also typically use a ton of materials and colors, but in this collection we used, like, three.
Eckhaus: It's a dead-stock denim we found at this vendor south of the Hudson Yards. They had all this dead-stock military fabric, and we found this denim. It was fun to explore these larger volumes. This was the first collection where we actually started to make things that were commercially viable.
Latta: It was something we wanted to wear ourselves.
Woman and kid, fall 2016, shown at MoMA PS 1 in Long Island City
Eckhaus: There were so many diverse elements to this collection. The T-shirt is important to us commercially as a brand but the coat that Bobby is wearing here is dead-stock military blankets that were hand-pieced.
Latta: They were all moth-eaten and we darned the holes. I mean, I heard Raf Simons owns one. I think we made 18 of them.
Eckhaus: The buttons are made of Sculpey, the clay you bake in an oven. I loved that show. The young girl is the daughter of a knitting teacher of ours at RISD. So it was a nod to something that was important to us.
Blue chiffon, spring 2018
Eckhaus: This piece was about playing with form — the way it was draped. It has slight densities yet also is nude and feels present.
Latta: To me, this feels like we had to do this in reaction to the Michael Kors piece. We love naked and falling apart and openness. But we also love clothes and making them, so this was the ability to do both.
Striped bustier and dyed jeans, fall 2018
Latta: For us, it was about tailoring, which we got really into, and then really crazy novel washed denim.
Eckhaus: It was us starting to get more confident in form and construction and exploring things that were more in the traditional language of fashion.
Latta: We developed the jeans with a dye house in L.A. that has since gone out of business. It's like a shibori technique on denim. It's only because we work in L.A. and go back and forth to the dye house that we could do this in such detail. Yes, we've done similar things since.
More From New York Fashion Week
See All