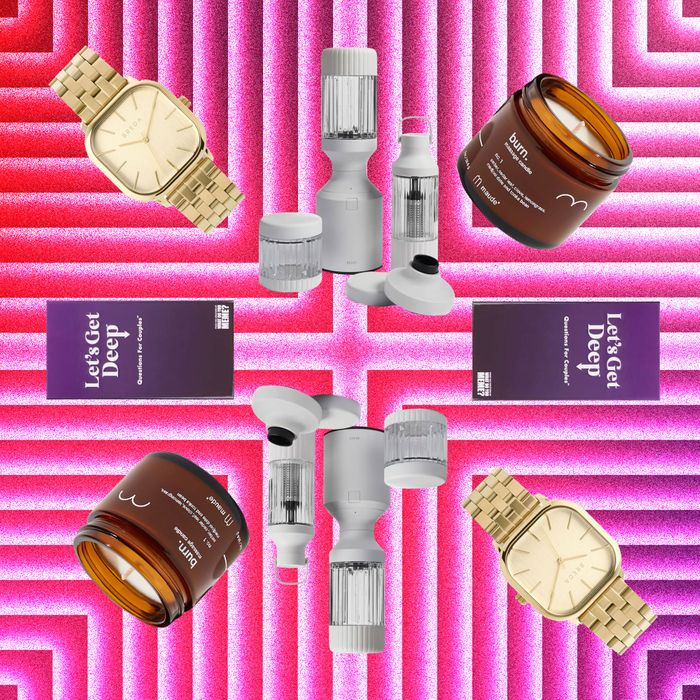 Photo-Illustration: by The Cut; Photos: Retailers
Love languages stem from a 1992 book by Gary Chapman, The Five Love Languages: How to Express Heartfelt Commitment to Your Mate. They are words of affirmation, quality time, acts of service, gifts, and physical touch. The short of it is that we all express love differently, and identifying these differences can improve our relationships. While the ideas aren't rooted in psychology, they've been fully embraced by many. At this point it's kind of unavoidable.
To get you started, we rounded up the best things to gift and share for your love languages.
Love Language: Words of Affirmation
For the person you haven't been dating for too long or the partner you want to reconnect with, this card game includes questions like "What do you spend the most time thinking about? Why?" that reveal your partner's deeper values and beliefs.
While this isn't geared specifically toward couples, it does include 150 prompts to get to know almost anyone better.
While you don't need fancy paper to write nice letters to your partner, it's definitely a bonus. This set comes with textured paper and matching envelopes, plus it's customizable.
Love Language: Quality Time
Classpop! offers a variety of classes in major U.S. cities in person and online like cooking, pottery, and dancing. Use this as an opportunity to switch up your usual dinner plans by making dinner yourself. With classes that teach you how to make southern food and pizza from scratch, taught by chefs, this isn't anything like a regular night in your kitchen.
It's cold and crowded, and this box has almost everything you need for dinner at home. Inside you'll find Danielle Alvarez's cookbook, fancy olive oil from Brightland, a candle to set the mood, and more. Make a meal and cuddle up on the couch; all you're missing are the ingredients.
Uncommon Experiences offers online classes that are far more niche. There's a class for almost anything you've ever had a fleeting thought of learning how to do. DIY bath bombs? Yes. DIY hot sauce? Yes, again. Knitting, painting, magic? They have it all.
Love Language: Acts of Service
This monthly subscription delivers NYC food staples like pizza, bagels, and more right to your door from local favorites like Russ & Daughters, Ferrara Bakery, Breads Bakery, Liebman's Deli, Di Fara, Junior's, and Gramercy Tavern.
Nothing says "I love you" like meticulously organizing your cabinets and counters. These glass jars are airtight and stackable; just think of how organized it's going to look, not to mention the counter space.
Cut out one of their least favorite household chores with this vacuum. Schedule the multi-surface floor cleaner via the app to easily clean up dirt, debris, and even pet hair.
Love Language: Gifts
This minimalist classic is genderless, making it an ideal gift for anyone with style. It comes in four color options, but nothing says timeless like a gold-plated timepiece.
The ultimate gift for the indecisive. This discover set features six vials of their best-selling fragrances like Marble Fruit, with spicy but woody notes, and Rose Load, a smoky rose offset with fruity notes.
Aside from being aesthetically pleasing, this set includes all the essentials for smoothie and juice lovers including a powerful blade to blend your favorite ingredients and a bottle you can use for smoothies on the go.
Love Language: Physical Touch
Maude's trio features candles that melt into a massage oil rich in jojoba and soybean oils. Opt for notes of cedar lead and amber, pink pepper and cedar wood, or the unscented candles.
This bundle from Lelo features some of their best sellers curated for couples and includes a sensitive-skin-safe personal moisturizer.
The weekly treatment is a mix of chemical (glycolic, lactic, and salicylic acids) and physical exfoliants like pumice and bamboo charcoal to gently buff away dead skin, leaving them with softer, touchable skin. Plus it looks good in their shower.