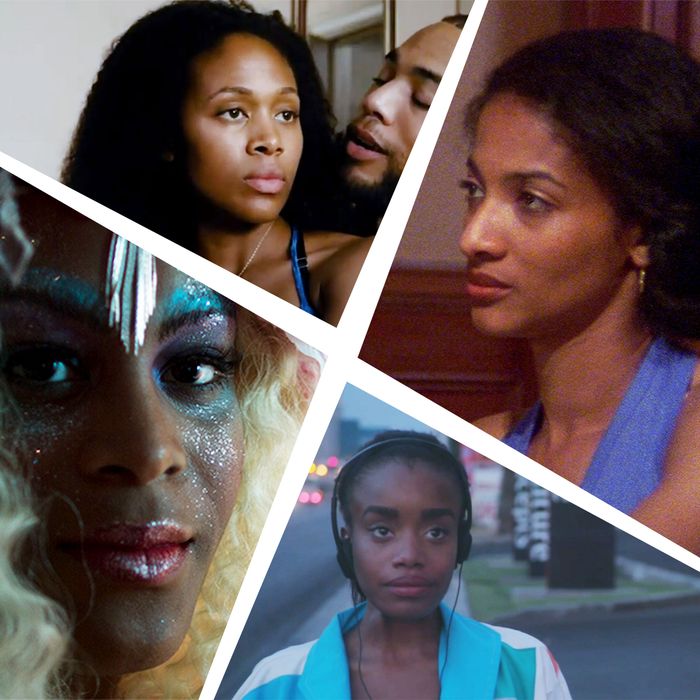 Photo-Illustration: by The Cut; Photos: Nathan Fitch/Frameline, Array, Everett Collection,
There is something nourishing about seeing your realities reflected back onscreen. Multidimensional stories that don't force you to settle for bits and pieces of yourself in characters who don't experience the world like you do. Films that carefully and tenderly explore the interior lives of Black women and girls — our happiness and sadness, our friendships and romances, our varied relationships to our mental health and our bodies, our undoings and rebirths and all the messiness that comes with being human in a deeply imperfect world. While these kinds of stories have long been told, they're rare and often underappreciated in mainstream Hollywood because, well, Hollywood.
Fortunately, there are resources that make finding dynamic stories much easier: Black Women Directors, an ever-growing digital library founded by Danielle A. Scruggs, spotlights Black women and nonbinary filmmakers across the diaspora. Maya Cade's Black Film Archive is a growing register of Black films from 1915-1979. Transgender Media Portal features Black filmmakers, as well as other artists of color, with stories that center trans and queer people in front and behind the camera. And film festivals like Black Femme Supremacy, founded by Nia Hampton, are great for finding new stories and connecting with other film lovers.
While this curated watch list doesn't scratch the surface of what's out there, these 20 films centering Black girls and women are a great starting point of stories for us and by us.
Guided by filmmaker-writer Nijla Mu'min, this tender coming-of-age story set in the Crenshaw community of Los Angeles follows 17-year-old Summer (Zoë Renee) as she experiences first love, a deepening relationship with Islam, and the ups and downs of a mother and daughter's clashing self-discovery.
Director Darnell Martin and lead Lauren Vélez are a union that continue to shine on screen almost 28 years later. If you've got a soft spot for seeing New York City on film — the stoop hangouts, confrontations in the bodega, ruminations on the train — then this tale of a fly working mom struggling and persevering in the Bronx will feel like a hug.
Filmmaker Cheryl Dunye wrote and starred in this seminal mockumentary that's now a must-watch part of the queer-cinema canon. The story centers a filmmaker and video store clerk, who is also a Black lesbian in '90s Philadelphia, as she searches for information about a mystery queer Black woman from a silent film. Expect a delightful dose of nostalgia — hello, video-store connections!
Amber J. Phillips is a filmmaker and art director whose hilarious sharp cultural commentary "imagines a world where Black womanhood is an abundant overwhelming experience of safety, pleasure, and joy." Her latest project, which she wrote, produced, and stars in, is a 31-minute meditation on identity divided into three parts — fat, angry, queer. Abundance is directed by Kym Allen, with cinematography by Sade Ndya.
This 11-minute gem of a short film follows Farrah (Raven Goodwin), a new-to-Los-Angeles hairstylist who makes a house call and meets a lively group of friends pregaming before an outing. The film was written and directed by Thembi Banks and was a 2019 Sundance selection.
A young woman (Tiffany Tenille) enters the realm of cam modeling with encouragement from her big sister, who works as a phone-sex operator. The film is inspired by the lived experience of writer-director-co-star Numa Perrier (hay, Black & Sexy fans!), and explores stepping into one's womanhood and the realities of survival for two sisters as they simultaneously process grief.
Writer-director Channing Godfrey Peoples honors the Fort Worth, Texas, community she was born and raised in with Miss Juneteenth. The film follows Turquoise (Nicole Beharie), a single mother and past Miss Juneteenth pageant winner, as she pushes through hard times and trying to establish her independence while dreaming big for her teen daughter (Alexis Chikaeze).
17-year-old Celeste (Mikayla Lashae Bartholomew) grapples with her queerness and the traditions of her affluent community on the eve of her cotillion. Writer-director Natalie Jasmine Harris, who brings the authenticity of a third-generation debutante, is currently adapting the short film into a feature-length script.
Finding your groove at any age can be tough. Add in being an artist who is sensitive about your shit in an industry full of white nonsense, grieving a parent, a younger Brooklyn boo, and casually being roasted by NYC teens from your drama class, and whew! Radha Blank's black-and-white dramedy — which she also wrote, produced, directed, and starred in — is a delight. Bonus incentive to watch: We get to see Blank rap-ping!
In 1999, Sidra Smith wrote, produced, and directed a film centered around a photographer (Gina Ravera) and a work-consumed magazine editor (Michele Lamar Richards) who find themselves increasingly drawn to each other. It's a fun and sensual portrayal of romantic love between Black women, friendship, and taking a leap of faith in the name of love. Expect to see familiar faces like Tichina Arnold, MC Lyte, Ajai Sanders, and Angela Means.
A shining aspect of artist Tourmaline's creative output is her archival work of Marsha P. ("Pay it no mind") Johnson and her experimental film portraiture of Black trans and queer elders. In this short, which was co-directed by Sasha Wortzel and stars Mya Taylor as Marsha, viewers get to go back in time hours before the pioneer sparked the 1969 Stonewall riots in New York City.
Filmmaker Leslie Harris's tale of a high-school junior, Chantel (Ariyan A. Johnson), from Brooklyn with big dreams is a classic. The headstrong teen's life plan is set: Graduate early, keep on the path to becoming a doctor, and leave the projects — but as life often reminds us, things rarely play out exactly how we envisioned it.
Set in Washington, D.C., and directed by West Baltimore native Angel Kristi Williams, Really Love stars a law student (Yootha Wong-Loi-Sing) on a clear path and a rising painter struggling to find his way (Kofi Siriboe). The two fall hard for each other while navigating professional aspirations and obstacles. A pleasantly saccharine watch for the person always in the mood to see Black love onscreen.
Get some snacks and watch this with your Mama, aunties, and the other cherished maternal figures in your life. This heartwarming offering by New Orleans storyteller/filmmaker Shantrelle P. Lewis explores and celebrates Black motherhood and the nuances of varied mother-daughter relationships.
If you've ever wondered what drives someone to pursue a career where you get onstage in front of strangers and are tasked with making them laugh, this documentary by director Debra J. Robinson can help fill in the blanks. Charming in its specificity, the film explores the personal lives and professional hurdles of four Black women comedians (Rhonda Hansome, Alice Arthur, Jane Galvin-Lewis, and Marsha Warfield) in 1984.
16.

Stormé: The Lady of the Jewel Box (1987)
Art that offers glimpses of our Black queer elders and their time here feels particularly special. In this short-form documentary, filmmaker Michelle Parkerson highlights the exploration and rejection of gender norms and categorization by jazz singer and performer Stormé DeLarverié in the '50s and '60s theater circuit.
Maya Angelou shared her artistry and life experiences in the form of poems, cookbooks, organizing, and public conversations — but did you know she also directed a feature film? Yep. The story follows a Chicago mother (Alfre Woodard) struggling with addiction who is sent to live with family in rural Mississippi by her own mother (Mary Alice) to connect with family, heal, and forge a path forward.
18.

Dreaming Rivers (1988)
Writer-director Martina Attille's story of a Caribbean mother, Ms. T (Corinne Skinner Carter), transitioning underscores a familiar ache that often comes with starting a new life in a new country. With Ms. T's children at her bedside in Britain, familial and colonial wounds rise to the surface.
Seventeen-year-old Sole (Hope Olaidé Wilson) moves to California from New York to live with her estranged grandmother (Lynn Whitfield) after her last remaining parent passes away. With escaping her religious new environment as quickly as possible on her mind, Sole finds comfort with her next door neighbor and a hidden eating disorder. Under director Tchaiko Omawale's guidance, characters struggling with self-harm, bulimia, and self-growth are met with softness.
In this indie written by, directed by, and starring artist Kathleen Collins, we enter the marriage of a philosophy professor, Sara (Collins), who is married to a philandering painter who does not truly see her. When the disconnected couple go away together for the summer, a whirlwind of self-discovery, boiling points, and new romantic connections ensues.