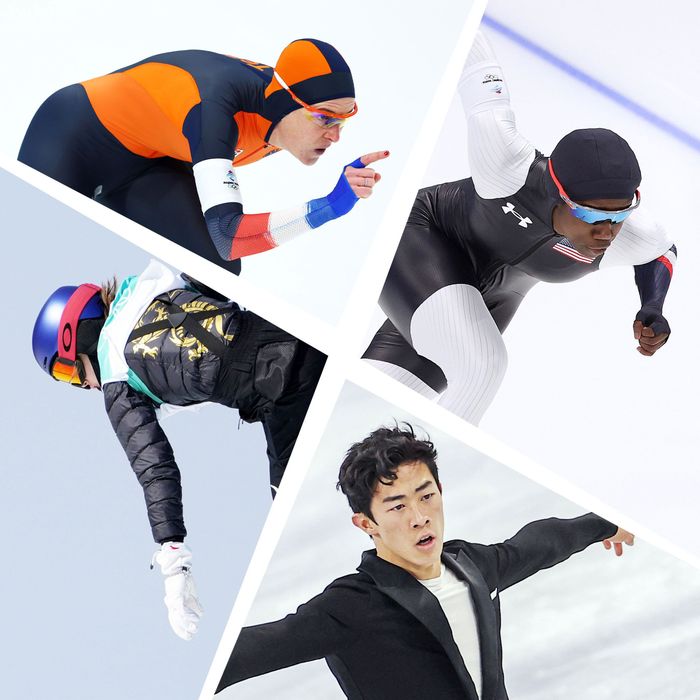 Photo-Illustration: by The Cut; Photos: Getty Images
The 2022 Winter Games kicked off on February 4 in Beijing, and the first weekend alone delivered a truly mixed bag of NBC programming. Much like the Summer Olympics, which were postponed to 2021, the presence of COVID-19 is very much felt in the Olympic village: Athletes have missed competitions after testing positive, spectators are restricted to mainland China residents only and discouraged from cheering, and one hockey team even played in face masks. Necessary, but not so fun.
There is some good news, though: Some members of the sparse audience are indeed cheering, Olympics officials be damned, and they are the real heroes. A few other bright spots have emerged, which are making it a lot harder for me to resist buying a fuzzy Team USA bathrobe from Skims. Here are the highlights so far.
A new oily flag bearer
Look at those slick, slick abs! This year's surreal opening ceremony revealed that there are not one but two shiny shirtless flag bearers on God's green earth. To fill Tongan tae kwon do fighter Pita Taufatofua's oily shoes, we have Nathan Crumpton, who braved 23-degree weather to bring us all the sight of his oiled-up, shirtless torso. Crumpton is a skeleton racer, which means he slides down icy hills on his stomach for sport, so the fact that his abs are even intact is nothing short of an Olympics miracle. His predecessor clearly agrees. We salute you, Nathan!
Nathan Chen bouncing back
American skater Nathan Chen set a record of his own at the 2018 Olympics, but his fumbles during the short program (which NBC keeps rudely replaying) got most of the attention. Thankfully, Chen has more than recovered at this year's Games, where he helped score Team USA a silver medal with a flawless performance in the team competition. Then, in the individual event, he got the highest score in the history of the men's short program, sweeping out the three top Japanese skaters who were supposed to be his competition. He followed that performance with a near-perfect free skate, to an Elton John medley, that won him the gold by a 22-point margin.
Jesus showed up … ?
Theater kids and church kids can finally come together to celebrate Mark Kondratiuk, the Russian skater who set his routine to a medley from Jesus Christ Superstar and wore a shirt with a crown of thorns around the neckline. I'm not sure if it's deliberate, but he also seems to be in a crucifix-ish position at the end. Our lord and savior? Is that you?
Ireen Wüst broke the gold-medal record
Dutch speed skater Ireen Wüst became the first athlete ever to win an individual gold medal in five Olympics — her sixth gold medal overall. She went into the race already the most decorated speed skater of the Winter Games. At 35, she's one of the 0.6 percent of Olympians to compete in more than four games. Wüst told the Times that even her professional team thought she was too old to compete again and dropped her after the 2018 competition. I wonder how they're feeling now …
Eileen Gu's fans broke Weibo
Eileen Gu, the American-born 18-year-old free skier who's competing for China (and, as the commentators were keen to point out, did really well on her SATs), slid into first place in the big air competition, making her the youngest freestyle-skiing Olympic champion. Afterwards, she knelt to hug her close second, Tess Ledeux, which was so cute I could just cry. Actually, I did a little. Meanwhile, a frenzy of users rushed to the Chinese social-media platform Weibo to celebrate Gu's win, which led the entire site to crash.
In a press interview after she got off the slopes, Gu was asked about the criticism she's gotten for choosing to ski for her mother's homeland of China, to which she responded, "If people don't like me, that's their loss. They're never gonna win the Olympics." Also she ate a meat bun with her gold medal on, which is an enormous flex.
Gold for Lindsay Jacobellis!!
The first U.S. gold medal of the 2022 Olympics went to snowboarder Lindsey Jacobellis, who's had four infuriatingly close shaves with first place at the Winter Games and has been virtually untouchable in every other elite snowboarding competition for years. After her victory, she talked about the fumble she made at her first Olympics in 2006, which lost her the gold medal and has became a point of fixation for commentators and fans throughout her career. She said if she'd actually won gold back then, "I probably would have quit the sport at that point because I wasn't really having fun with it." Even though she didn't want to call her big win "redemption," I'm so happy to see she's having fun now.
Leslie Jones can keep tweeting
There is nothing that delights the world more than Leslie Jones's commentary on various cultural events like, say, a movie about a fish man or global sporting events. Jones began her official career as an NBC Olympics commentator in 2016, livetweeting us through the Rio Summer Olympics, and NBC brought her back for 2018's Winter Games in Pyeongchang, where she wore the largest winter hat known to man and also dabbled in fashion criticism. She dutifully took up the mantle again this year (though not as an official NBC commentator this time), before being rudely discouraged by some unknown entity who was blocking her Olympics commentary videos, leading her to contemplate putting down the mic for good.
"I'm tired of fighting the folks who don't want me to do it," she wrote in a statement published on Twitter, adding that "they block my videos and they get folks who think they can do it like me…soooo I guess I'll leave it to the professionals." Leslie, YOU are the professionals!! Luckily, this disaster was averted: NBC Sports clarified that the issue with her videos was a "third-party error" and Jones is "free to do her social-media posts as she has done in the past. She is a super fan of the Olympics, and we are super fans of her." Fine, NBC, but please let Leslie do the wordplay from now on.
Chloe Kim did it again
Chloe Kim won the U.S. another gold on the half-pipe, her second consecutive gold after she became the youngest female snowboarder to get an Olympic gold medal in 2018. She dropped to her knees at the end, telling cameras she had "the worst practice of her life" before the event. Guess she turned things around!
Snowboarder Kaishu Hirano breaks world record for big air
Though he did not win a medal for it, Japanese snowboarder Kaishu Hirano set a new world record for soaring over halfpipes during his run. Hirano flew 24 feet and four inches over the halfpipe's lip, placing him more than 46 feet off the ground at peak jump. The gold wound up with his brother, Ayumu Hirano, who also delivered an impressive performance. Congrats to the whole family.
Hot new sport alert!!!
Three Americans have taken gold in a new-addition Olympic sport: mixed team aerials. Q: What is a mixed team aerial? A: A skiing event in which mixed-gender teams do big jumps in order to chart the highest composite score. Sort of an … airborne ski-tricks medley, where the tricks have names like "back double full-full-double full"? Sure, why not!
Erin Jackson makes speedskating history
Team USA's Erin Jackson made history on Saturday, February 12, taking home the gold medal in the women's 500-meter speedskating race. Not only is she the first American speedskater to win an individual medal since 2010, she is also the first Black woman to win a medal in the sport. "Hopefully it has an effect," Jackson said of her historic achievement. "Hopefully we can see, you know, more minorities, especially in the U.S.A., getting out and trying some of these winter sports. And I just always hope to be a good example."
This post has been updated.