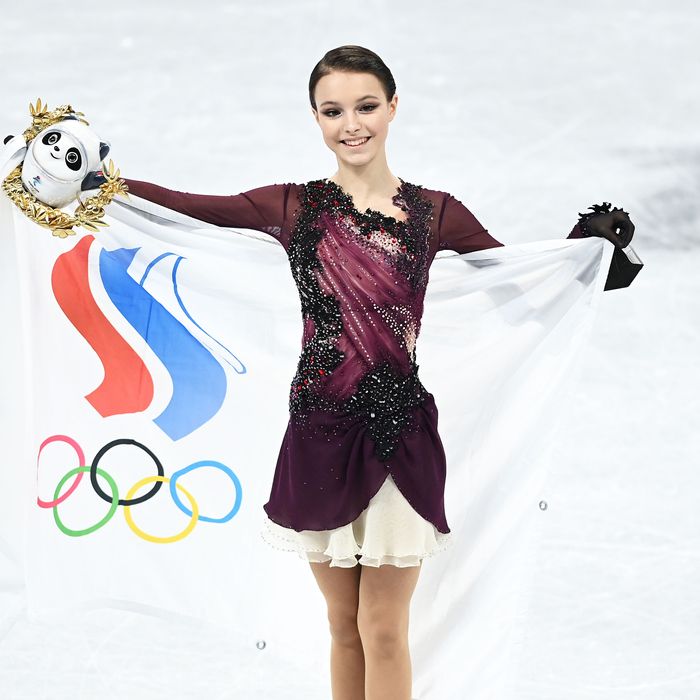 Anna Shcherbakova of the Russian Olympic Committee.
Photo: David Ramos/Getty Images
On Thursday, the Russian Olympic Committee's Anna Shcherbakova claimed first place in the Olympic women's figure-skating competition. Though Shcherbakova is one of the three Russian powerhouses with a quadruple jump in her repertoire, was the first female skater to perform two quad Lutzes in one program, and is the reigning world champion, her win was considered an upset.
Fellow ROC skater Kamila Valieva had been the focus of much pre-Olympic coverage, with many expecting her to sweep this year's Winter Games. Instead, the 15-year-old has been the center of a doping scandal after she tested positive for trimetazidine, a drug classified as a "metabolic modulator" by the World Anti-Doping Agency. Despite her positive drug test, Valieva was still allowed to compete in the Olympics on the stipulation that, if she won, there would not be a medal ceremony. On Thursday, Valieva placed fourth.
Shcherbakova, 17, gave an impressive performance during her free skate, helping her to clinch the top spot on the podium. Though Valieva won the short program on Tuesday, she had multiple stumbles and two falls during her free-skate performance, ending her chance at winning gold. "Honestly, I didn't realize yet that the Olympic Games has already gone," Shcherbakova told NBC after her win. "I just know that I skated clean and I'm so happy, but I didn't realize the result." Alexandra Trusova, who is also a member of the ROC's team, won silver. Kaori Sakamoto of Japan very happily took home bronze. On Team USA, Alysa Liu placed seventh, Mariah Bell placed tenth, and Karen Chen placed 16th.
Shcherbakova's gold is also a win for ROC coach Eteri Tutberidze, whose controversial practices, some have argued, border on abuse. Tutberidze, who also coaches Valieva, is notorious for retiring her athletes incredibly young, sometimes as early as 14. In fact, some have dubbed it the "Eteri Expiration Date." Skaters who have trained under Tutberidze have spoken openly about not being able to drink water during competition. Others allege they were made to take puberty blockers to aid in their training. It's unclear what Valieva's positive drug test means for Tutberidze's coaching future. However, if Shcherbakova's win is any indication, her questionable methods of producing Olympic champions may not end anytime soon.