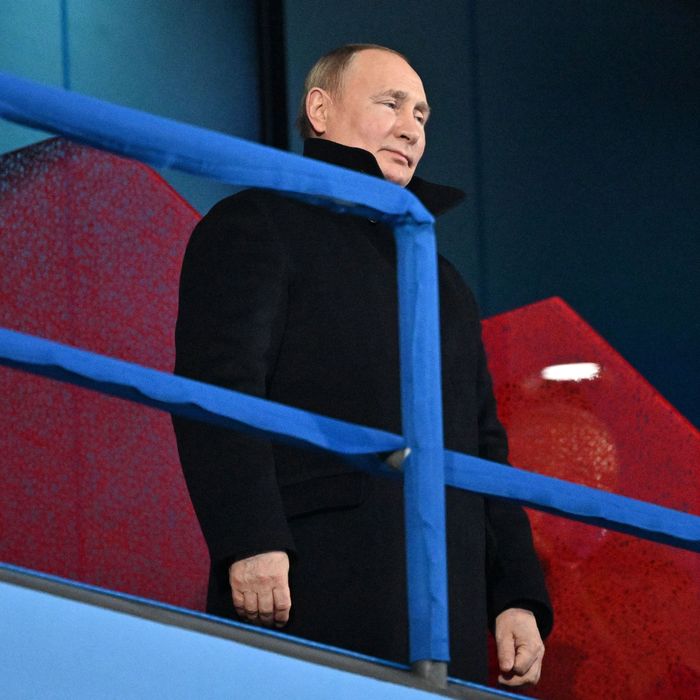 Russian President Vladimir Putin, who attended the Opening Ceremony, despite Russia's nominal ban from the games
Photo: ANTHONY WALLACE/POOL/AFP via Getty Images
Welcome to the 2022 Winter Olympics, which have been underway in Beijing for just a couple of hours now, and already, things feel ominous. Which, not unexpected: For months, the International Olympic Committee has faced pushback for allowing the games to go on despite allegations of genocide by the host country and the ongoing coronavirus pandemic. The latter will mean sparsely populated stands and absolutely zero cheering — not to mention athletes on edge about being sidelined by a positive COVID test — but it's the backdrop of human-rights violations that really darken the mood.
Consider the Opening Ceremony. China sent two torchbearers to light the Olympic Cauldron (this year, a massive snowflake), one of whom — cross-country skier Dinigeer Yilamujiang — reportedly belongs to the ethnic group the government has come under fire for persecuting. The United Nations believes that, between 2017 and 2018, China forced more than 1 million Muslim Uighur into brutal detention camps, which have only grown more crowded in intervening years. In those camps, it's been reported that Uighurs are subjected to torture, sexual abuse, sterilization, and forced labor and are made to renounce their religion. Citing "genocide and crimes against humanity," the Biden administration announced a diplomatic boycott of the games in December; while athletes would be allowed to compete, the U.S. would not send government officials to watch. Several other countries — including Australia, the U.K., Canada, Estonia, Latvia, the Netherlands, Sweden, Denmark, and India — have since joined the boycott. But given the context, the decision to hand the cauldron-lighting honor to Yilamujiang reads as pointed, to say the least.
Speaking of government officials attending the games, Russian president Vladimir Putin was spotted snoozing in the stands at the Opening Ceremony. Though Russia remains officially banned from the Olympics because of its doping scheme — this mostly means the country can't engage in any government branding (no flags, no anthem) — it still sends athletes as a "Russian Olympics Committee." But the sanction also applies to Russian officials, so maybe you are wondering, What the hell is Putin doing there? Per Reuters, he received an invitation from Chinese president Xi Jinping and clambered through a loophole. Friday also saw the two leaders issue a joint statement maligning international "interference in the internal affairs" of other states, as Russia rallies troops at its border with Ukraine. By interference, they mean the U.S. and NATO allies, which have been sending military weapons and personnel to Ukraine as if in preparation for armed conflict. Again, ominous.
Meanwhile, back in the U.S., we have a warning against protest from Speaker of the House Nancy Pelosi to Team USA: "I would say to our athletes: You're there to compete," she said Thursday. "Do not risk incurring the anger of the Chinese government, because they are ruthless."
The IOC has long penalized even mild political statements with the expectation that athletes will shut up and just play their sport. The IOC loosened its rules a little over the summer, but as the host country, China also has power to enforce restrictions on speech it deems political and/or critical. The Chinese government seems ready and able to do this: Recall Peng Shuai, the Olympic tennis star who disappeared after accusing a high-ranking Communist Party official of sexual assault only to resurface and recant in a series of suspicious state-media appearances. Pelosi urges Olympians to keep their opinions to themselves while in Beijing: "I know there is a temptation on the part of some to speak out while they are there," she explained. "I respect that. But I also worry about what the Chinese government might do to their reputations, to their families."
Which is pretty fucking bleak and maybe also raises the question: Why is this happening at all? Why are countries that oppose this Olympics participating in this Olympics, and why has the IOC insisted on Beijing as the setting? As to the second of those, the Associated Press reports that, after a bidding war in which many other prospective hosts dropped out, the IOC wound up with two choices: Beijing and Almaty, Kazakhstan. Beijing won the vote. As to why the U.S. sent a delegation at all, that decision — at least according to the administration's messaging — had more to do with the athletes themselves. "I don't think we felt it was the right step to penalize athletes who have been training, preparing for this moment," White House press secretary Jen Psaki explained of the diplomatic boycott.
While many Olympic sports may spotlight a few big names you know, the majority of competitors do not come backed by lucrative sponsorships. Many are people pouring time and money into training while also working regular jobs, even as other parties profit from their performance. Though the IOC does not attach a cash award to medals, the U.S. Olympic and Paralympic Committee do give medalists some money — and performance at the Olympics raises the possibility of brand partnerships. Competing in the games can be an opportunity to finally see some financial gains after years, even a lifetime, of hard work — as well as a career-pinnacle achievement. That's the thing about the Olympics: They are always an exercise in ambivalence.