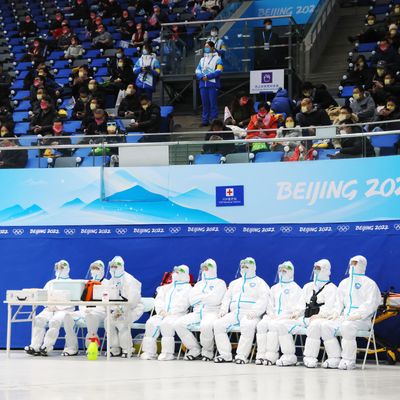 Squid Game
? No! Olympic Games!
Photo: Bruce Bennett/Getty Images
When you think of the Olympics, what scene comes to mind? A quiet and sparsely populated arena? Medical staff in hazmat suits? Little to no cheering? Well, that is precisely what the 2022 Winter Olympics will look and sound like. Fun!
Like the 2020 Summer Olympics, this year's Winter Games will have a very limited number of spectators given *gestures wildly* all of this. Additionally, officials are encouraging those spectators who are allowed in to abstain from cheering. Nary a hoot nor a holler! On Thursday, the New York Times described the crowd at a preliminary hockey game between Canada and Switzerland as "subdued." Not usually what you'd expect from a worldwide sports event, especially when that sport is hockey. In addition to the quiet crowd, a group of medical staff in hazmat suits was in attendance, as per the Beijing Olympics' COVID-19 guidelines.
As silly as it seems, the "no yelling" rule is not a completely absurd precaution. Evidence does suggest that yelling and singing can increase the spread of COVID-19. Still, I'd imagine a crowd of shouting fans is far less intimidating than a room of people sitting quietly, saying nothing, as you do your little ice jumps and sports goals.
With these dystopian guidelines in place, I would like to propose a few alternative cheering options for any and all 2022 Olympics spectators to consider:
- Snapping à la a poetry reading
- A few loud stomps
- Initiating a low clap
- Air horns
- Making fart noises with your hands
- Jumping up and down quietly
- Doing a little dance
- Giving a thumbs-up
- Making a swoosh-ing sound with your hazmat suit like you would wind pants
- Lip-syncing the words to "Fight Song"
- Whispering "good job" into your mask
If you would like to quietly whisper along, the Olympics kick off tomorrow with an Opening Ceremony I'm sure will be just as eerie as last year's.