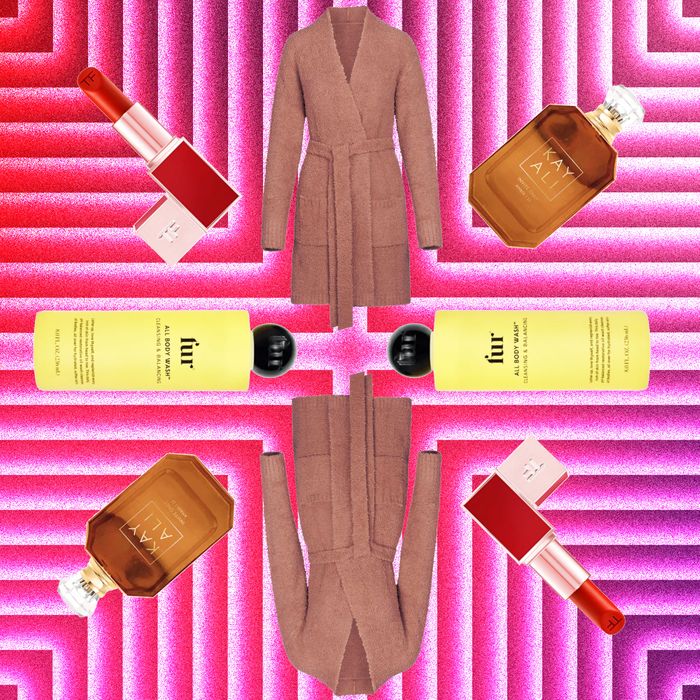 Photo-Illustration: by The Cut; Photos: Retailers
Your friends deserve to feel the love from you on the day of romance, too. Whether they're single and in need of some uplifting treats and self-care luxuries or in a relationship and stressing themselves over what to get their partner, you'll want to shower them with some love to show how much you appreciate them.
Here are some of our favorite gifts:
These eye masks brighten and hydrate the under-eye area with ingredients like hyaluronic acid and aloe. Plus they're great selfie accessories. I use these weekly, and not only do they illuminate my under-eye area, they are also great for Self-care Sunday.
Gift them a spa day at home with this deep-tissue massage pillow. This top-rated pillow has over 40,000 reviews from users who have fallen in love with it because of its solid build, which deeply massages every knotted muscle, its affordability, and its ease of use. Reviewers who have received frequent spa massages claim this pillow works just as well, which says a lot.
My friends love to bring their instant cameras on vacation, so this can also be a gift that starts chats for summer-trip plans. Many users love this more than other cameras because of the quality of its photos, the nostalgia it brings, and the strap it comes with that makes it convenient to carry around.
Sweets are always a good idea. Your friends are sure to feel the love with Baked by Melissa's mini-cupcakes, the perfect indulgence. The itty-bitty nature of these always makes me enjoy V-Day sweets guilt free.
Reviewers cannot stop raving about this rose. TikTok has dubbed it Rosanna, a girl's pleasureful best friend, and many reviewers claim they "never need a man again" after using it.
Journals are a great tool, and Papier allows you to customize them — because every friend needs a new notebook to vent, plan, or just write down their feelings.
Gift your friends the gift of luxury with Fur's body wash, which is formulated with vitamin E and castor-seed oil for hydration. It's also pH balanced, so it's safe for even the most sensitive areas.
Kay Ali's Invite Only fragrance is a blend of warm notes like amber and cinnamon. Even if your friend doesn't have a date for V-Day, they will be pulling this out for their next date night and thanking you later. Trust me, I get nonstop compliments whenever I wear it even from my Uber drivers.
I received this as a gift and never forgot it because of how influential the book has become in my life. Oprah's personal experiences include advice about finding joy in the everyday. It'll certainly make a mark on your friends who are doing some soul-searching.
Diptyque has plenty of cult-favorite scents, but the rose in this one just screams romance.
From pleasure to sleep to creativity, these CBD vegan-chocolate bars have all the "plant magic" for the friend who needs to unwind. And reviewers love that it's tasty while being nondairy and having the perfect amount of sweetness. Most love to eat it right before bed for a pleasant night's sleep.
These Gymshark leggings have the ultimate comfort that'll take your BFF from a workout to errands. I practically live in them because of the way they hug my curves.
Every friend will appreciate a bottle of wine and some glasses to accompany it. These have a chic silhouette and come at a great price.
This robe feels like a wearable blanket. It's another piece I live in because it's just that comfortable.
For your friend who starts their day with daily affirmations, these self-care cards will be a catalyst for positive thinking and goal setting.
Tom Ford's sleek packaging and pigments make for a dreamy gift that looks good on all skin tones.
Don't want to get flowers? Get a floral fragrance for your scent-obsessed friend instead. This Moncler floral blend comes packaged in an innovative LED screen that allows you to key in any message; it can say "Happy Valentine's Day" when you gift it, and the owner can change it to whatever they want. I love using it as a base-layer scent under vanilla fragrances. It lasts all day long.
These bangles add resistance to any workout for them to hit their fitness goals and look stylish in gym selfies.
This cult-favorite pan cooks literally everything. Reviewers say it's easy to clean, and it makes for a great stove-top accessory because of how pretty it is.
We all have that friend who always has a dead phone (insert myself). This wireless phone charger has saved my life plenty of times, and it doubles as an accessory tray that adds a chic touch to any living space.
What's better than lingerie? One that comes with a beauty fave — in this case, a Fenty Beauty gloss bomb. For a limited time, Savage X Fenty is offering a VIP box featuring its sultry pieces and an exclusive gloss bomb in a luscious lavender hue that isn't available on Fenty Beauty or any other retailers until April.