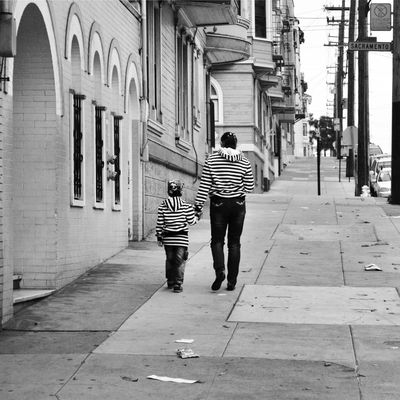 Photo: Kashin Sergey Alekseevich/Getty Images
Last March, Congress tossed a long-overdue lifeline to low-income families: a wide-ranging Child Tax Credit that virtually guaranteed up to $300 per month to nearly all American households with children. The effects of the plan's expanded benefits were immediately clear: In July, when the first monthly payments went out, child poverty went down by 26 percent and food insufficiency in families with kids dropped by 24 percent. By December, when the benefits were up for renewal, researchers estimated that the monthly checks were keeping 3.7 million children out of poverty. But the extension of the expanded Child Tax Credit was killed with Biden's domestic-reform bill, and come January, child-poverty rates immediately skyrocketed.
The expanded Child Tax Credit, which was first passed in March 2021 as part of President Biden's American Rescue Plan stimulus package, widened the pool of families eligible for support and upped the amount of money they could receive. Before the expansion, child tax credits left out about one-third of all children and nearly half of all Black and Latino families. Single-parent families and those in rural areas were also previously ineligible to get the full credit. With the expanded credit, child poverty dropped from 17 percent at the beginning of the year to 12 percent in December.
Supporters of the expansion were hopeful the plan would continue past December, when it faced a vote in the evenly divided Senate as part of the Democrats' $2 trillion Build Back Better Act. That plan ended up dead, thanks in part to West Virginia senator Joe Manchin, who was adamantly opposed to continuing the child tax credit from the start — at one point, he said that he would only support an extension if the benefits were limited to working parents. When that stipulation didn't make it in, he voted against the bill, claiming that the already whittled-down proposal would "dramatically reshape our society in a way that leaves our country even more vulnerable to the threats we face."
At least one sizable chunk of the country — 3.7 million people, to be exact — is now more vulnerable thanks to that decision. Which makes sense, because Manchin reportedly told his colleagues he was concerned not about the challenges facing low-income parents but the possibility that those parents would spend their child tax credits on drugs. Of course, data from the Census Bureau has found that most families were using the stimulus for basic necessities like food, clothing, shelter, school supplies, tuition, and transportation to and from school.
Now that families have to go without those funds, child poverty is right back up to 17 percent — exactly where it was last January before the expanded tax credits were passed. Unemployment rates are also expected to go up since one in four parents with young kids were using their payments to help cover child care. Meanwhile, Manchin told reporters on Thursday that there were "no formal talks at all" to start renegotiating the Build Back Better plan.