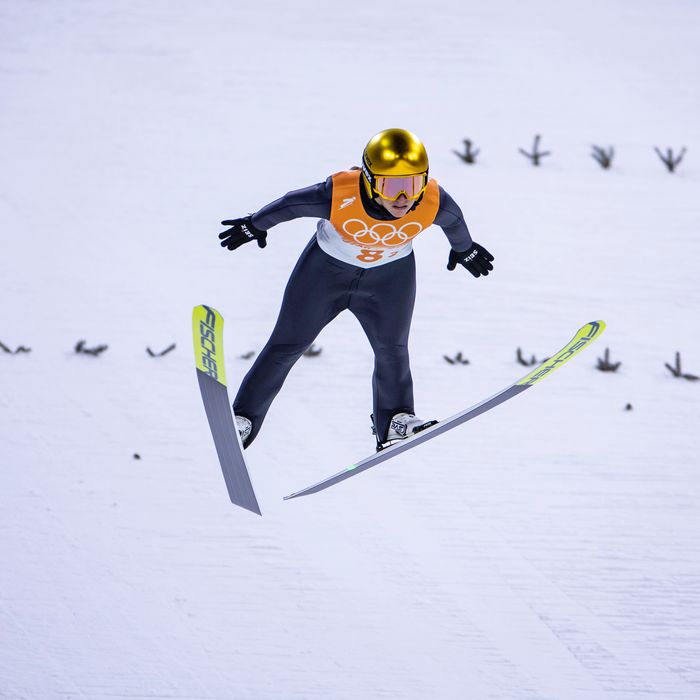 Photo: Tom Weller/VOIGT/DeFodi Images via Getty Images
While we were busy crying over Nathan Chen's beautiful, record-breaking short program on the ice skating rink Monday night, five women were disqualified from the mixed team ski jumping event at the 2022 Beijing Winter Olympics for… baggy uniforms?
In an unceremonious and perplexing move, five women — Austria's Daniela Iraschko-Stolz, Japan's Sara Takanashi, Norway's Anna Odine Strøm and Silje Opseth, and Germany's Katharina Althaus — were eliminated from the mixed team skip jump competition after their outfits were ruled too loose to compete, per the judges who deemed the looseness would give them unfair advantages in the air. Plenty of Olympic sports have strict wardrobe regulations, but what makes these disqualifications so stunning is the fact that these athletes had already competed in the same outfits in earlier events.
Katharina Althaus, a disqualified skier from Germany, spoke out against the decision as reported by the Agence France-Presse, accusing the International Ski Federation of "destroying women's ski jumping." She added, "I have been checked so many times in 11 years of ski jumping, and I have never been disqualified once, I know my suit was compliant." A coach for Germany's men's team, Stefan Horngacher, was more receptive to the disqualifications, but he did note how "strange" it was that the athletes had competed in the same outfits just the day before.
Apparently, ski jump event regulations require a very specific suit-to-body-weight ratio, and it seems like even small fluctuations in weight can get a skier disqualified. "It is a bit the result of me being in quarantine and not eating properly the whole week," said Norwegian athlete Anna Odine Strøm. She also noted that officials used a different method to measure the suit fits. It's unclear how much over- or under-weight those disqualified were, but on Saturday, a Canadian ski jumper, Alexandria Loutitt, was disqualified from a separate event for weighing in "300g too light," per The Guardian, which Google tells me amounts for a little over half a pound. Germany's national team coach Stefan Horngacher blasted the decision, calling it "puppet theater" and telling reporters "I am unbelievably angry and I don't understand it."
Women have only been allowed to participate in the ski jump Olympic events since 2014, and the fact that five women across countries were disqualified should raise a few eyebrows. Or, at the very least, might hopefully get the sport to reexamine the suit regulations.