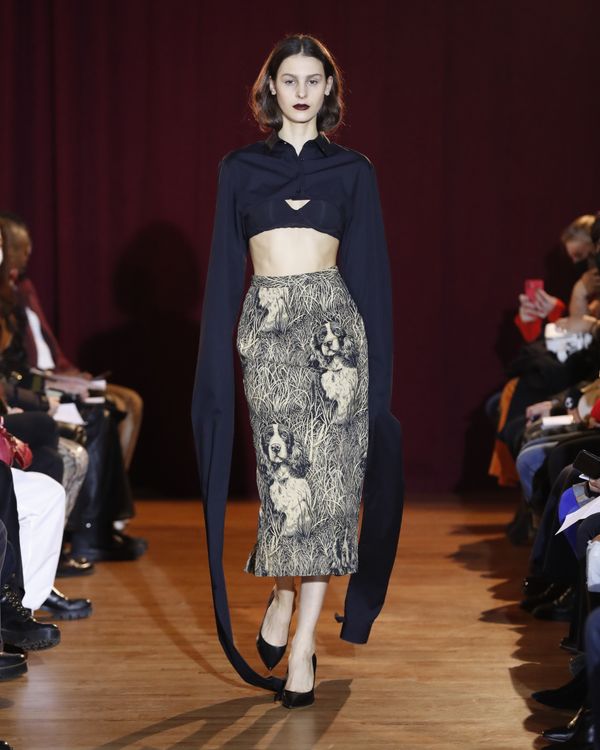 Photo: Dan & Corina Lecca / Puppets and Puppets
Since 2019, Puppets and Puppets, by way of tongue-in-cheek delights — cheese hats and cheese-wedge heels from last season and its signature chocolate-chip cookie bags — has developed a healthy cult following and partnerships with retailers SSENSE and Bergdorf Goodman.
For designer Carly Mark, a veteran of the contemporary art world, turning to fashion came from a desire to satiate her imagination through new avenues.
This week, Mark presented her fall 2022 collection, a slew of looks that were decidedly quieter than previous collections. In place of fanfare were thoughtfulness, precise tailoring, and knits accompanied by the echoing tap performance of Cartier Williams.
The familiar and beloved elements of Puppets and Puppets were here today — the corsetry, the fun materials — but this collection feels divergent from what you've shown in past collections. What was your inspiration and how did your surroundings change that?
This season I was really focusing a lot more on myself and what I really want to wear, which is not necessarily how I've thought about collections in the past. I looked at things that people were interested in from the other seasons and getting them really right. The collection is a story about witches, powerful New York City witches.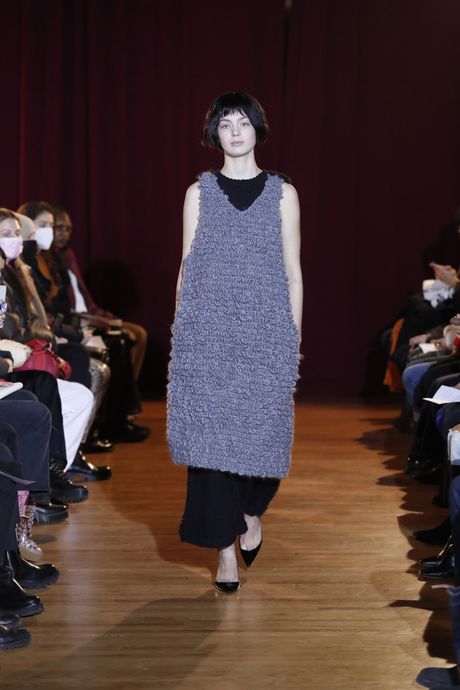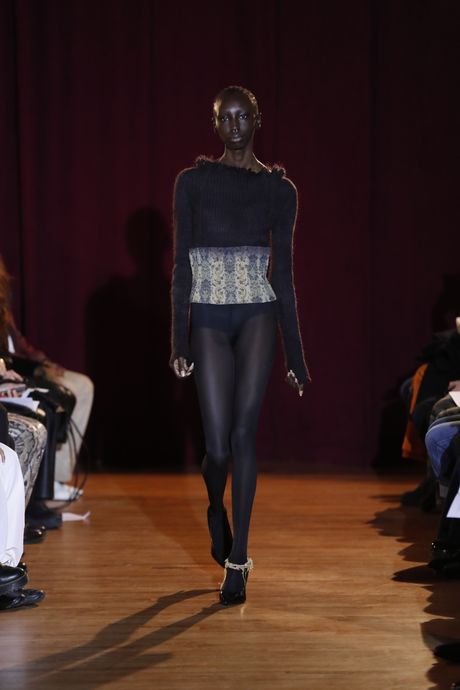 Could you speak a bit about your transition from fine arts to fashion? 
After being involved in it for about ten years, I realized it wasn't satiating me. So there was this moment, I was turning 30, I was like, "Which direction do I go in?" My design partner at the time went to school for fashion, so they were like, "Let's try this." I put out the first collection, and it was really well-received, but more than that, I had the best time.
How does your fine-art background affect your work?
I don't technically know what I'm doing, which makes the whole experience limitless for me. Nothing is out of bounds, nothing is too difficult because I don't really know how difficult it's supposed to be or can be. I come at it from a different angle, and I think it makes the collections feel, from what I'm told, "fresh."
You've put Julia Fox in a cake hat for Italian Vogue, and you've worked with her on a film. What would you make for her now?
I've been lucky to know Julia for many years now. And you know, she's been rocking these perfect, body-hugging looks. I would make something like that for her. I just put a dress on the runway that had these hips cut out of it, maybe I would put her in that. She's killing it.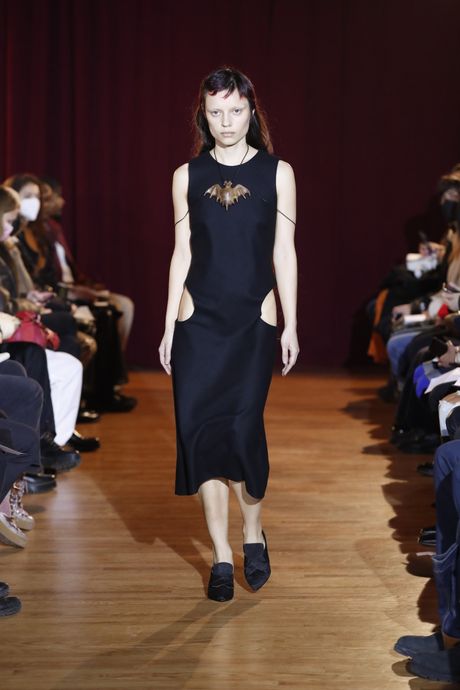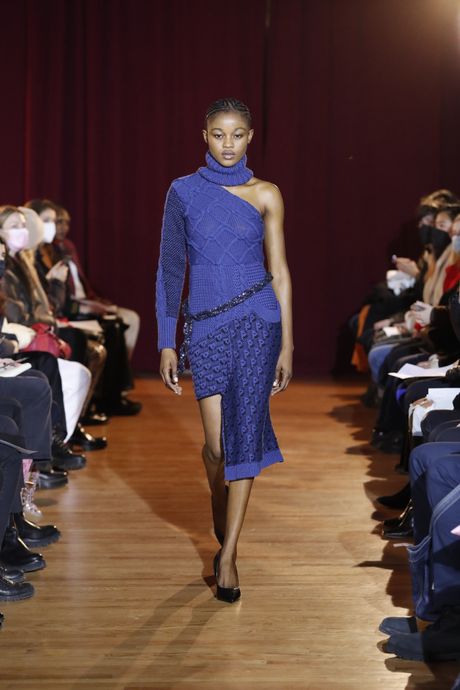 What is one thing you would say to someone trying to get into or switch to fashion?
Just do it. You know, because that's what I did, and so that's kind of the only advice I could give. I can be reactionary to people that are like, "This is what you are." If anyone is ever like that, I'm going in the opposite direction. I'm just going to keep going without boundaries.