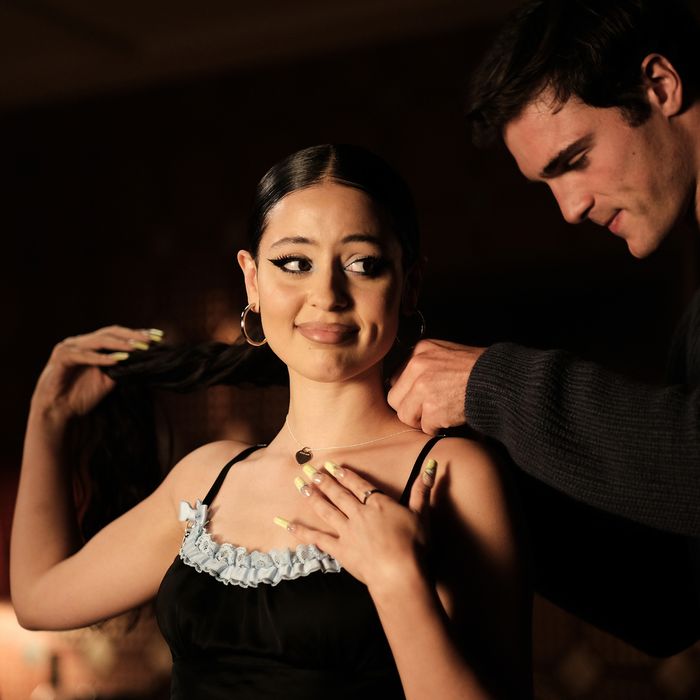 A party doesn't happen in Euphoria without a bit of drama and chaos. As the characters gathered to celebrate Maddy's birthday in the season's most chaotic but visually stunning episode so far, we were also served more than a few good looks. Read on to see everything you can shop from episode four.
Maddy Perez
At her birthday, Maddy wore a slip dress from the Marc Jacobs and Devon Lee Carlson collaboration, paired with black platform Mary Janes. Her glam? A sleek ponytail with length and her signature black winged liner is accented with a blue shade to match her dress. Despite showing up with a Tiffany's necklace as a gift, this doesn't win Nate any points with Maddy or Kat. Later, Maddy and her friends hit the hot tub in a strappy black bikini from Inamorata. We won't ruin the rest.
Cassie Howard
As we watch Cassie's villain-origin story unfold, she is decked out in pink. She sulks around Maddy's birthday party in a frilled pink dress and pink eye shadow accented with crystals. Later in the hot tub, the swimsuit that literally stops Kat in her tracks is a cutout-wrap one-piece from Frankies Bikinis.
Jules Vaughn
Elsewhere, one-third of the love triangle that is Jules, Rue, and Elliot is shoplifting White Claws from a convenience store. No better outfit for the occasion than a graphic shirt; hers is a hand-painted original from Polite Worldwide. She paired the top with sneakers and pink patterned pants, her signature minimal graphic eyeliner, and space buns.
Kat Hernandez
Of Kat's many moments on Sunday's episode, including calling out Nate, nothing tops her look: sheer dress, gloves, and choker. Courtesy of Auné Collections, the custom dress and gloves are made to order.