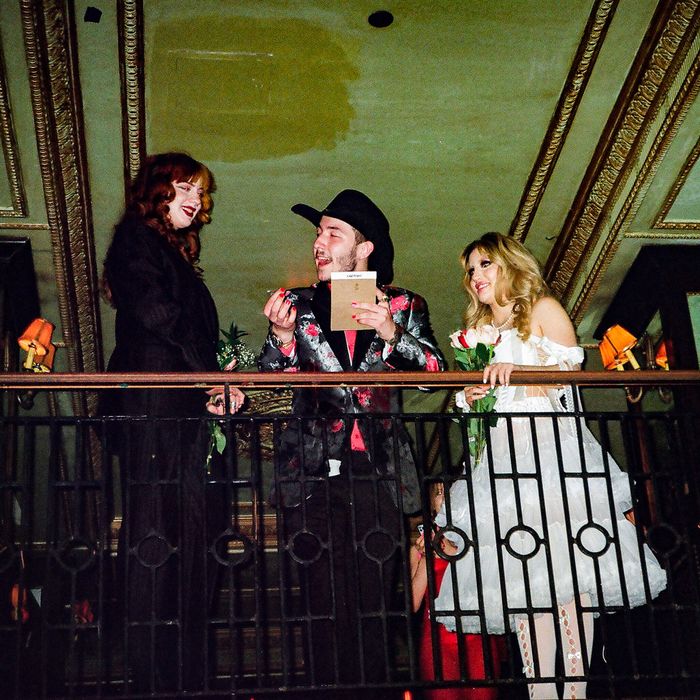 Frankie Jonas gives his best-man speech.
Photo: @muhstee/Instagram
This isn't exactly news to me, and probably not to you, either, dear readers, but my dating life is a train wreck. The plan for 2022 was that I would start dating slightly older, slightly more stable guys, but so far I'm still stuck on 23-year-olds who couldn't care less if I live or die. First, there was the Upper East Side boy who invited all of his friends to our date, forcing me to fake an emergency exit. Then there was the Williamsburg boy who took me to dinner, then told me he didn't actually want to date me, he just wanted to go to a party with me. Of course, it doesn't help that I also have a debilitating crush on a boy I went to college with, not to mention: my straight friend; a model I don't actually know who lives on my Instagram; and my actual hot best friend. Meanwhile, I found my ideal wedding dress this Fashion Week. All I wanted for Valentine's Day this year was someone to take me to dinner at Lilia. Was that really too much to ask?
Anyways, because I'm a masochist and because I obviously didn't have any plans for this fake holiday, I decided to take my hot best friend as my fake date to a possibly fake wedding officiated by the heiress and artist Ivy Getty. Maybe you remember her over-the-top not-fake wedding last year, which was officiated by Nancy Pelosi, starred Anya Taylor-Joy as maid of honor, and featured a performance by Earth, Wind & Fire. Apparently, Ivy and her friend the producer Adam Faze (Olivia Rodrigo's ex, by the way) decided it would be fun to throw a party where Ivy could also officiate a wedding at the Jane Hotel — a quaint spot in Greenwich Village known for both throwing parties in its ballroom and playing host to extramarital affairs (now there are plans to turn it into a private club). A few days before, Ivy posted on her Instagram looking for a young couple who'd be game to tie the knot in front of a bunch of strangers, and two young women accepted. I still can't figure out if the marriage was official, but let's just say that now I'm maybe a little less eager for someone to put a ring on my finger.
10:44 p.m. | Unlike most Friday or Saturday nights, there's no one waiting outside the Jane in the cold, except a couple of bouncers who check our names off a list and give us red kiss-mark stamps for entry. Inside the hotel's ballroom, a moodily lit late-aughts hot spot covered in red leather and Oriental rugs, with several chandeliers and one really pitiful disco ball hanging overhead, there are only a couple dozen people mingling while "Best of My Love" plays. No one seems to know anything about the wedding tonight, including a couple of Parsons students wearing clothes only Parsons students would wear, who issue a "cheers" to me by clinking our Telfars together. The prospects of a meet-cute seem low.
11:22 p.m. | At the bar, love troubles are on everyone's mind. A fashion writer tells me, "I think my boyfriend is a swinger," saying she canceled their Valentine's Day plans after she caught him rubbing a married woman's leg at a Fashion Week party a few nights before. "Isn't that just cheating? Not … swinging?" I wonder out loud, but she keeps calling it swinging. How many dates have they been on? Two. Does she have any other evidence of his bad behavior? No. "I'm just happy to watch someone else fall in love tonight," she says, genuinely happy. Up next, I talk to a trio of handsome Columbia gays in well-tailored suits who are here as one another's platonic valentines. "I'm not a heartbreaker. I just get my heart broken," one of them tells me. "We all have boy problems." Yep.
11:45 p.m. | The ballroom starts to fill with fewer college students and more Verified People who've come to see tonight's spectacle, including some of the NYU Girls, a number of fashion editors, even more influencers, a man I'm told is a famous basketball player, several Gossip Girl people including Eli Brown, a Paul's Casablanca employee, a Riverdale star, and a stand-up comedian in a beret who tells me her name is "Chawki, like bukkake" in addition to things like "I'm Gucci" and "I'm doing just dandy," completely unprompted. Presumably, she was not trying out fresh material on me. On the dance floor, a clearly intoxicated woman in a checked dress slurrily commands me, "Ask me what I care about," before answering, "Being nice and making people happy." Although when she rubs her ass on me and my friend, I hate to admit it didn't make either of us any happier. "I'm just gettin' jiggy with it," she yells, undeterred.
11:55 p.m. | I ask around for Adam, the party's host, but no one seems to know where he is, and even those who claim to know him tell me they haven't met him yet. It's either disorganized or deliberately a little Mr. Gatsby.
Midnight | As soon as the clock strikes midnight and Valentine's Day gives way to February 15, the wedding party appears at the top of the stairs above the dance floor. One of the brides, Isla, 21, is wearing a tulle-heavy white vintage dress with red lipstick smeared all over her face, and the other bride, Tati, 24, looks very sexy in a buttoned-down pinstripe suit with her long, curly red hair. The crowd turns its attention and its iPhones to the couple and lets out a collective loud SHHHHHHHHHHH! so Ivy Getty, the officiant, can speak. "What a gift and joy to find somebody with whom to spend our lives. Committing to share our brightest days and our darkest nights with someone is no small thing that cannot be done lightly," she begins, before issuing a few more words about the "profound power of trust" and "patience, forgiveness, devotion, and hope." Not everyone is so patient. "Hurry up, everyone's bored," whispers a man standing next to me, to which someone else throws back another SHHHHHHHHHHH! 
12:05 a.m. | The crowd erupts in WOOOOOOOOOS! when the best man, Frankie Jonas (you read that correctly) takes the stage in a cowboy hat, a bolo tie, and red nails. "Hello, everyone. My name is Frankie Jonas," he begins, sparking a chorus of WHATS? He starts his speech with something of a brag ("I've made speeches at several very extravagant weddings, and I stood out at every single one. So that being said, this is another Monday for me") before launching into a joke/dig shtick that proves he has in fact done this before ("When Tati told me she was not going to marry a scrawny, traumatized Instagram e-boy, I was very confused. But when she told me she was marrying a 21-year-old Jennifer Coolidge, I was very happy"). Then he expresses some gibberish platitudes ("She's generous, she's sweet … she's someone who can truly nurture that which is so nurturing it is unnurturable") and a very confusing conclusion ("Sometimes water needs soap to work").
12:07 a.m. | I ask my hot friend if we should get married next, and he doesn't say no but he also doesn't say yes. Don't cry.
12:08 a.m. | Ivy returns to the "altar," and after one "I do," another "Hell yeah, I do," and an exchange of gummy rings ("The store was out of Ring Pops"), Ivy proclaims, "By the authority invested in me by the American Marriage Ministries and with the trust of you all here today, I now declare you joined in love." The couple kiss, Ivy throws flower petals off the balcony, someone in the crowd screams "GAY RIGHTS!" and the speakers start to blast "Rasputin," the '70s song about the big-dicked Russian mystic who was unusually difficult to kill. Romantic! "YEAHHHHHH GIVE IT UP FOR THE BEAUTIFUL BRIDES!" Frankie yells over the speakers, like an emcee at a basketball game.
12:20 a.m. | I meet the petite girl who caught the bouquet. Unfortunately, catching thorny roses thrown off the second floor left her hands marked up. "Is she next?" my friend asks. "I'm dating a girl right now so maybe," she says, before giving away most of the roses. Around the room, there seems to be much debate over whether the union we just witnessed is legally binding.
12:25 a.m. | At last, the party really begins, and the newlyweds take to the dance floor alongside a blonde couple two-stepping with Aperol spritzes balanced on their heads. Someone offers me a "probiotic gummy," but when I look at the bag of red, white, and blue gummy rings (the wedding rings, I assume), I notice they in fact say "patriotic gummies." The fashion writer tells me she found the ceremony "touching," but the Columbia gays are less enthused. "It felt oddly impersonal and cold," one of them critiques before rushing off to the bar with a gaggle of girls, calling behind him, "We're pretending to be straight!" Across the room, I spot a boy I knew in college who I haven't seen in three years, and thinking he may be a potential valentine, I approach him with a smile. "I saw you earlier. I didn't want to say hi," he says, adding, "Your hair is different." I quietly instruct the hot friend I'm with to kiss me and caress my face while he's watching. Am I going to cry tonight?
12:30 a.m. | I spot the newlyweds holding court in a booth by the bar and head over to congratulate them. They tell me they're a fashion photographer and a stylist, and they met last August through a mutual friend. They're both "yes people," they say, so they didn't hesitate at an opportunity to get hitched. "It's not a very weighty decision, to be honest," Tati tells me. I ask her bride, Isla, what she likes about her new wife, and she answers, "She's superambitious and a girlboss. I'm like a more passive girlboss. She inspires me to girlboss my hardest." Do they have any advice for singletons like me? "YOLO EVERYTHING. JUST SAY YES. SAY YES TO EVERYTHING." I've found myself at the STI clinic a few too many times to follow that advice.
12:40 a.m. | I spot Ivy double-fisting dirty martinis and ask about how this idea came about. According to her, when she posted on Instagram about her desire to marry someone on Valentine's Day, she got over 300 responses (at a party the next night, when we finally meet, Adam tells me it was 30 responses), and when she saw a DM from one of tonight's brides, she mistook her username for a friend's username and agreed to make them the chosen couple. Despite the misunderstanding, Ivy is happy with the turnout and pleased she got to return the favor Madam Speaker did for her. "It takes longer to get your chart read than to get ordained!"
12:55 a.m. | In the restroom, I run into Frankie, who tells me, "This is my first time doing New York nightlife." Um, Welcome? He says he was having dinner with the brides last week (he's careful to plug the fact that it was at his sister-in-law Priyanka Chopra Jonas's restaurant, Sona) when they told him they were getting married at a party in New York. "I was like, The fuck?" he recalls. Still, he tells me he's best friends with Tati (they met last year on TikTok), and after meeting her soon-to-be-wife (last week), he simply had to be the best man.
1:18 a.m. | The party begins to die down, and the happy couple eventually head off to honeymoon at Paul's Baby Grand, so I decide it's still early and I keep going, being single and all. I head over to a Valentine's Day/Fashion Week party at the Palace, hosted by the fashion designer Dion Lee and Feeld, a dating app I mostly know as the app of choice among open straight couples. It may be just another brand-sponsored Fashion Week after-party, hence the selfie station and another table where you can make paper valentines, but it's also a proper club party. The dance floor is packed with gays in latex ("Oh, I actually make Dion's latex"), hot queers sucking on lollipops and decked out in fur, and various other scultped queer fashion people in rave-meets-runway 'fits. In a matter of minutes, three people feel the need to brag that the party is "very, very druggy."
1:45 a.m. | Maybe just a little overwhelmed, I pass through the VIP area above the dance floor and down a back stairwell to use the restroom, but when I open the door, I find about a dozen people doing exactly what I was told was happening in all of the restrooms. When I attempt to join that, a tall blonde doll shoves the door closed in my face, telling her friend in the process, "Where's the ketamine? Mommy wants a fatty." A few minutes later, everyone is kicked out because one of the girls inside has "a No. 2 job to take care of."
2:16 a.m. | I meet the designer's boyfriend, who invited me here tonight. He points at the crowd bumping around the dance floor and tells me, "Downtown is for the queers. Techno isn't only in Brooklyn. This is the only Fashion Week party that's giving." Which, honestly, yeah. Though I could use a mini-slider. He obviously has a successful love life, dating a hot Aussie fashion designer, so I ask about their relationship but he's not necessarily coherent enough to respond. "When you live with someone, that's what you have to do because that's love," he says. Somehow, just now, besides the first kiss at the wedding earlier, I spot my first makeout of the evening. Valentine's Day is officially over.
3:13 a.m. | Supposedly, somewhere at this party, Maude Apatow is running around with Madonna's daughter Lola, but through the red laser lights and the fog, all I can see is a mosh pit of out-of-your-mind dancing. I don't know how so many people are wearing sunglasses inside. When a girl I know points to her hot friend, who is dancing with my hot friend, and says, "She gets all the guys. She recently slept with Timothée Chalamet," I decide it's time to take myself home. I end the night cuddled up with a bacon, egg, and cheese.