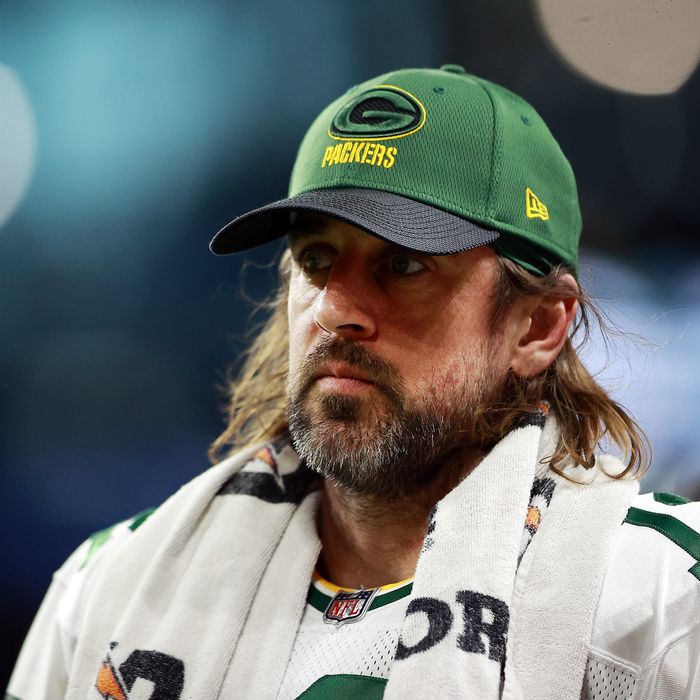 Photo: Rey Del Rio/Getty Images
I'm not sure if Aaron Rodgers and Shailene Woodley are still together after the football player's public meltdown over his COVID "immunization" drama, but I do know that he is very, very sorry for dragging her into the vaccine saga that turned him into an anti-vaxx hero. How do I know this? He said it where he says all meaningful statements, during an appearance on Pat McAfee's SiriusXM Radio show.
Following rumors that the quarterback and the actor had called off their engagement, which Rodgers may or may not have implied were untrue on Instagram, Rodgers publicly apologized to Woodley on Tuesday, February 22. "One thing that I am sad about and definitely apologetic is I didn't realize in the midst of the COVID conversations how much my situation was affecting my loved ones and my people," he said. "I didn't realize the kind of shrapnel that was being flaked off of what I felt like were the bullets coming at me because I was too locked in on me and defending myself and trying to get a message out." He then specifically mentioned his (former?) fiancée, saying, "I am very sorry to those people, Shai and my loved ones."
Rodgers, who in November showed his bare foot during a video press conference to prove he didn't have "COVID toe," despite having declared he had COVID toe, also claimed that he never meant to be "divisive."
Rodgers's public appeal to Woodley could either be interpreted as confirmation of their breakup or as proof that the two are still together. A week ago, reports claimed that the two had split a year after their engagement went public. Then on Monday, Rodgers posted a vague Instagram caption thanking his loved ones for his support, including Woodley. "Thanks for letting me chase after you the first couple months after we met, and finally letting me catch up to you and be a part of your life," he wrote. "Thanks for always having my back, for the incredible kindness you show me and everyone you meet, and for showing me what unconditional love looks like, I love you and am grateful for you." His declaration of love certainly feels in line with the feelings of an engaged couple … or a couple that just had an amicable breakup.
As much as I want to know if Rodgers and Woodley are still together, I think we can all agree that maybe it's time to learn a little less about Rodgers's personal life.