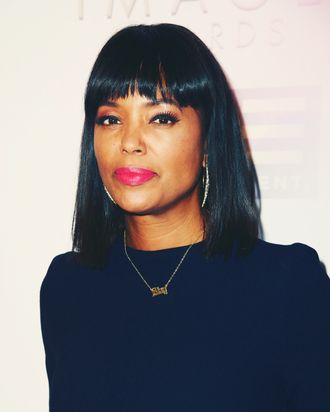 Photo: Earl Gibson III/WireImage
Well, this is awkward. The Daily Mail got a very public lesson on double-checking image captions on Sunday when Aisha Tyler — actress, comedian, talk-show host, and famous person — called out the publication for misidentifying her as … Sasha Obama.
There are a great many things that differentiate Obama (the 20-year-old former First Daughter of the United States) from Tyler (the 51-year-old former The Talk co-host), not least of which is the fact that they don't actually look alike. However, that didn't stop the Daily Mail from calling the latter Obama in an image caption of a paparazzi photo showing Tyler at dinner with Beyoncé and Jay-Z. (Bey and Jay were correctly identified.) The site appears to have deleted the photo from the post, which focused on the famous couple getting dinner at Mother Wolf, but the internet is forever, and Tyler's got the proof.
On Sunday, she shared a screengrab of the inaccurate caption on Twitter, writing, "Dear @DailyMailUK: I VERY much appreciate you mistaking me for the lovely 20-year-old Sasha Obama. I'll assume that was due to my buoyant, youthful appearance & not just messy journalism."
For the record, Tyler could tell me she was 20 and I would believe her. I would, however, hesitate to believe her if she told me she was the third long-lost Obama sister. And I definitely would not believe her if she told me she was Sasha Obama herself. This has been your daily reminder that Google is free.