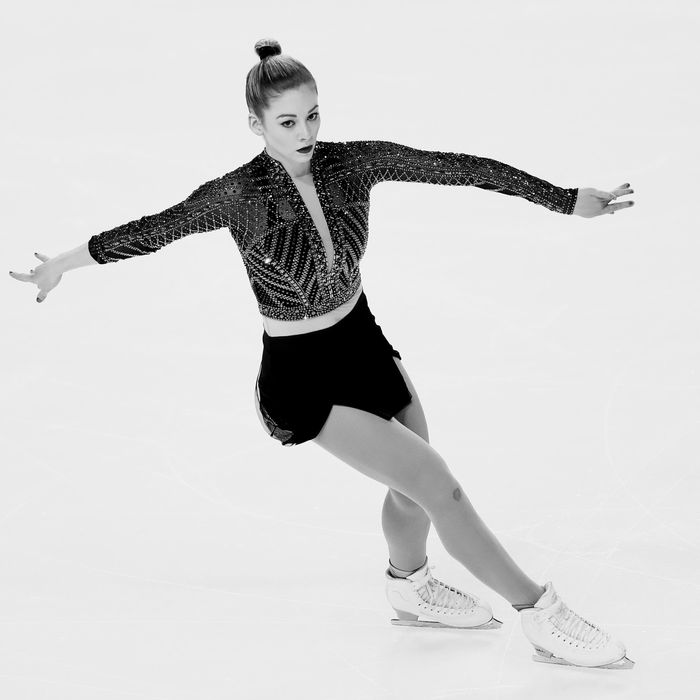 Photo: Matthew Stockman/Getty Images
The Olympic women's-singles-skating competition took place this week at Beijing's Capital Indoor Stadium, and on the bright side, in the days leading up to the event I didn't see a single headline heaping expectations on the American entrants Mariah Bell, Karen Chen, and Alysa Liu — at least nothing like the one I read in 2014 that proclaimed, "Gracie Gold Will Bring Glory Back to U.S. Women's Skating in Sochi."
When I won my first U.S. Championships ahead of the 2014 Winter Olympics, it had been 12 years since Sarah Hughes won America's last gold medal in women's-singles skating and eight since Sasha Cohen earned the last medal — a silver — for the United States. What looked like a worrisome drought then appears now, eight years later, as an expression of a climate change in the sport that threatens the Olympic dreams of young female American skaters and, perhaps, of clean female skaters everywhere.
Over the last few days, you're probably heard a lot of people ask why the United States, a country that placed at least one woman on the podium at every Olympics between 1968 and 2006 — and two on three different occasions in a decade-long span starting in 1992 — isn't winning medals in women's-singles skating anymore. You know, a nation turns its lonely eyes to Kristi Yamaguchi and that kind of nostalgic hand-wringing.
But if that's all we're asking, we're posing the wrong question, especially in light of the breaking news last week of the failed drug test by the sport's latest supernova, the 15-year-old Russian Kamila Valieva. In the team event, Valieva threw her light-as-a-feather prepubescent frame into the air and became the first woman to successfully land a quadruple jump in Olympic competition to lead Russia to the gold medal (or maybe not; in view of her result from a December test, the medals have yet to be awarded). She completed four revolutions in the air in the time it takes me to type Brava! Valieva skated in the singles event this week — despite failing a drug test in December — after she was cleared on Monday to compete by the Court of Arbitration for Sport in a ruling that casts a dark shadow over the competition. While she didn't win a medal, still, what are the other skaters, the ones who placed below her, supposed to learn from the result? That their sport is not clean?
In reality, they probably will end up feeling the same way I did as an 18-year-old in Sochi when I finished fourth in the singles. Or as I was made to feel by all the people inside and outside the sport who expected me to literally live up to my last name: the third loser.
Now, at 26, I'm positively ancient in skating years, but with age has come hard-earned wisdom and experience that compels me to clear my throat and say this: The questions we really should be asking this week are, Should we even want to be competitive with the Russians if it means following their troubling blueprint for success? How did we get to this point?
It's not really women's figure skating anymore. It's girls' figure skating. I know it's not the first time people have said this; I grew up in the wake of Tara Lipinski and Michelle Kwan winning titles at 15. But while the old 6.0 judging system forced Lipinski and Kwan to be more mature, the current IJS one doesn't allow girls to ever grow up because their womanly curves make the triple combinations and quads difficult to complete. Now it's the Russian wonder kids' world. Everyone else is just gulping their oxygen to try to keep up with their ever more difficult programs.
The International Testing Agency said Valieva tested positive for trimetazidine. It's a heart medication that can be used to treat chest pain but is on the World Anti-Doping Agency's banned list because it improves blood-flow efficiency and endurance.
We've long heard stories about the Russian teenagers spending upwards of 12 hours a day, six days a week, training on the ice. The trimetazidine found in Valieva's system goes a long way toward explaining how that is even possible. To be able to train that long and hard without the body breaking down or collapsing in fatigue is what helps make a quad in competition possible. The people who say it is no big deal have obviously never had to overcome the physical and mental barriers of teaching their body a new and difficult trick and grooving it in their muscle memory until it becomes second nature.
I remember watching Adelina Sotnikova, the Valieva of my day, jump through the roof on her way to becoming the first Russian Olympic gold medalist in women's singles. I had to skate my long program immediately after her, and it honestly felt like the ice beneath my blades was still shaking from the crowd's reaction to her performance. She was so lithe and yet so energetic I joked that the Russians must have a magic pill.
We would later learn of a Russian state-sponsored doping scheme at those 2014 Sochi Games, and since then, the presence of Russian athletes at the Olympics has been fraught with tension. Rather than disallow the country's athletes from participating in the Summer and Winter Games, the Russians have been allowed to compete, but their flag and national anthem have been banned.
I agree wholeheartedly with two-time Olympic champion Katarina Witt, who said the adults responsible for Valieva having trimetazidine in her system should be banned from the sport for life. That would be a start. Maybe raising the minimum age for competing in women's Olympic skating to 18 — it is 15 now — would help too. On the other side of puberty, these women's bodies and minds will be better able to withstand the rigors of elite sport. But as long as gold medals and Olympic berths are considered the paradigm of achievement, it's going to be difficult to enact meaningful change.
Today, Russia and the various organizations that have enabled its unfair practices for at least a decade have put us in a tough spot. To keep pace, the United States has to figure out how to implement a legal version of Russia's doping methods while pushing our skaters by keeping them on the ice for hours on end, starting when they're tiny tots — when they're light and fearless and eager to please the adults in their midst — to learn the difficult skills and risk them having broken-down bodies and souls by the time they turn 17.
Is that really the price for glory we're willing to pay?
When the rumors first began circulating about Valieva's failed drug test, my mind returned to the doping control room after my long program in Sochi. The room, which is usually uniformly set up to collect blood and urine samples in the same way no matter where in the world you are, felt different.
There were so many people milling around who were not wearing the official WADA-logo'd shirts and jackets, including more men than I'm used to seeing in what is supposed to be a very private, very regimented space. I'm not a naturally suspicious person, so it never crossed my mind at the time that there could be any tampering going on of the urine samples we were about to give.
As I replayed that scene — and the 2014 medals ceremony I just missed out on — in my mind, it was hard not to entertain the thought, Did I fail to medal in Sochi because of something completely out of my (and, perhaps, even my young Russian competitor's) control?
How different would my life look now if I had stood on that podium then? It's unknowable, and that's part of what makes this whole scenario so heartbreaking. Would the challenges I endured, which I'm only now processing as I write my memoir, have existed if that 2014 competition had played out differently?
I consider myself lucky. Five years after my skating, and life, fell apart, I got another chance. At the U.S. Championships ahead of these 2022 Olympics, I skated a mistake-free short program and experienced a connection to the ice, to my movements, to my "East of Eden" music, and to the audience that was stronger and deeper than anything I felt in 2014, when I went a long way toward "capturing the emotional expressiveness of a prima ballerina," according to one writer, while helping the United States win a bronze medal in the Olympic team competition and finishing one place shy of the medals podium in my individual event.
I sat in sixth place after the short program and ended up in tenth, well out of the conversation for an Olympic berth. It was disappointing only if making a second Olympic team was my benchmark for success — and, thankfully, it wasn't. Not even close. Instead, my sense of satisfaction rested on other factors: Did I perform well? Did I enjoy the experience? Did I show growth as an artist? Did I make people at home feel something when I skated? Did I emerge from the competition healthy? Is the experience something that will help me in future competitions — if I choose to continue on in the sport — and in my post-skating life?
The answer to all those questions was a resounding "YES." My hope for Bell, Chen, and Liu and all the other competitors in the women's singles is that they can say the same thing about their efforts — and that the people watching at home can appreciate and applaud what they're putting into their performance and not just whatever results they get out of it.
This essay was written with Karen Crouse.