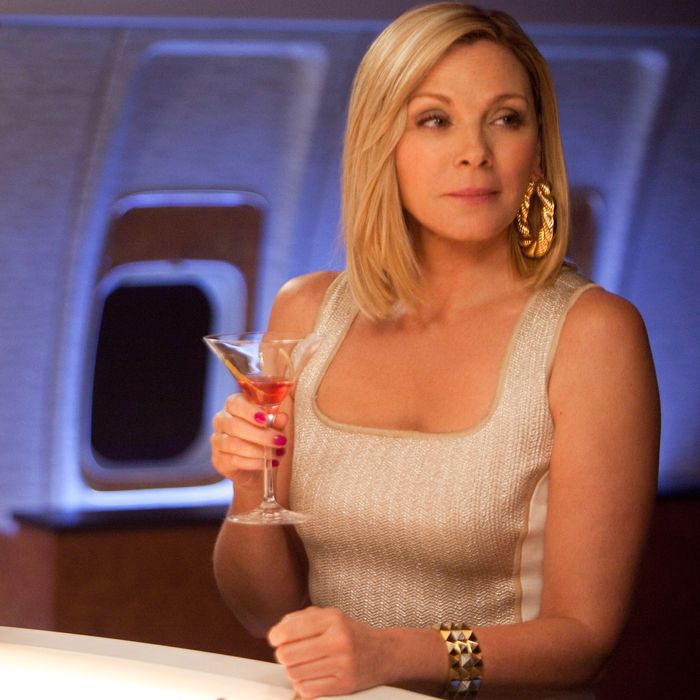 Photo: New Line Cinema/Hbo/Village Roadshow/Kobal/Shutterstock
Well, we've finally reached the end of the first (but maybe not last?) season of And Just Like That … What was this show, exactly? I can tell you one thing it wasn't: comfortable with the absence of horny PR mogul Samantha Jones.
Samantha, in case you forgot, is not in the Sex and the City reboot largely because of some drama between Kim Cattrall and the rest of the SATC cast. At first, it seemed like Samantha's absence would be pretty efficiently addressed in the first few scenes of episode one, when we learn that she moved to London and doesn't talk to any of the girls because Carrie fired her as her publicist. But then, somehow, she stuck around. Samantha, or at least someone with Samantha's phone, has been responding to Carrie's texts with increasing regularity all season long. For a character purported to not be in this show, Samantha comes up … quite a lot.
Samantha's heavy involvement in And Just Like That … suggests that maybe the show writers believe Cattrall could still come back. The issue is, she probably won't, and every time they drag Samantha back into Carrie's texts, it reminds us all that there is a gaping, dildo-shaped hole in this series. When the show first premiered, HBO made no secret of the fact that they wanted Cattrall on board, and they certainly seemed to be steering the plot in that direction. But I guess show creator Michael Patrick King thought they sounded a smidge too desperate because he recently told Variety that "there was no thought that Kim would ever participate" in the reboot and he has "no realistic expectation" that she'll return. And yet … it still seems like they really want her to. How much, exactly? Let's count the ways.
Within minutes of the first episode, Bitsy von Muffling asks Carrie, Charlotte, and Miranda where Samantha is. Charlotte says, "She's not with us," in what I guess is a nod to the early rumors that the show would kill off Samantha. Miranda cuts in to clarify that she's just in London.

After brunch, Carrie ruminates on Samantha's departure with Miranda, revealing that the catalyst for the falling-out was that she dropped Samantha as her publicist. Apparently she's been ignoring all three women's texts.

At Big's funeral, Carrie becomes enraged that someone put flowers all over his coffin. The venue owners tell Carrie that the flowers arrived that morning, and they show her the note that came with them, which reads: "Love Samantha."

After the funeral, Carrie opens up her texts to Samantha to thank her for the flowers, giving us an unfortunate little peek at all her previous unanswered texts. One opens with, "Hey London lady," and another says, "Walked by La Perla today, thinking of you." Frankly, even if I hadn't been fired by my best friend, I would not respond to these texts either. Isn't Carrie supposed to be a writer?

Carrie, sky-high on pain meds after hip surgery, shares on her podcast that Samantha once pulled her diaphragm out. After Charlotte points out that she may have wanted to run that by her former friend, Carrie texts Samantha a little heads-up. And Samantha … responds! "I love that your vagina is getting airtime," she writes. The thawing has begun! However, Samantha does not reply to Carrie's next message that says, simply, "I miss you."

By the season finale, which we learn takes place about a year after the first episode, Carrie and Samantha are officially texting. Carrie's telling her about kissing someone for the first time after Big's death, and Samantha is … responding to that. (In classic Carrie form, she never once asks Samantha for updates on her own life.) When Carrie heads to Paris to scatter Big's ashes, the first thing she does after dumping them from an Eiffel Tower–shaped purse into the Seine is text Samantha, asking if she wants to grab a drink. And she says … yes? Tomorrow?! I guess the Chunnel heals all wounds.
There's really no way to follow through on this exchange without bringing Samantha beyond Carrie's iMessage app and into the material world (unless there's a catfishing plot, which, why not?). If we are indeed going to be blessed (cursed?) with another season, the writers will need to contort the script yet again to make room for Samantha without being able to use her face, body, or voice. Ugh, why?
Somewhere, Cattrall is having nonfictional drinks with her How I Met Your Father co-star Hilary Duff, another actress unfairly burned by her own show's reboot. Maybe they can write their own SATC spin-off where Lizzie McGuire moves to New York and has sex? Now that I'd watch.