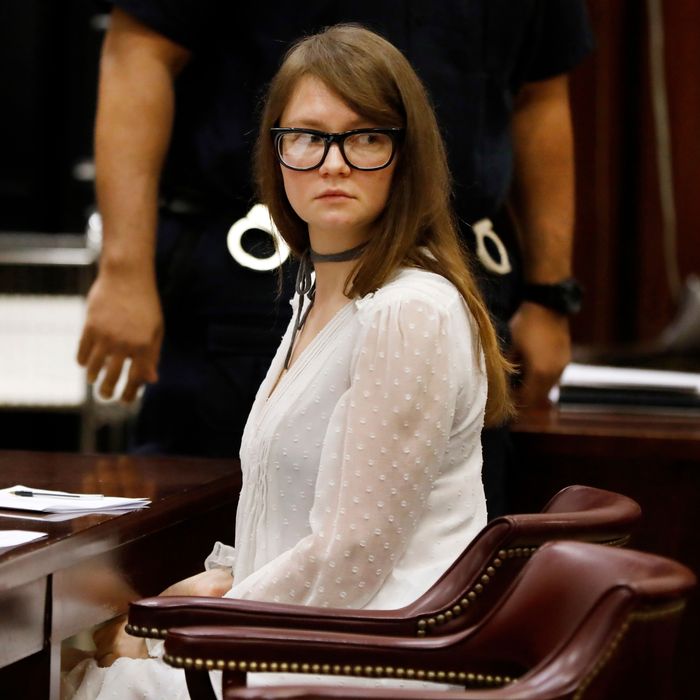 "SoHo Grifter" Anna Sorokin, a.k.a. Anna Delvey
Photo: Richard Drew/AP/Shutterstock
If you were wondering where in the world Anna Delvey is these days and what she thinks about Netflix's interpretation of her elaborate grift, the answer is she won't be watching it because she is currently in ICE detention in upstate New York. In an essay published Wednesday on Insider, Delvey — born Anna Sorokin — wrote that "nothing about seeing a fictionalized version of myself in this criminal-insane-asylum setting sounds appealing" at this time. The picture she paints of her confinement is grim, to say the least.
In April 2019, a Manhattan jury found Sorokin guilty of charges including grand larceny and theft of services as well as stealing over $200,000 while posing as a German heiress attempting to launch a Soho House–type venture in New York City. Sorokin persuaded her marks that she came from tremendous wealth — as in a €60 million trust fund — disguising her humbler origins: Her father drove trucks in Russia before they immigrated to Germany, where he ran a heating and cooling business. Still, living on her own in upscale Soho hotels, Sorokin (then in her mid-20s) splashed around money she didn't have, often leaning on acquaintances to cover the tab. Following the guilty verdict, a judge sentenced her to four to 12 years in prison. She left the Albion Correctional Facility on parole for good behavior in February 2021, having used $200,000 of the $320,000 she received from a Netflix deal for Inventing Anna — Shonda Rhimes's adaptation of the New York Magazine story on her exploits — to pay restitution.
But Sorokin was out for only six weeks when Immigration and Customs Enforcement took her into custody for overstaying her visa — though in her Insider essay, Sorokin says she was arrested at a visa-renewal office. Now she is sitting in quarantine isolation in the Orange County Correctional Facility upstate (which she calls "a petri dish for viruses and bacteria"), having contracted COVID-19 last month.
The Immigrant Rights Clinic at New York University's School of Law recently singled out the facility for brutal and racist practices. A complaint filed with the Department of Homeland Security in December outlines the verbal and psychological abuse of an undocumented immigrant from Mexico, citing the denial of proper mental-health treatment and clean drinking water as just two examples of its allegedly deplorable conditions. In 2018, a group of New York assemblymembers complained about the ways in which the facility — like many other ICE detention centers — treats people like prisoners even though many of them are awaiting visa hearings or seeking asylum.
Sorokin, according to Insider, is waiting to learn whether the U.S. will deport her to Germany. You can read her essay here.