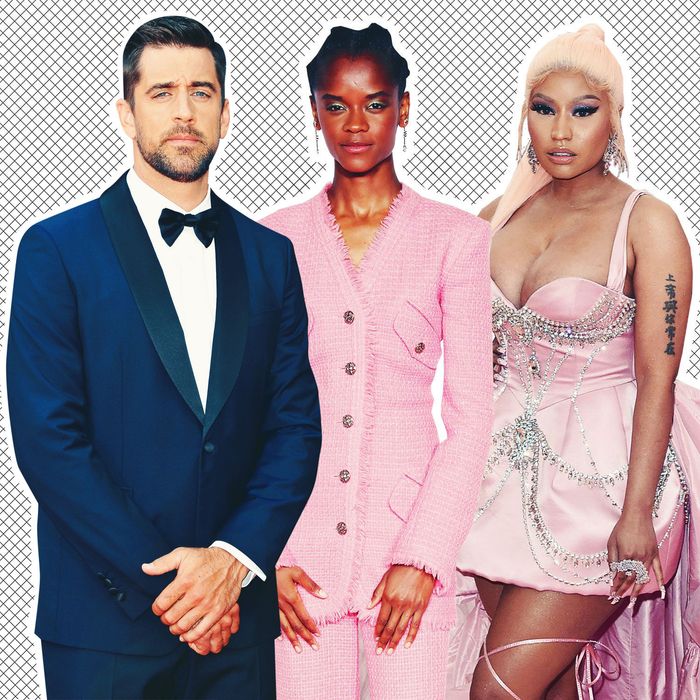 Photo-Illustration: by The Cut; Photos: Getty Images
It began, as these things do, with Nicki Minaj's cousin's friend's balls. Remember them? In September, Nicki unleashed a series of tweets expressing skepticism of the COVID-19 vaccine rooted largely in misinformation concerning said balls. Since then, a handful of celebrities have made it clear that they're also opposed to getting a safe, science-backed shot that will protect both themselves and their community. While the anti-vaxx movement reached Hollywood long before the arrival of COVID, it seems like the number of stars expressing skepticism about the COVID-19 vaccine just keeps growing.
Here's a (unfortunately not comprehensive) list of celebrities who have flirted with anti-vaxx sentiment in the past two years.
.

Nicki Minaj
On the night of the 2021 Met Gala, Minaj announced that she wasn't attending because the event required her to get vaccinated. She claimed she was doing "research" before getting it, citing the fact that Drake had a breakthrough case of COVID-19 with the vaccine (which, as scientists have said, is expected and not a sign that the shots don't work) as a factor in her skepticism. More upsettingly, she then alleged that her cousin was also refusing to be immunized because his friend's "testicles became swollen" after getting it and he "became impotent." After many, many public officials were forced to address her cousin's friend's balls and correct this rampant misinformation, Nicki eventually confessed that she would probably get vaccinated before going on tour.
.

Doutzen Kroes
Nicki opened the floodgates on celebrity anti-vaxx sentiment. Next came supermodel Doutzen Kroes, who posted a photo of herself in sepia with a lengthy caption defending her right to forgo the shot.
"I will not be forced to take the shot," she wrote, declaring that "freedom of speech is a right worth fighting for." Following the backlash to Kroes's post, her friend and fellow supermodel Gisele Bündchen hopped on the bandwagon to defend her for "expressing her feelings."
.

Letitia Wright
In October, The Hollywood Reporter reported that actress Letitia Wright allegedly espoused anti-vaxx views while filming Black Panther: Wakanda Forever. Wright denied the claim, but it wasn't the first time she appeared to be spreading misinformation: In December 2020, Wright shared a YouTuber's hour-long anti-vaccine video to her Twitter account, which led to the actress quietly parting ways with her team of reps in the U.S. Wright later deleted the tweet and issued a statement saying, "My intention was not to hurt anyone, my ONLY intention of posting the video was it raised my concerns with what the vaccine contains and what we are putting in our bodies. Nothing else." Again, evidence overwhelmingly shows that the vaccines are safe and effective.
.

Rob Schneider
The comedian has been lobbying against vaccines since 2012, so it's no surprise he'd be opposed to the COVID-19 shot. In July he urged his Twitter followers to "just say no" to the shots, which he called "experimental gene therapy."
.

Offset
Offset first expressed skepticism of the coronavirus vaccine in December of 2020, when he told TMZ, "I don't trust it," citing a photo that seemed to suggest four patients who participated in Pfizer trials had Bell's palsy. (Per the FDA, there were four people who took the Pfizer vaccine and experienced Bell's palsy, but it didn't appear to be caused by the vaccine.)
He remained opposed to immunization as recently as June, when a Breakfast Club interview found him again citing the Black community's valid mistrust in medical institutions. "I'm not trying to be a lab rat," Offset said. "I'll wait."
.

Anwar Hadid
In December 202, the youngest Hadid announced in an Instagram story that he would "absolutely not" get a vaccine, though he later walked it back, promising that he was not "anti-vax" and wanted to "continue to learn about the many ways I can protect myself and others." At least one of his sisters is vaccinated, and it's not clear if he's gotten the shot since — though a blind item from Gawker around the Met Gala suggested he may not have.
.

LaKeith Stanfield
In a since-deleted Instagram post from August, Stanfield seemed to suggest he was of the "personal choice" camp, writing, "No one should be forcing anyone to put anything in their body." He again posted and deleted a message on Instagram in October: "Your medical decisions are YOUR BUSINESS. Everybody isn't entitled to those decisions just because we live in a scary time." In the comments section, though, he said he was vaccinated.
.

Chet Hanks
Ah, Chet. Can't say I expected a man who made "White Boy Summer" merch to make a good judgment call when it comes to medical advice. In a series of Instagram videos from August, he called coronavirus "the flu," pledged that he wouldn't get the vaccine ("I have the right to not get that shit"), and suggested his immune system was somehow strong enough to resist COVID-19 ("My immune system said, 'It's good.'"). Moving on …
.

Matthew McConaughey
Once vaccinations for kids became available, skepticism surrounding the COVID vaccine also extended to celebrities' children. During an interview with the New York Times in November, Matthew McConaughey said that while both he and his wife are vaccinated, right now he's "not vaccinating" his children (ages 8, 11, and 13). The actor also said he is against vaccine mandates for children, adding, "I still want to find out more information."
Health experts including the U.S. Surgeon General recommend children get vaccinated against COVID, stressing the efficacy of the vaccine in preventing infection. "COVID is not harmless in our children," U.S. Surgeon General Dr. Vivek Murthy told CNN, noting that not only is the vaccine "remarkably safe," it's "90 percent effective in protecting our kids from symptomatic infection." Despite his skepticism surrounding vaccinating his children, McConaughey did speak out against COVID-vaccine conspiracy theories. "We all got to get off that narrative," he told the Times.
.

Aaron Rodgers
Green Bay Packers quarterback Aaron Rodgers opened a truly chaotic can of worms in early November when he tested positive for COVID-19 and it was subsequently reported that his initial claim of being "immunized" against the virus was actually a reference to a homeopathic treatment purported to raise his antibody levels. Rodgers then flip-flopped between doubling down on his stance (Joe Rogan was, of course, briefly involved) and sort of apologizing without specifying whether he planned to get the shot. (Also, he showed us his toes, because why not.)
Rodgers' fiancée, actress and bangs aficionado Shailene Woodley, came to his defense by insulting someone who looked like him. She has yet to make her own views on the vaccine clear but has apparently found a way to dodge the question: One source told People that she and Rodgers "agree to disagree" about certain subjects. (Another celebrity couple "agreeing to disagree" on vaccines: Curb Your Enthusiasm actor Cheryl Hines and her husband, rabid anti-vaxxer Robert F. Kennedy Jr., who recently compared COVID-19 vaccine mandates to the Holocaust.)
.

Novak Djokovic
In January, tennis player Novak Djokovic made headlines when he got kicked out of Australia after trying to enter without a vaccine to play in the Australian Open.
.

Kyrie Irving
Djokovic and Rodgers are not the only athletes sitting out games because they're refusing to get vaccinated: The Brooklyn Nets' Kyrie Irving missed the first two months of the NBA season because he refused to get the shot, though he was controversially brought back to the team in December because so many of his teammates had tested positive. (He is still not allowed to play in New York due to the city's mandate for professional athletes.) Meanwhile, despite some initial skepticism, LeBron James confirmed in September that he'd gotten the vaccine, though he said he didn't feel it was his place to recommend that others get vaccinated or "get involved in what other people should do with their bodies and their livelihoods."
.

Ye
During his ill-fated 2020 presidential campaign, Ye told Forbes that he was "extremely cautious" of any potential COVID-19 vaccines and suggested that immunization was a way to ensure "we can't cross the gates of heaven." It's not clear if his stance has changed, but during a lengthy interview with Drink Champs in November, he declared that he was "half-ccinated" while explaining that he had to go through Lisbon to travel to Paris because "I only have one of the shots." He has not commented on the matter since.
.

Sarah Palin
Unsurprisingly, Sarah Palin said in December that she would get the coronavirus vaccine "over my dead body" and, to boot, "they better not touch my kids, either." Frankly this wouldn't be big news if not for the fact that one month later, she ate indoors at a New York restaurant two days before testing positive for COVID-19. She then returned to the same restaurant (outdoors this time) a mere two days after the positive test.
.

Evangeline Lilly
Another Marvel actor, Ant-Man star Evangeline Lilly, recently revealed in an Instagram post that she attended the rally where RFK made those unfortunate Holocaust comments and that she is, in her words, "pro choice." Ugh.
To reiterate, all these statements fail to mention that the FDA and the CDC have declared the vaccines safe and effective, with both entities strongly urging everyone over the age of 5 to get the shot (and possibly even giving the go-ahead for younger children soon). Nor does it acknowledge the fact that vaccines help curb the spread of COVID-19 through communities, keeping both the vaccinated and those who cannot yet be vaccinated safer. For the love of Dolly Parton, please get one if you haven't.
This post has been updated.