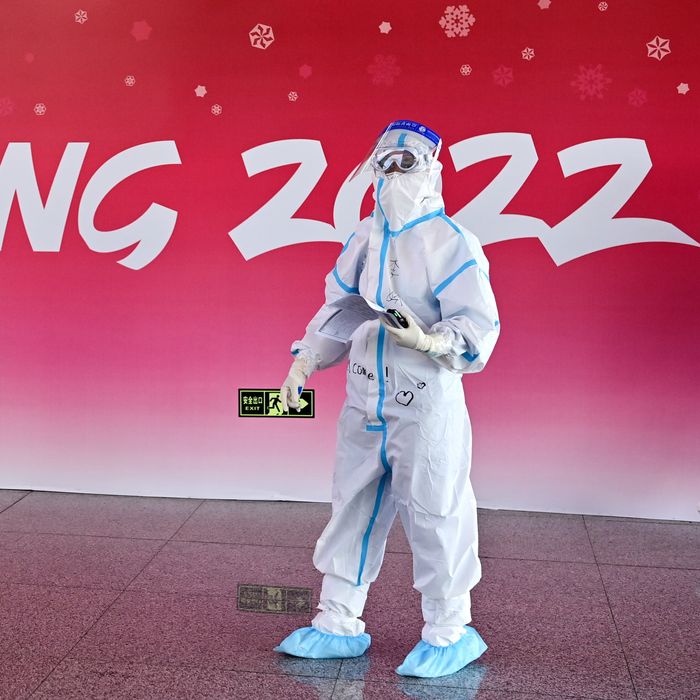 Welcome!
Photo: Sportsfile via Getty Images
After the games got off to a conspicuously ominous start last week, the mood at the 2022 Winter Olympics reportedly remains tense — at least inside the quarantine hotels. The Daily Beast reports that more than 350 positive COVID tests have piled up among visitors, obligating many asymptomatic athletes, officials, and journalists to isolate in allegedly nightmarish units until they return two negative results 24 hours apart. (People who test positive and show symptoms go to a hospital.) Now, unsettling messages are coming from inside those facilities, where residents say they are receiving infrequent, off-putting meals and painfully little information from the outside. "I cry every day," Russian biathlete Valeria Vasnetsova wrote in an Instagram post last weekend, according to TMZ.
Vasnetsova's primary complaint was the food, which she described as inedible. She shared a photo of the plate she said she received for "breakfast, lunch, and dinner" five days running: plain penne, a handful of small potatoes, a meat, and some sauce. Her account has since gone private, but TMZ — which posted photos of the food delivery — reports that she complained of being "very tired" and dropping so much weight that her "bones are already sticking out."
"My stomach hurts," she wrote. "I'm very pale and I have huge black circles around my eyes. I want all this to end."
The Associated Press reports that Vasnetsova's complaint got her better food ("salmon, cucumbers, sausages and yogurt") and that a stationary bike was also forthcoming. That's another issue athletes have raised with regard to the hotels: The allegedly small rooms and lack of training equipment make it hard for them to stay in shape for the events in which they still hope to compete. Dirk Schimmelpfennig, the head of Germany's Olympic delegation, called the quarantine conditions for Nordic combined medalist Eric Frenzel "unacceptable," citing cramped quarters and poor hygiene — the Daily Beast mentions a cockroach problem. According to Reuters, Schimmelpfennig says things have improved since he aired those grievances, and that Germany's quarantined athletes "have bigger rooms now, working WiFi, an exercise bike in the room." Still, the progress seems uneven. Finnish ice-hockey coach Jukka Jalonen told Reuters that isolating player Marko Anttila is still suffering physically and mentally, because "he is not getting great food and he is a very big guy," and "because he doesn't know what's going on and what will happen with him."
Meanwhile, other athletes say they've been kept in the dark about when they'll be released from isolation. Polish short-track speed skater Natalia Maliszewska told the Guardian that employees knocked on her hotel door early Saturday morning and took her to what she believed was a training session. Shortly before she started her warm-up, she said, officials told her they'd made a mistake and that she could not compete while she remained "dangerous to people."
"I was sitting in the ambulance," Maliszewska recalled. "It was 3 a.m. I was crying like crazy because I didn't know what was going on. I did not feel safe at all."
Belgian skeleton racer Kim Meylemans reported a similar incident. According to NPR, she believed her negative test result would return her to the Olympic Village, but an ambulance that picked her up took her to another isolation facility where — as she explained through tears on Instagram — she may have to stay for another seven days.
It's not just the athletes, either: The Daily Beast reports that some journalists are having trouble too, cut off from the competition they traveled to Beijing to cover and relying on spotty Wi-Fi to do the job from their hotel rooms. Faced with so many complaints, Christian Dubi, an IOC executive director, told reporters on Sunday that they were working on it. "We have found ourselves once in a situation where we're not necessarily meeting the conditions that we expected," he said, noting that one of the athlete's situations had "been addressed." Going forward, the Beijing Organizing Committee will allow quarantined athletes to order food from the Olympic Village for delivery.
"Let's be thorough, very thorough in the future, to make sure that internet connections, food, size of the rooms, equipment for training, everything is perfect for these athletes that do suffer from the conditions," Dubi said. Which … yes, sounds like a plan.