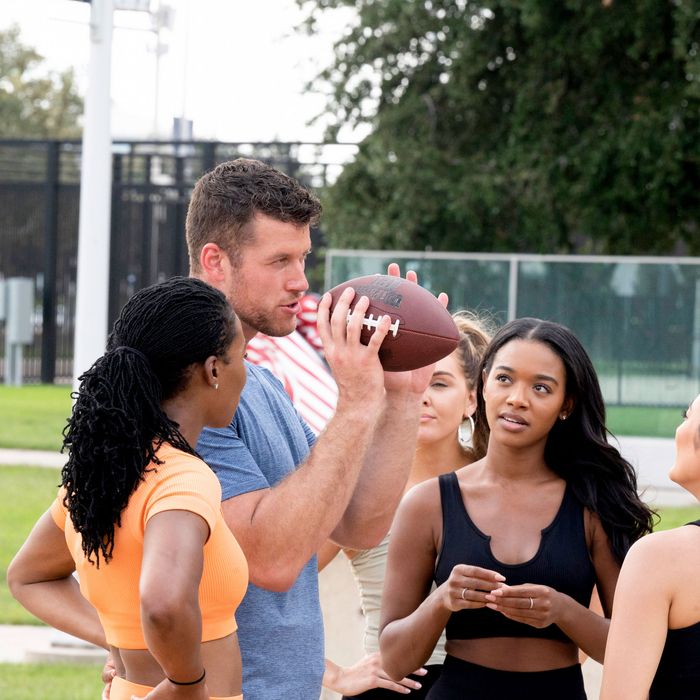 Photo: Felicia Graham/ABC
On this week's episode of The Bachelor, nothing much unexpected happened. At the rose ceremony, Bachelor Clayton (a.k.a. the producers) decided to keep villain Shanae around for another week. There was a one-on-one date, where Clayton and Rachel, a 25-year-old flight instructor, cooked barbecue with an unidentified family from central casting and slow-danced to a performance by an apparently real pop-country band called Restless Road. There was also a group date, where the women played tackle football at the Houston Texans' stadium (they're all in Houston now). And Shanae showed up to the cocktail-party portion of that date to make out with Clayton and upset the ladies some more.
Watching last night, I couldn't help but wonder, Who is Clayton? And is he even onscreen right now? In some cases, he was not. And in other cases, he was, but he wasn't saying anything. We've gotten to see Clayton as the Bachelor in four two-hour-long episodes now, and he is so bland and inactive that it is hard to imagine the season going any differently if the producers replaced him with a random tall guy off the street.
Here's what I know about Clayton so far: He was on the last season of The Bachelorette for seven minutes. Though he has never mentioned it on-camera, it appears that he much prefers to be called Clay-TON instead of just Clay — all the women tend to over enunciate the TON. He played college football, and based on the way he presents his face when he mentions it, he has neutral-to-positive feelings about it. He is tall, he is 28 years old, and he has light-brown hair. Oh, and he doesn't know how to dress. Or maybe the Bachelor stylist just doesn't know how to dress him. During last night's group date, he was wearing what I have to imagine was the sweatiest outfit of all time: a brown suede jacket on top of a brown merino-wool turtleneck. In Texas.
Based on what we have seen in the first eight hours of this season, there is simply not much to this guy. On some level, all the Bachelors follow a script: They say things like, "I can see my wife in this room," and "I want to find a love like my parents', who have been married for 30 years," and "Do you want to go to the Fantasy Suite?" But usually, they also say a few things in their own voices. So far, Clayton has not. Even when presented with "drama," his go-to reaction is to remain silent. At the top of last night's episode, he attempted to mediate the ongoing argument between Shanae and Elizabeth by bringing them outside during the rose ceremony to talk. But he did not talk. Instead, he let the women argue and just walked away after a while. Despite his apparent lack of opinions, the women fawn over him the same way their sister-in-arms have in past seasons.
During his one-on-one date with flight instructor Rachel last night, I thought things were finally going to get at least somewhat interesting. While sitting in a barn at a table for two pretending to eat a single piece of fried chicken, Clayton told Rachel he wanted to talk. "There has been one thing that's on my mind that I wanted to bring up," he said. "Okay," said Rachel.
"You know the more I talk to you, the more confused I get and the more questions I have," he continued, ominously. "And I'm trying to make sense of it but it just doesn't make sense. I'm wondering how … a woman as beautiful as you, with this badass job, that is just so kind, I'm wondering how you're here!"
Oh, brother. Rachel laughed, and the two moved on to talking about nothing again, while Shanae wreaked havoc back at the Houston hotel where the rest of the contestants were staying. Now that we have seen what Clayton has to offer in a one-on-one, sit-down conversation, it is understandable that producers have chosen to focus the majority of these episodes on the drama happening with Shanae and her current nemeses Elizabeth, Sierra, Genevieve, and Gabby. Without these ladies, there would be nothing to watch.
The teaser for next week's episode promises more of the same: Clayton says a few, limited words to several women and makes out with most of them, and Shanae continues to argue with everyone. Apparently, there will be a two-on-one date with Shanae and Genevieve, which may end the Shanae drama once and for all. But … then what happens? Clayton will probably have to talk more. If his recent Instagram captions are any indication of what we can expect him to say, I'm worried. To accompany a photo of himself smiling next to some foliage, he wrote: "Remembering to smile because everyday is a true blessing!" Oh dear.