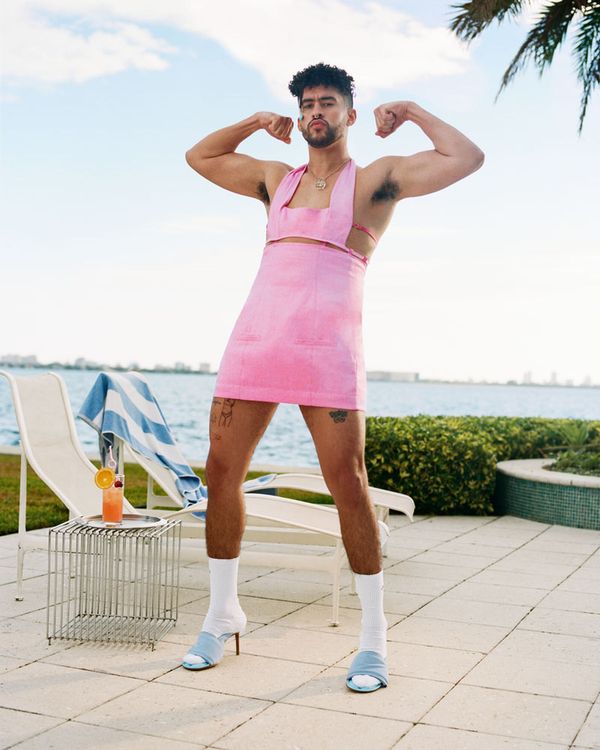 Photo: Tom Kneller and Zoey Radford Scott/Courtesy of Jacquemus
What Is the Campaign?
The Puerto Rican superstar — née Benito Antonio Martínez Ocasio, a.k.a Bad Bunny — is the face of the new spring campaign for French fashion brand Jacquemus.
The campaign, titled "Le Splash," was photographed by Tom Kneller and Zoey Radford Scott in Miami. In the images, Bad Bunny wears several looks from Jacquemus's latest menswear and womenswear collections. Some of the scenes include: dousing himself poolside while fully clothed in an electric-green suit; Jet Skiing in nothing but a hot-pink puffer vest and cerulean sunglasses (which prompted the Cut's social-media editor, Taylor Roberts, to wish she were a Jet Ski for the first time in her life); and flexing in a pink linen minidress, white socks, and baby-blue mules.
Why Do We Care?
It's a step in a more accepting direction when people play with gender norms, especially on such a large platform. And it's fun! But similar to when Harry Styles wore a gown on the cover of Vogue, another celebrity expressing gender-fluid fashion alongside a rise in anti-trans violence and legislation is the perfect way to initiate conversation about why gender nonconformity is only permissible on certain people and in certain places and times.
This morning, author Alok Vaid-Menon explained on Instagram: "When we frame campaigns featuring cis men as the pinnacle of 'gender fluid fashion' who and what do we lose?" they said. "To truly #degenderfashion we must extend this same energy to trans/queer people who do this every day, everywhere amidst astronomical violence and with little to no acknowledgment. We must challenge what we regard as normal and ordinary and who we believe belongs there. We must create a society that embraces gender non-conformity anytime and anywhere from anyone."