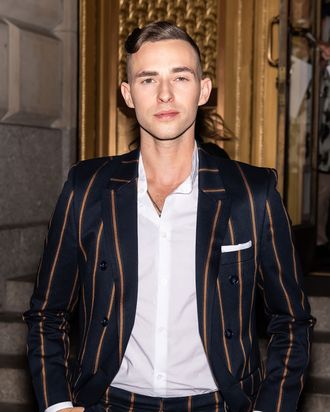 Photo: Gilbert Carrasquillo/GC Images
The Winter Olympics are underway in Beijing, and figure-skating legend Adam Rippon is there, thank God. After becoming the first openly gay athlete to win a medal at the Winter Olympics in 2018, Rippon retired from competing. Now, he's a member of the coaching team for reigning U.S. champion Mariah Bell, referring to himself as her "fairy godmother."
Fairy godmothers generally come dressed to slay, and Rippon did come prepared to do that, packing his Beijing luggage full of designer outfits. Sadly, we won't get to see those looks at the Games because, according to Rippon, coaches are only allowed to wear Nike and Ralph Lauren (the two brands are official Olympic partners). This is a dumb rule, in my opinion. As if Rippon's scores at the last Olympics weren't injustice enough, now they're going to force him to wear a polo?
Not one to let a good outfit go to waste, Rippon has graciously modeled them on TikTok in a video captioned, "A missed opportunity for fashion and the fashion community." "As a coach, you want to dress up, you want to look nice, you want to be professional," he explains from his hotel room. Rippon explains that at other competitions, you can wear what you want, but at the Olympics, you must wear #sponcon, and he apparently forgot that rule while packing. Understandable! On to the fashion show:
Rippon's first outfit is a patriotic Gucci tracksuit. "A coaching moment, right?" Rippon asks, artfully tossing a blue scarf over his shoulder. "Think athlete, think tracksuit," he says, and I do. RIP to this first outfit, and on to the second look: an "elevated" getup that features a spray-painted jacket and a button-up decorated with dozens of tiny cursive Balenciaga's. It's exquisite. You may be thinking, as I did, fuck the rules, but Rippon says he's going to follow them. "I would never in my whole fucking life dream of breaking a rule," he says, coyly. Mm-hmm.
While I'm sorry that these immaculate 'fits are confined to Rippon's Beijing hotel room, I have no doubt that he'll manage to make even the drudgery of sponsored-coach clothing look good. Would we expect any less from the man who wore a Moschino harness suit to the Oscars?