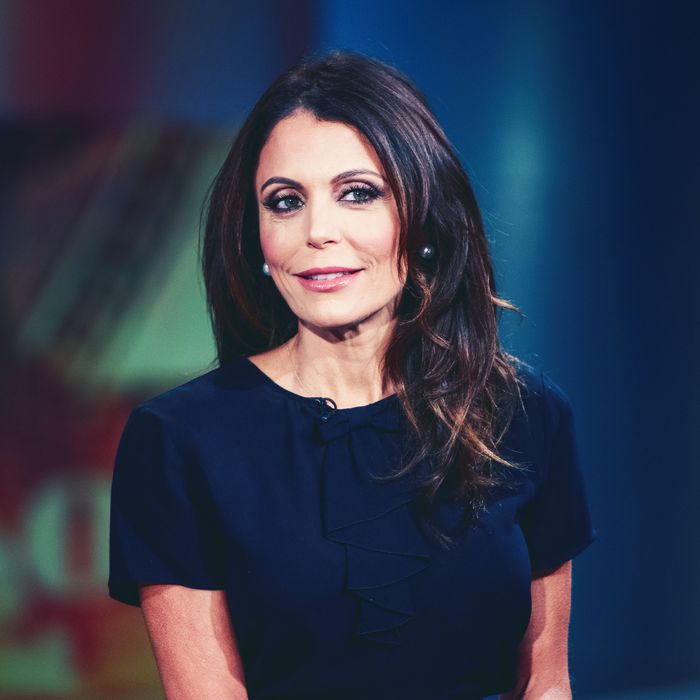 Photo: Roy Rochlin/Getty Images
"It's great to be successful," a wise woman once said, "but it's even better to be strong." Bravo devotees know who I mean: The opening credits tagline was featured on the Real Housewives of New York City's tenth season, courtesy of Bethenny Frankel. It was a nod to her business-mogul status, but also her move into philanthropy after founding the BStrong initiative.
Since hurricanes Irma and Maria devastated parts of Texas and Puerto Rico in 2017, BStrong has been providing assistance to people in crisis. On RHONY, fans watched Frankel on the ground in Puerto Rico, wading through mud and wreckage to hand out cash cards to families. In partnership with Global Empowerment Mission, BStrong has distributed millions of dollars in survival materials and cash cards to people affected by hurricanes, fires, tornadoes, earthquakes, and the COVID-19 pandemic.
Now, Frankel is focused on people fleeing Ukraine, following Russia's invasion of the country this week. It's the first time BStrong has responded to a conflict situation rather than a natural disaster. When we spoke Friday afternoon, she'd just heard from her team on the Polish border. (As of Saturday, the team has reprioritized efforts to focus on helping relocate families.)
Frankel tells the Cut about the fast-moving relief mission, how she keeps it all moving, and why "praying for Ukraine" is not enough.
Can you give us an update on what BStrong is currently doing for people fleeing Ukraine?
BStrong and our partner Global Empowerment Mission are in Poland on the border, where people are crossing. We have 100,000 crisis kits coming in, which are survival kits for refugees. But in addition to the survival kits, we need to help people to rebuild, so money people donate will go towards cash cards, which help people rebuild their lives.
Today we connected with a woman who was in the car with her husband, but her husband was dragged out of the car by the army. They put a gun in his hands and told him he had to fight. He will probably never see his wife again. So we're going to help her get to her family in Spain. These people are left with nothing, so we need to help them get to where they need to get to, which requires a multitiered process of cash cards and survival kits.
One hundred percent of the money donated goes to the effort: We're transparent, we're efficient, and we're cutting through the red tape and bureaucracy to get people what they need.
How does BStrong manage to give 100 percent of the money to its relief work?
We show up in a place like the Bronx, where there was a fire, or Poland right now, and we're paying our own way for hotels and travel. We're a very lean infrastructure and we're not dealing with any politics or red tape. We'll be the first camp to be set up, too: When we were in the Bronx after the fires, we saw other charitable groups making traumatized people fill out pages and pages of paperwork, when they just lost their entire home. They had to wait weeks to get the money through this bureaucracy. Instead, we're handing them a cash card and handing them a crisis kit for right now. So we just cut through all the bullshit.
We have a warehouse filled with $16 million dollars of aid, all the time, so we don't need to go out and find it every time there's a crisis, we can just go straight away. So we always have survival kits, our warehouse is like a giant Costco of donated aid, which is always ready to go.
When did you decide that the situation in Ukraine is something BStrong needed to be involved in?
It's escalated more quickly than we thought. This has been going on for a couple of weeks and we've been watching what's going on. A situation of national unrest is different from a natural disaster, but I knew we needed to be involved because, with so many people leaving their entire lives behind, you're gonna have a lot of women and children coming through. That's where I knew we'd be able to help.
This is the first conflict response BStrong has been involved in. Does that make it very different from a natural disaster, or are you approaching it in the same way?
The exact same way. We get there, we meet our volunteers, we know what they're going to need. We know people are being displaced, that people will be homeless and desperate. I created a survival kit system years ago, because we had all this aid, but we just needed it to be organized in a way that was efficient.
But when you're dealing with individuals and families, it's not a one-size-fits-all disaster. Some people have a tiny little baby, or the woman who just arrived in Poland after her husband had a gun put in his hand and was taken away to fight. That's a different story and that's where our cash cards come in. These people need money, to get plane tickets, or to get other things they need. So it's $1,500 to $2,000 per family and we're helping one family every ten minutes, but if there's a mass exodus that's going to increase.
Speaking to you now, you seem fully in-the-zone. How do you manage to drop everything and focus on relief when you've got so many other things going on?
It's not that easy. I had the podcast today and I have a great team that is supporting me, who take stuff off my plate. But honestly, I guess I'm meant to do this? I'm very used to producing large-scale, multimillion-dollar events, which are all moving parts. It's organization, it's delegation. I have to be efficient, be clear, be concise, be transparent. I have to make sure everyone understands the message, make sure that we're executing what we're saying we're executing, make sure that my team is tight and right. But it's just what I'm just good at. I know I can handle a lot of crazy shit. I can adjust and function with a lot going on.
In all your relief work, are there any threads that bind people together across the world? Have you noticed things that transcend borders?
Well, faith really transcends borders. You see people in Puerto Rico, knee-deep in sewage water with their babies, and they have their faith. They feel lucky to be alive and it totally shifts your perspective when you're talking about life and death. So that's one of the things I've noticed: People just really see the glass half-full, and are grateful for just humanity and other people helping. They just want to see other people helping, they just want to believe they're not forgotten.
People need dignity, too: It's not like everybody's diapers are the same size, it's not like everybody wants or needs the same things. So the money that's raised is good for dignity and choice.
Anyone who's watched you on TV knows you're very direct, but also emotionally intuitive and sensitive. How do you manage your own well-being while doing all of this work?
There's so many heartbreaking stories, it's true, but you're sort of in the mode of problem solving and you just have to get things done. "Pray for Ukraine" is a great thing to say but, like, prayers are not going to be what those people need when they get to that border. I get up at night and I get obsessed with these different stories: just knowing that to get from Kyiv to Poland takes 12 hours in a car, but there aren't that many gas stations, so gas stations are going to run out of gas. Imagine being stranded in the middle of nowhere, how terrifying! So I really just focus on problem solving. That's how I get through it.
At times like this, there can be a lot of misinformation out there and people might not know the best place to donate or what to do. What's your advice for working out the best causes to support?
Information is power and having information and communicating is so important. There's always something you can do: You can connect, you can repost, you can share and keep communicating in a positive way. Fighting with each other about whose fault it is does not help anybody, I see that every time something bad happens, and it's not productive. So read up and get educated.
We've seen some strange behavior on social media from celebrities during this crisis. You might not have seen it, but there was a video from AnnaLynne McCord that was particularly odd. Does it annoy you when you're working on actual relief efforts and celebrities post stuff like that?
I haven't seen that video but what annoys me most is when celebrities post links of other charities that someone told them to post, and we know what their overhead is, so we know how much money actually goes to the effort. My partners and I get very frustrated — we know that money would be spent in such a better way. Some of these charities are throwing big galas and big dinners every year with rubbery chicken, but with us there's no fluff and pomp. We literally have t-shirts and that's our marketing. So it annoys me when celebrities post stuff like that, for sure.
You've mentioned you're not political. Do you ever think it might be better if there's more help from governments, so there's not so much pressure on charities? Or is that not your fight?
When you start getting too involved in politics, there can be things that get in the way of people getting what they need. People are worried about what things look like and people have an agenda. In our relief work at the Surfside tower collapse in Florida, some of the politicians wanted us to hold back and wait until we went through all the political channels like the government and the mayor. We were like, "no, these people need relief right now." When it comes to politics I just notice a lot of red tape. So it's best for me to focus on what I'm doing well, which is connecting people and making it happen with relief work.
Do you involve your daughter Bryn in your relief work? I know she's a kid, but is it important to you that she learns about it and knows what you're doing?
Absolutely, I totally do. If it was safe, I would be on a plane with her to take her there [Ukraine] 100 percent. She knows all about it and understands it when I tell her stories. And she came with me to the Bronx fires, and I want her to come with me and see what people are going through, because she has a blessed life.
When you went to Puerto Rico with Dorinda Medley on Housewives, an emotional moment was Dorinda realizing that the women she met have the same hopes and dreams for their daughters as both of you do. Is that what drives you?
These are people. These are women and children. In Ukraine, women are watching their husbands getting dragged out of cars and guns put in their hands. What must that feel like? It just sounds horrendous — it's absolutely insane. Hunger feels the same to anybody. Being homeless and cold and dirty is terrifying to anybody. It doesn't matter to me how something happened, or who you voted for, or what got us here. We're all human beings and it's so important to me that people know that someone is there to help them.
For information on where to donate, visit bethenny.com/bstrong.