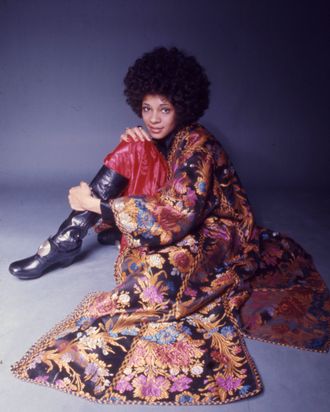 Photo: Anthony Barboza/Getty Images
Funk-rock icon Betty Davis died on Wednesday, per Rolling Stone. The magazine confirmed her death with her close friend Danielle Maggio, an ethnomusicologist who studies Davis's work, and Amie Downs, the communications director of Allegheny County, where Davis lived. Per Downs, she died of natural causes.
Born Betty Mabry, Davis moved to New York in the '60s and studied fashion and acting while managing a club, modeling, and songwriting. In 1968, she married jazz musician Miles Davis and is credited with introducing him to music legends like Sly Stone and Jimi Hendrix. During the year that they were together, they collaborated frequently — demos he produced for her in 1969 were later released in 2016, and Davis appears on the cover of his 1968 album Filles de Kilimanjaro.
Davis was most known for her groundbreaking expressions of Black female desire. She wrote unapologetically raunchy lyrics about sexual pleasure, promiscuity, and S&M. Her sound, raw and filled with raspy vocal flourishes, was a trailblazing strain of funk, which she performed with a huge Afro in thigh-high boots and sequined bras and tap shorts. The music industry was never especially receptive to her: Her songs were banned on radio stations, her album sales never took off, and after releasing three records in the '70s — which featured a host of famed musicians, including the Pointer Sisters and disco legend Sylvester — she was dropped from her label and receded from the public eye, moving back to her hometown of Pittsburgh.
In 2018, Davis narrated a documentary about her life, which she told the New York Times she agreed to participate in because "I figured it would be better to have them cover me when I was alive than when I was dead." In the film, she remembers trying to get her career off the ground: "The doors in the industry kept closing. Always white men behind desks telling me to change." She also spoke about the physical abuse she suffered while married to Miles Davis. "I told no one of how Miles was violent," she says, "so I wrote and sung my heart out." The following year, she released "A Little Bit Hot Tonight," which Davis wrote, arranged, and produced, with vocals by Maggio.
Davis's influence looms large over countless modern musicians. Janelle Monae told Complex that she "opened up a lot of doors for artists like myself" and called her "one of the godmothers of redefining how Black women in music can be viewed." In a 2018 interview honoring Davis's legacy, Erykah Badu credited her with carving a path for younger musicians who can express themselves largely free of the blowback that cost Davis her career. "This generation of young ladies is out here doing it, and it never even occurred to them that they had to conform," she said. "We just grains of sand in her Bettyness."