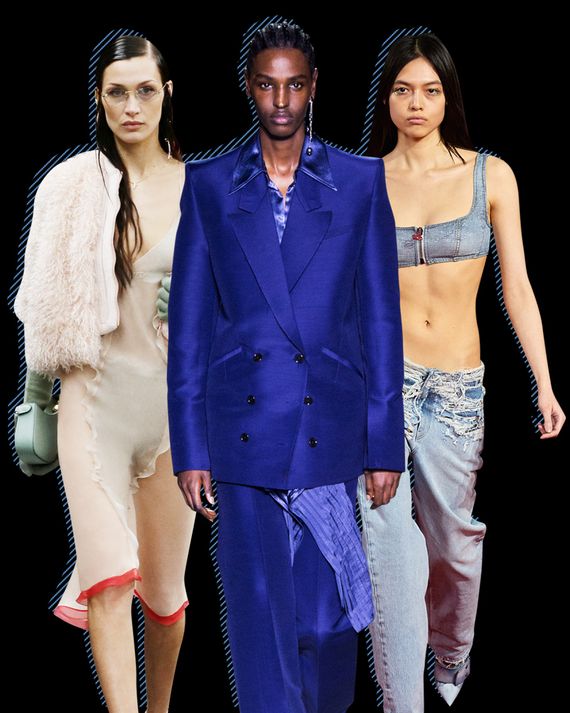 Photo-Illustration: by The Cut; Photos: Courtesy of Fendi, Capasa, Diesel
Thursday dawned fair in Milan, where it already feels like spring. Prada was the big show today, which I will talk about later, and yesterday, Kim Jones put on a fine show at Fendi, referencing two Karl Lagerfeld collections for the Roman house, from 1986 and 2000, when fashion shows were truly sexy things. The Russian invasion of Ukraine seems very far away, an impression as chilling as the fact itself.
The speed of change, coupled with a pandemic and the environmental impact of fashion, is already a lot for designers to consider, never mind a war-mongering neighbor. The other night, Ennio Capasa showed his new label, Capasa, five years after he sold Costume National. In the '90s, Costume National was Milan's hip answer to minimalism; everyone seemed to wear its sharp black suits, and I remember my late colleague, Amy Spindler, especially loving it. I asked Capasa, who is a little bit grayer, what had changed in five years, and he replied, "The world is different. For example, in the past three or four days, I saw about 300 models for fittings. They were all different. Skin color, hair. In the past, all came with the same style of dress, the same haircut. There's much more freedom now. It's totally different, and I was inspired by that."
In Capasa's crisp yet loose-fitting dark suits there was a glimpse of his familiar hand, but the designer was true to his word: Each outfit seemed to project a unique personality. There was a handsome navy wool coat with a simple closure in a wide bit of ribbon looped through a metal D ring but then there was a tough-looking pea jacket over a miniskirt with boots and also generously cut blousons in crushed, glossy fabric, worn with tailored trousers or a sexy pareo skirt. It was a pleasure to see an experienced designer attempt to put his finger on the pulse of today. And despite the radically different notions about gender and sexuality and the ways that people communicate (TikTok, etc.), it was the experience with cut and proportions that really came through.
At least two or three benches in Fendi's very long front row — on what is said to be the longest runway in Milan — were occupied by influencers and celebrities on Wednesday, all decked out in spring Fendi. When they weren't recording the models, led by Bella Hadid in glasses, some were turning their phones on themselves and suddenly giving a well-practiced pout with their filled lips. Influencers are hardly a phenomenon at this point, but it was striking just how many of them were in the front row in their head-to-toe looks, a reality that nearly every brand accepts and exploits, but they are generally far too self-aware to be sexy or cool.
Those qualities on front-row guests arose spontaneously, though not without effort, in 1986, the year that Lagerfeld based a Fendi collection around the primary hues and geometric forms of the Memphis Group, the design firm founded by Ettore Sottsass. Lagerfeld was mad for Memphis, filling his homes with the playful shapes before moving on to a new obsession. That collection was memorable for its chiffon and silk prints, which Lagerfeld combined with masculine tailoring. And that's what Jones did.
It was great to see Lagerfeld brought back more clearly into the Fendi story and also how Jones modernized everything. A Memphis print was softened into abstract powdery pinks, creams, and browns that Jones has offered since his first show for Fendi, in January 2021. A tunic dress from 1986 inspired a simple, close-fitting dress in light-gray checks with a contrasting yoke and sleeves in a darker check. Frilled chiffon camisoles and layered, flouncy skirts from a 2000 collection led to simple and delicate chiffon pieces in pale pink and green with curled-up edges — sometimes styled with a pair of bright-red gloves to link back to Memphis.
Yet for all its visual lightness — emphasized by Delfina Delettrez's fine strands of diamonds and jackets in fluffy pink or beige shearling —the collection had an urban toughness, thanks to Jones's knowledge of menswear and tailoring. One of the best-looking coats for fall — anywhere — was a light-brown micro-check wool number, with the collar based on suit lapels turned up and the waist lightly gathered, as if by a drawstring. Another version came in gray, and Jones said they were based on fabrics in the Fendi archive that were remade. Super-light, the coats would work with pants or a dress — and not necessarily in flimsy chiffon. To emphasize the visual weight of the tailored looks, Jones added chocolate-brown boots with stacked heels and low-heeled mules with a cowboy toe.
It was his clearest ready-to-wear statement to date, and it was based not on an outside source — like last season's homage to the illustrator Antonio Lopez — but rather on the Lagerfeld legacy. At the same time, it showed Jones's amazing grace with tailoring and his understanding of women his age. As he said, without bragging, "I think this is what we want to be."
Given that the invitation to the Diesel show came with an edible G-string and the set was filled with parade-size balloons of human figures in ass-up positions, you could hardly miss the message of the designer, Glenn Martens, in his first show for the brand. Actually, jeans are pretty sexy without the amplified crotch shots.
The genius of Martens is that he addressed both the teenage customer — the girl, say, who wants a slutty bra top and a mini that looks like a flap of denim she crafted in haste in her bedroom — and the hard-core insiders looking for technical advances in denim and cotton jersey. To that end, there were some extraordinary pieces that looked laminated, bleached, shredded, and collaged from papery scraps. There were also mammoth coats and jackets in shredded jersey and denim that are not only far more interesting (and environmentally kind) than fake fur but have a cartoonish grandeur that feels contemporary.
That is certainly a difference from five or ten years ago. It somehow fits with the manipulated and pumped bodies we see everywhere, whether online or in real life.
You can't say Daniel Del Core's talents were not on display on Wednesday. He showed dresses with built-in garters, minimalist black leather, seductress tops with romantic sleeves, gorgeous body-skimming dresses with images that suggested blown-up Impressionist paintings, and a pleated and embroidered silk minidress that looked like a bunch of anemones. But his talent was all over the place. No wonder the classical sculptures on his set had their heads covered in fabric. It was too much to absorb. What did a humble rain coat have in common with a fetish frock? The nimble mind of Daniel Del Core? Maybe, but in fashion that can be a fast route to burnout. He'd have more impact if he developed his natural bent for fantasy.
More From Milan Fashion Week
See All