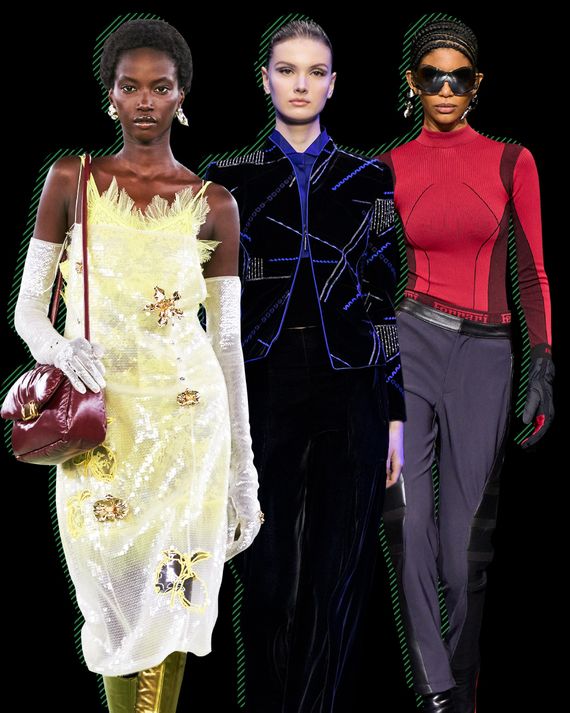 Photo-Illustration: by The Cut; Photos: Courtesy of Bottega Veneta, Armani, Ferrari
On Sunday, Giorgio Armani held his fall show in the palazzo where he has lived for decades. It has a specially built theater in the basement, and as the audience settled in, a male voice announced that the show would proceed in silence "as a sign of respect to the people affected by the evolving tragedy."
For perspective, Armani is 87. Among the industry's visionaries, only Valentino Garavani is older, by two years, and he is no longer working. Armani, who grew up in Piacenza, in Northern Italy, was 11 at the end of the Second World War. Although there have been people outside the shows protesting Russia's invasion of Ukraine, Armani is the only designer, to my knowledge, who has made a public gesture of support. But perhaps you need to have a memory of war.
In other ways, Armani sees things as only a man of his age can. Last month, he canceled his men's presentation because of the COVID-19 spike, so on Sunday he combined men's and women's. Many designers now have mixed casts, and some strive for fluidity. Armani's cast, though, was firmly binary with groups of chiseled guys hitting the runway followed by a group of girls and so on. What united them was the soberness of their clothes, emphasized by a dominant use of dark blues — cobalt to midnight with flashes of silver and gray and a bit of aurora borealis pink and green for the women's clothes.
The king of jackets was unmoved by the news that tailoring is making a comeback. Armani's were as calm as ever, done in an abundance of velvet. In the absence of music, you notice the minor vibrations of his familiar forms — namely, the beaded and straight-line evening looks, often with pants, in deep blues. Designed weeks ago, their moody elegance felt just right and maybe a more real response to the moment than a euphoric ball gown.
Fashion has a brand-new star, Matthieu Blazy, 35, who showed his first collection for Bottega Veneta before a crowd that included Raf Simons, his friend and former boss (at Calvin Klein, Raf Simons menswear); his partner, Pieter Mulier of Alaïa; the actress Julianne Moore; and Blazy's new boss, François-Henri Pinault, the chairman and chief executive of Kering, which owns Bottega Veneta. The venue was the rotunda lobby, under construction, of the brand's new headquarters, and the opening two looks — blue jeans with either a white ribbed undershirt or a striped white shirt — had Blazy setting the bar high.
They were made entirely of leather, the look of faded denim and the fit of a T-shirt transferred to nubuck. For me, the move recalled the kind of luxury and surprise that Martin Margiela brought to Hermès in the late 1990s — taking something elemental and transforming it into a genuine luxury product without losing its inherent attitude of democratic ease. (Demna Gvasalia did something similar last summer at Balenciaga with a T-shirt made to the exacting standards of haute couture.)
Not everything Blazy did worked at that level, but nearly all of it was interesting, and a great deal of it indicated a designer who likes to play and has the practical skills to achieve well-executed results. He offered plenty of tailoring, but I was attracted more to the strange pieces — the full skirts in lilac, chartreuse, or black leather with grasslike underskirts of leather and worn with almost drab crewneck sweaters; the rounded backs of wool jackets; and the finale dresses in sheer, iridescent fabrics and embroidery, tinted in lilac and yellow, that look almost plastic.
Blazy told me an inspiration for the collection was the work of the polymath architect and designer Carlo Mollino (1905–73), in particular the thousands of Polaroids he took of women in the '60s, sometimes in clothes he purchased including leather and plastic dresses. My sense is that Mollino, who was also into skiing, experimental speed cars, and acrobatic flying, was a broad inspiration for Blazy, not a direct one. He told me the key quality he wanted to put across in his Bottega debut was motion. Could the aerodynamic shape of a car have been the source for those rounded jackets? Perhaps, but it's a striking expression of forward movement either way.
Oddly, speed was the quality missing from the Ferrari show. Held in the semi-darkness of a massive concrete exhibition hall with streaks of red lighting on the walls, the setting vaguely suggested a rave — on Sunday morning. The designer, Rocco Iannone, said in his notes that he wanted to "incorporate the idea of speed and luminosity in jacquards made with glow-in-the-dark yarns" and prints based on Ferrari's iconography such as its prancing horse. He did that well enough, but when your models have to cover more than 1,000 feet of runway (that's just a guess), speed is not the first thing that comes to mind.
Couldn't the factory have sent a few cars to Milan to rev things up? Ferrari is one of the most dazzling names on the planet, a total dream. Why, then, all the dark and heavy leather, the power pinstripes and stilettos? In short, why not have more fun? I suggest Iannone get out of his head about Ferrari's "brand narrative" and just go for a ride.
More From Milan Fashion Week
See All